Review: SWARMAGEDDON – Inhuman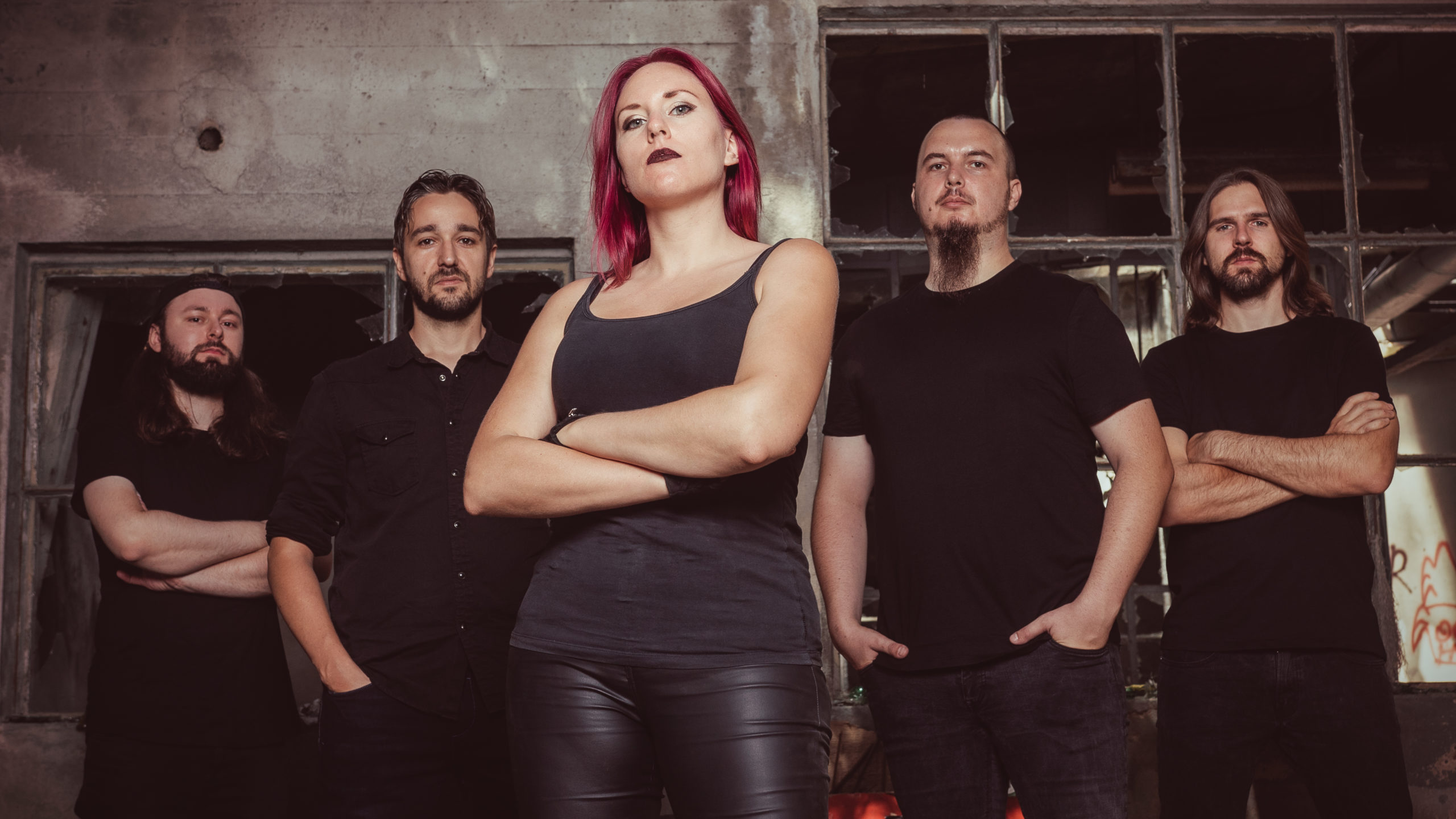 Band photo by L'Oeil du Verre
Hello SKULL NEWS. It's been a while since my last article. My job here is also to help you discover some young and promising French bands. So let's start right away with a Melodic Death Metal band from Besançon (quite close to where I'm living), SWARMAGEDDON. Besançon is a quite small city, and yet it has seen the birth of quite a few interesting acts in extreme metal, like CARCARIASS, RECUEIL MORBIDE or WHORESNATION. They played around a year and a half ago in Dijon, I remember spending a nice time in their company, even if, to be honest, I don't listen to much melodic death metal nowadays.
Swarmageddon was initiated in 2015 by singer Marion Volle. She and her bandmates are about to self-release their first album, "Inhuman" on October 3rd, after an EP in 2018. Before delving further into the music, check the artwork made by Caelan Stokkermans.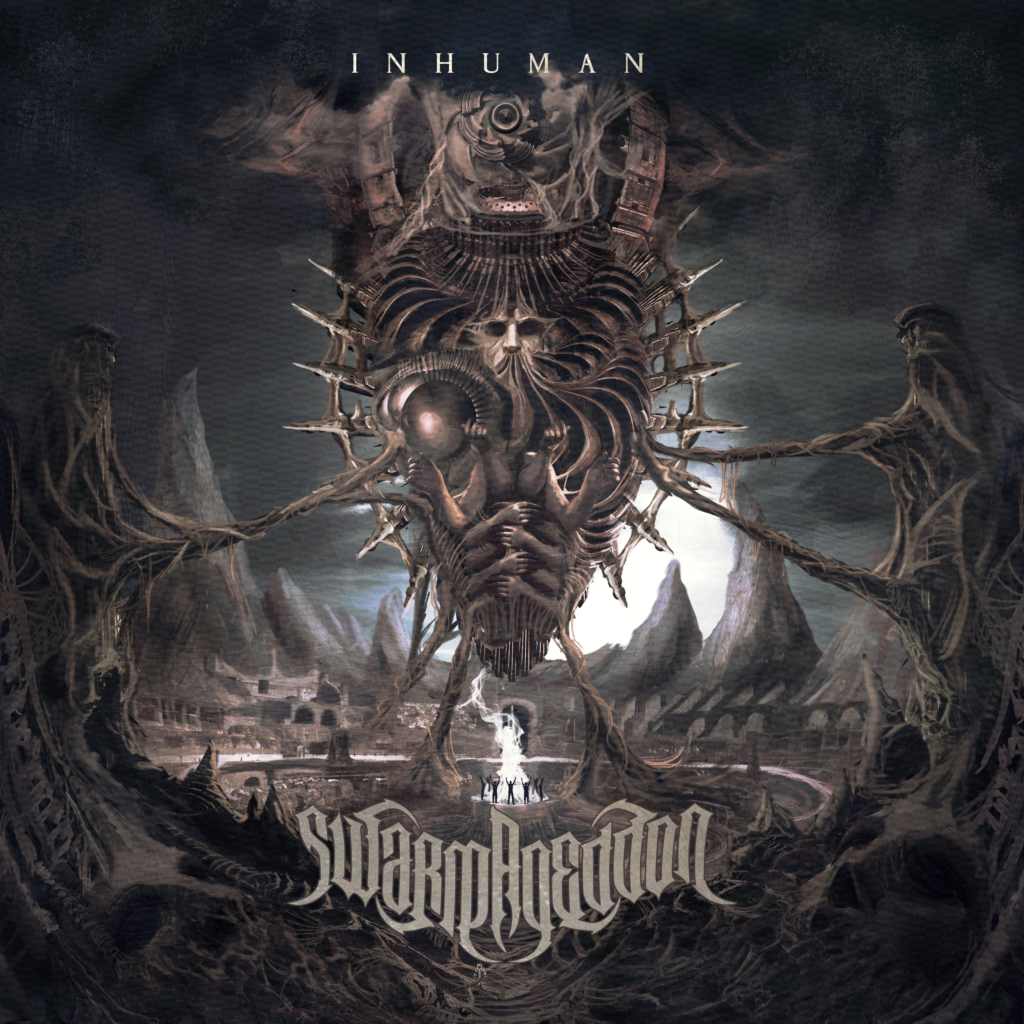 The band stated that on this first opus, they'll follow a sci-fi/steampunk storyline, as this artwork may suggest. You can see a group of people apparently praying to a gigantic and monstrous machine covered in fog, which feels like a god to these tiny humans (or inhumans?), with its twelve arms and darkened steely face. The rest of the scene shows what seem to be ruins of a city lost between mountains. It looks like a volcano crater, quite an ominous setting for death metal. The fifth song and the samples from the Ghost in the Shell series on the seventh also make me think that they may be partly inspired by some aspects of Japanese culture and science-fiction. The title of the outro, "Die and Retry" feels like something out of a video game, in which you die over and over again until you finish it. I wouldn't be surprised that some inspiration may have been drawn from games as well.
Here's the tracklist, composed of an intro, six songs and an outro:

1. Silence (intro)
2. Of a Billion Screams (feat. Trivette from KRONOS on guest vocals)
3. Death Traps
4. Brave New World
5. Blood Stained Origami
6. The Fall
7. Reanimation
8. Die and Retry (outro)
Let's now talk properly about the music. To get an idea of what they sound like on this new release, I invite you to listen to the first single they released, "Blood Stained Origami":
I was impressed by the whole album. Even if it's rather short (approximately 35 minutes), it clearly shows the amount of work this group of musicians have done in writing this album. I've said that this album is Melodic Death Metal, which is true to a great extent, but the band has shown they are quite capable of expanding their vision outside the boundaries of this genre.
The album provides faster and aggressive moments that may remind you of titans like THE BLACK DAHLIA MURDER, which is the brand of Melodic Death Metal to which I would associate SWARMAGEDDON. Singer Marion Volle doesn't just scream. Well, first, her screams are really good. She has moderately low growls and some high-pitched ones that may remind you of Trevor from TBDM sometimes. But the album has also parts sung in clean vocals, with a very melodic voice. The overall vocal performance, changing between growls and cleans, reminds me of Tatiana Shmaylyuk, from Ukrainian band JINJER.
Other than that, the band also knows how to slow down its pace for diversity's sake. You may hear slower melodic passages, and sometimes nice breakdowns to not forget to kill each other in the pit, in a very deathcore-like fashion. Instrumentally, you got the usual sounds you may hear in this type of extreme metal, but there are also layers of synths and samples in the background that add to the album's atmosphere, which in my opinion are really nicely put, and make the whole record way more interesting, with a nearly proggy sound sometimes.
And then come them riffs. Well, what can I say? I'm no musicologist, but I can say they got good ones. Good riffs and good leads. I'll be very honest, I usually don't like melodic death metal, because I feel like a lot of bands are taking it easy and doing the same brand of boring melodies, with no attempt at experimention and no risk factor. But on "Inhuman", SWARMAGEDDON have managed to do better than most bands in the genre, and this is only their first full-length, which gives them the promise of a great musical future.
To sum up, "Inhuman" is not just Melodic Death Metal. It goes into some deathcore fields at times, they experiment with sounds not often found in the genre, the riffs feel spatial and fit the sci-fi atmosphere perfectly. This will be a great release in the genre, and an amazing debut for this small French band. I can only suggest that you purchase it if you're into this style of metal. SWARMAGEDDON deliver one of the best slabs in the genre I've heard in a while. The album will be released on October 3rd, mark the date!
I hope to see you on the road soon!
SWARMAGEDDON is:

Marion Volle: Vocals
Guillaume Schappacher: Guitars
Morgan Koch: Guitars
Ludovic Boiteux: Bass
Thibaud Szadel: Drums

For further information about the band, check their social media and music profiles on the links below:

SWARMAGEDDON on Facebook
SWARMAGEDDON on Bandcamp
SWARMAGEDDON on Instagram
SWARMAGEDDON on Twitter
SWARMAGEDDON on YouTube

Now you know everything. See you soon on SKULL NEWS, more stuff coming in the near future.
-Hakim