2020 is coming to an end: A year of discontent marked by more music to cheer the soul than ever – My 100 favourite releases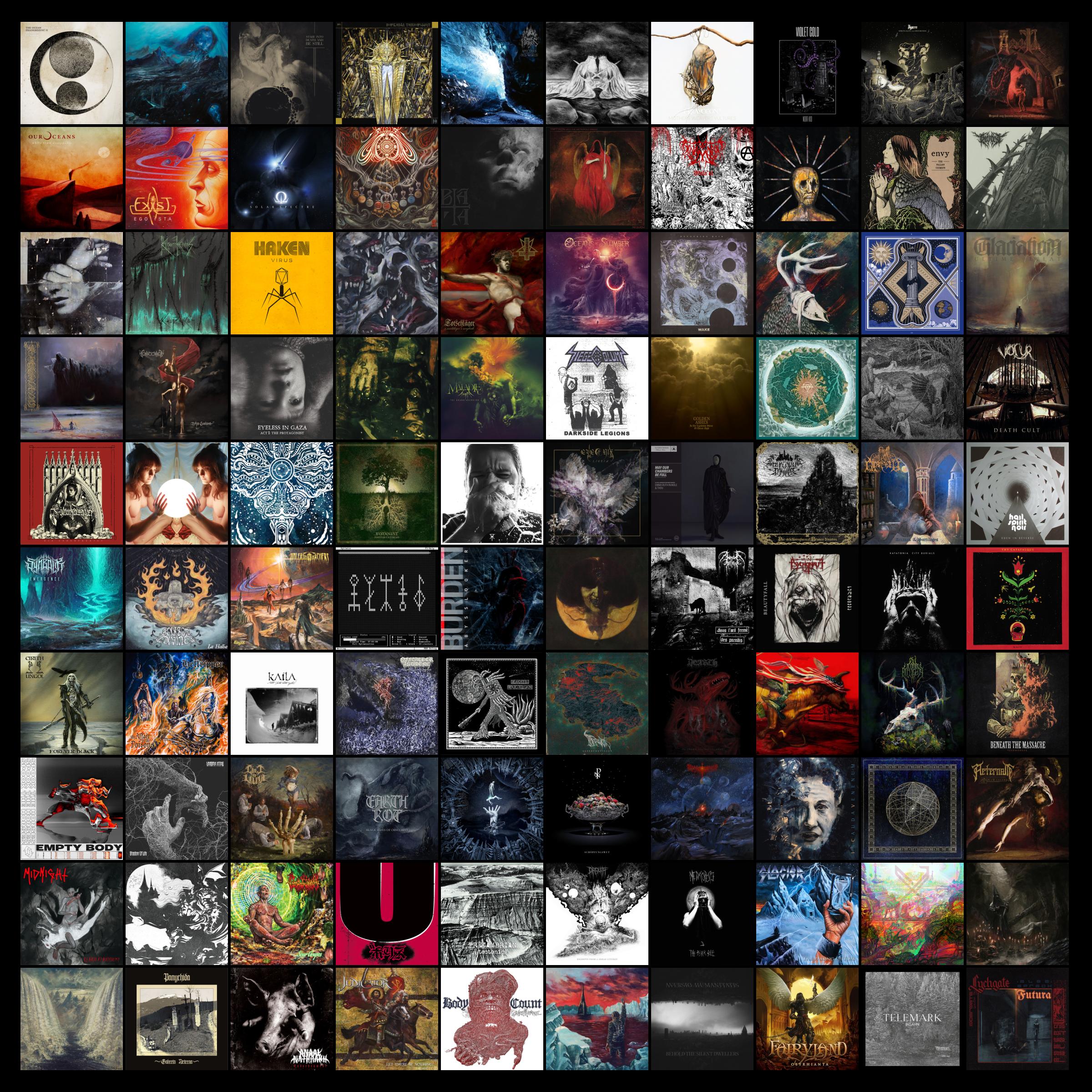 I've been following this tradition for around five years now: making charts and tops of the best new releases I've listened to throughout the year. 2020 has been more dense than usual, given that we were confined for most of the year. I would usually listen to around 300 new albums per year, but thanks to Covid-19, this number more than doubled.

I have selected my 100 favorites, from normal LPs to collaborations… I usually exclude live albums from these tops, as they most of the time do not introduce any new music, but you'll see there's an exception this year. I also generally exclude smaller releases, 7″, EPs, singles, and would normally write something else about those shorter releases, but I have made an exception for two of them, that you will find at the end of the list.

For each release, I will give some general information and thoughts about it, with a link to listen, if you're willing to try. That means, of course, no 7-pages long review for each of them, my life's too short for that ! But still, I hope you may find some inspiration there to make your new year more musical.
Though the presentation of this article is that of a top 100, and while it is true that they're loosely ordained by my personal order of preference, and, I insist on "personal", there's no real need to categorize art and try to set apart what's good or not. Such an exercise is very subjective and does not necessarily make sense. However, I do believe that the list below encompasses a good number of objectively good bands and good albums, if I set apart my personal tastes. On the other hand, as tastes do channel most of what goes through my ears, you will notice that there is a lot of extreme metal on the list (I can't really change that). So, for those who like black, death, bits of doom and sludge, have a fun reading ! For those seeking the best heavy and power metal releases, ask someone else, but you may read through this article quickly, as I still have some on the list.
The chart I have made has been done thanks to Topsters, a browser-based tool to create such images, for anyone interested.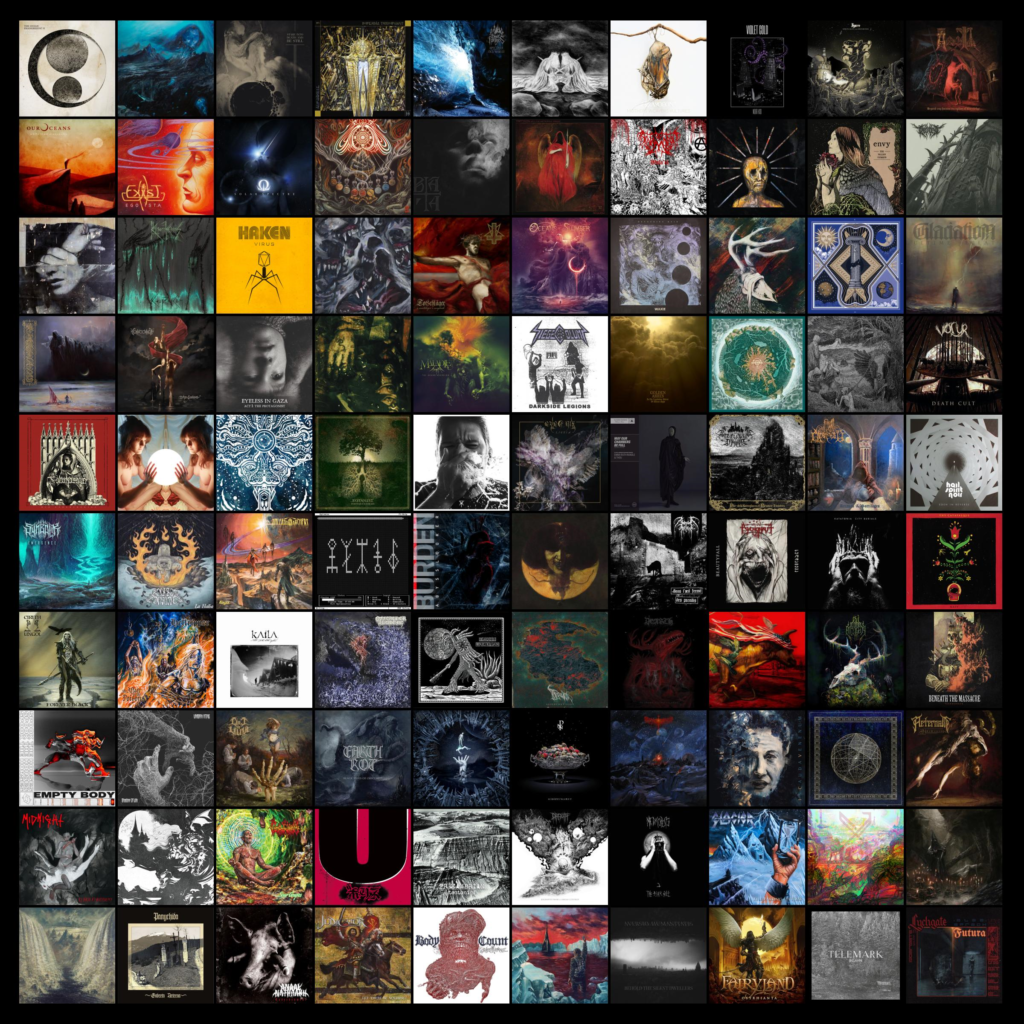 THE OCEAN COLLECTIVE – Phanerozoic II – Mesozoic|Cenozoic – Progressive Sludge/Post-Metal – Germany – Pelagic Records/Metal Blade Records
There is nothing to say about this band and album that I haven't already said here. As usual, writing about my favorite band is a stupid exercise, as there's hardly room for objectiveness. But there is so much urgency in this record, a stark warning about the bleak future that awaits us, that I couldn't survive listening to it without tearing up. It is post-metal in its most excellent form, for fans of stuff like Neurosis or Cult of Luna, with many added flavors taken from progressive and extreme metal.
2. DROWN – Subaqueous – Funeral Doom Metal – USA – Lupus Lounge/Vigor Deconstruct
What is there not to love about whales, the sea and the most crushing doom you could ever listen to? Kudos to the best album artwork I have seen in ages too. This album brings atmosphere to another level of perfectness, with its whale chants and underwater breathing sounds along the melodic guitar lines that accompanies the inexorable sense of despair that flows through its waters.
3. ULCERATE – Stare Into Death and Be Still – Technical/Dissonant Death Metal – New Zealand – Debemur Morti Productions
Some would think that I have a weird taste for self-destruction, and they may be right. ULCERATE is a deafening trio that defines, in my opinion, sonorous suffocation. There is nothing enjoyable there if you can't enjoy raw, abrasive and painful emotion. But that's how I get my kicks, so what can I do? It may be, along with Everything Is Fire and Shrines of Paralysis, their best record to date.
4. IMPERIAL TRIUMPHANT – Avant-Garde Black/Death Metal for Jazz Lovers – USA – Century Media Records
These guys make weird music. And like the previously mentioned ULCERATE, it's the manifestation of suffocating sounds in its most decadent forms. Alphaville is a disastrously perfect depiction of what I'd call a "retrofuturistic dystopia", full of the spirit of New York's roaring twenties along with the dystopic features of the futuristic French movie of the same name, Alphaville, which I invite you to watch whenever you can. Again, that's music that is not easy to listen to, but that is very rewarding.
5. DARK FORTRESS – Spectres from the Old World – Melodic Black Metal – Germany – Century Media Records
DARK FORTRESS, kings of melodic black metal, who have been introducing progginess to their records for a while now. As they are one of my introductions to extreme metal from back when I was a teenager, I was impatiently waiting for a new release ever since 2014's Venereal Dawn. 6 years have passed and their sound is as good as ever. Clearly produced, romanticism-influenced black metal with many variations in rhythm, and singing (praise to Morean, one of my favorite singers in the genre).
6. HAVUKRUUNU – Uinuos Syömein Sota – Black Metal – Finland – Naturmacht Productions
HAVUKRUUNU are maybe the most epic newcomer in the black metal scene. Having released three albums in the last 5 years, they have proven their ability to fuse old-school black metal with epic melodic lines, both instrumental and vocal, to give a result with enormous energy, the same I felt as a kid when playing epic role-playing video games. I discovered their previous effort, Kelle Surut Soi, three years ago when it was released, after friends had recommended it to me. They blew my mind. And again, they blew it once more with Uinuous Syömein Sota. Their opener, which also is the title track, is something on its own. I'm not sure if any other band could ever pull off something like that again.
7. GRAYCEON – Mothers Weavers Vultures – Progressive Metal – USA – Translation Loss Records
I've mentioned GIANT SQUID here recently, and said how much I've been waiting for any new output by their members in their other projects. GRAYCEON, a cello-driven progressive band with lots of doom here and there and that features their cellist and drummer. In a similar way to THE OCEAN's new disc, they express the urgency of the current environmental crisis with a very emotional sense. Cello is at the core of the record, and while it is not new to have some cello on metal records, here it is not just added spice on the palate, it's definitely the main asset of the band's sound, which gives the project all its originality.
8. VIOLET COLD – Noir Kid – Post-Black Metal – Azerbaijan – Independent
Violet Cold is a solo project that has been releasing some of the best post-black albums in the recent years. With influences coming from black metal as well as shoegaze, electronics and ambient music, the project has been giving excellent new music every year. Noir Kid is another effort from mainman Emin Guliyev, showing his mastership for his craft he's been honing for seven years with this project.
9. IGORRR – Spirituality and Distortion – Avant-Garde Grind and Electronics with Bits of LITERALLY everything else – France – Metal Blade Records
The prefect crossover doesn't exis… Stop everything, for you may not know it yet, but France's Gautier Serre, AKA IGORRR, has been fusing everything with everything else for a while now, releasing albums smashing boundaries beyond the universe every time. You want grindcore, black metal, breackore, lyrical singing, chiptunes, electronics, chickens, death metal, extra weirdness, musette, and whatever else you might think of? Listen to IGORRR.
10. HEXECUTOR – Beyond Any Human Conception of Knowledge – Black/Speed/Thrash Metal – France (Britanny) – Dying Victims Productions
Britanny is in France, but I feel like saying they're from there specifically because of the love I hold for this region which saw me grew up. HEXECUTOR are the best new band in the black/thrash genre, point final. Excellent break-necking musicianship filled with catchy adventurous sequences everywhere, maniacally given leads and tales of legends from Britanny. Awesome. Go see them live, it's one of the best bands to bang your head to.
11. OUR OCEANS – While Time Disappears – Progressive/Post-Rock/Metal – Netherlands – Long Branch Records
Our Oceans is painful soft music for sorrowful hearts. While Time Disappears is the second full-length of this new project from musicians formerly of the prog death/jazz fusion band EXIVIOUS. Those guys have a nice background, including having been members of CYNIC for their singer/guitarist and their bassist. Their drummer has played for a short time with PESTILENCE as well. OUR OCEANS Delivers in terms of raw emotion. It may not be extreme metal, but the emotions are extreme. This record is a must-listen.
12. EXIST – Egoiista – Progressive Death Metal/Jazz Fusion – USA – Prosthetic Records
It's hard to be more amazing than this. EXIST feels like they are the continuation and children of prog-era DEATH and CYNIC. I want to think that those who passed away would be really proud of what you have accomplished with your music. Egoiista may be unconventional, but this album created something that must be spread to a wider audience. If there's a direction towards which prog should strive to go, it's in there.
13. OMEGA INFINITY – Solar Spectre – Space Black Metal – Australia/Germany – Season of Mist
A side project from NE OBLIVISCARIS singer Xenoyr. I would follow that guy's art to the ends of the universe. Performed with TODTGELICHTER's Tentakel, this records breaks the conventions of space black metal. That latter genre usually atmospheric gimmicks and relies on melodic elements to portray the dreamlike essence of unbound space. While this interpretation is understandable, OMEGA INFINITY offered exactly what I wanted within space black metal. It has mechanical, industrial sounds and an aura of complete cold and bleakness, which is another aspect of space on which one may also focus. Needless to say that it works extremely well.
14. MARE COGNITUM & SPECTRAL LORE – Wanderers: Astrology of the Nine – Space Black Metal – USA/Greece – Independent
While I don't know SPECTRAL LORE very well, I have been listening frequently to MARE COGNITUM for a while now. Those guys play along the lines of the atmospheric and melodic definition of space black metal I have given before, but in their case, they manage it with total perfection. This collaboration is nearly two hours long, and is one of the most massive records I've ever been given the chance to listen to. A must-have for amateurs of atmospheric black metal.
15. BÂ'A – Deus Qui Non Mentitur – Black Metal – France – Osmose Productions
RMS Hreidmarr, the singer of this band, of ANOREXIA NERVOSA fame, as controversial a character as he may be, makes me shit my pants every time I hear him scream. He is, along with Ihsahn from EMPEROR, my favorite black metal singer. If there ever was True Norwegian Black Metal, this is its French counterpart True French Black Metal. Deep stuff with no bullshit, as they say, black metal in its original hateful form, which resonates with the hearts of fans of the genre.
16. CELTIC FROST/TRIPTYKON with the METROPOLE ORKEST – Requiem – Doom Metal with Orchestra – Switzerland – Century Media Records
I strongly believe that only pain can bring out the best art in the universe. Tom G. Warrior, a god among fans of extreme metal such as myself, had started to write a requiem, in the classical definition of the term, more than 30 years ago with CELTIC FROST. In honor of the late Martin Eric Ain, his friend in CF who passed away in 2017, he finally finished the piece and performed it live at Roadburn Festival 2019. A requiem is a musical dirge, in honor of the dead. That is quintessentially what this is, ask my teary eyes if it works. It does.
17. AL-NAMROOD – Wala'at – Black/Folk Metal – Saudi Arabia – Shaytan Productions
The most defiant band in the universe right now. Black/Folk with more recently punk leanings, all their discography is amazing, and Wala'at is no exception. The singer's voice is the sound of spite, spitting all his rage aginst their regime and the stupidity of this world. Their music is dangerous, both for the listener and for themselves, as they have to stay anonymous to stay out of harm. Also, it's sung in Arabic, which is something I love in extreme metal.
18. END – Splinters from an Ever-Changing Face – Hardcore/Grindcore – USA – Closed Casket Activities
To say that I love the vocals and lyrics of Brendan Murphy (of COUNTERPARTS as well) would be an understatement. While the latter band is more melodic and post-hardcore in many ways, END is pure violence and abrasiveness, both in its speed and its breakdowns. This records is their first full-length after their EP From the Unforgiving Arms of God, released three years ago, which was also one of my favorites of 2017. If you've never listened to them, now's the time.
19. ENVY – The Fallen Crimson – Post-Hardcore – Japan – Pelagic Records
ENVY are the Japanese masters of post-hardcore. The Fallen Crimson is their first album with their new line up, after they reunited a few years ago. Needless to say this album fulfilled all expectations, and more. Masters of using momentum between fast hardcore moments and post-rock segments, using both the singer Tetsuya Fukagawa's emotional screamo singing and poetic spoken word. The legend says that they destroy everything live. I hope to witness that someday.
20. BELTEZ – A Grey Chill and a Whisper – Depressive Black Metal – Germany – Avantgarde Music
BELTEZ's black metal is cold and sorrowful, just the way I like it. Its narrative is taken from a short story written specifically for the band, which is something that I think is very interesting. It's dense and emotional, old-school as well, and takes you through many different states during its one-hour length, which feels like a necessity on such a record.
21. TELEPATHY – Burn Embrace – Blackened Post-Metal/Instrumental – UK – Svart Records
I've been in love with those guys ever since they played in a very small venue in which there were hardly more than 4 of us some years ago, after they released their second album Tempest. Burn Embrace follows the legacy of that previous album with diverse atmospheres ranging from sludge/doom to post and black metal. While mainly instrumental, the project also introduces vocals in the last two songs, adding more extreme metalness to the record.
22. KHTHONIIK CERVIIKS – AEquiizoiikum – Weird Death/Black Metal – Germany – Iron Bonehead Productions
What is war black stuff like CONQUEROR or REVENGE had gone experimental in a PORTAL fashion? You'd get KHTHONIIK CERVIIKS. All the names sound strange there, and the music does follow that cosmic trend. This record is definitely amazing. If I ever knew there would be complex war metal, I would have laughed about it. But this is both raw, hard and original and refreshing all at once.
23. HAKEN – Virus – Progressive Metal – UK – InsideOut Music
HAKEN is a band that I had dismissed for years thinking it may not be my thing and I never gave them a chance. What a mistake! I checked Virus upon its release out of curiosity only to discover how I had missed out on an amazing prog band! Since then, I took the freedom to listen to their other albums, which are all great. Virus is very diverse, as often in prog, and also has many easter eggs in reference to prior HAKEN albums. I had no idea what to expect at first, but I can tell you, this is amazing music!
24. NECK OF THE WOODS – The Annex of Ire – Progressive Death Metal/Metalcore – Canada – Pelagic Records
Whenever Pelagic Records (my favorite label) signs a new band, I'm eager to know more about them. When they announced Neck of the Woods, I right away checked The Passenger, their first album. My brain exploded. It was so great. The Annex of Ire is going along similar lines in a refined manner, going to the extremest parts of death metal with added variety, progginess and hardcore parts. It's unique and something I'm very glad I found out this year, as it somehow pushed me to get back to singing and writing even more than before. I'm really hoping to see them live soon.
25. ABIGOR – Totschläger (A Saintslayer's Songbook) – Black Metal – Austria – World Terror Committee Productions
True Austrian Black Metal? Amazing overall sound, hateful like black metal from the old days, yet with melodic elements and production that sounds modern at the same time, bringing in the best of both worlds. This album came out earlier in December, and caught everyone by surprise. New ABIGOR without prior notice? Give me more!
26. OCEANS OF SLUMBER – Oceans of Slumber – Progressive Extreme Metal – USA – Century Media Records
What happened to this band? Last time I had listened to them, I found them boring as hell. But this new record utterly destroys the "prog rock/metal" label this band previously had, by going in lengths towards extreme metal, with added death growls, black metal tremolos, furious blast beats, while keeping its basis in progressive metal and the amazing singer Cammie Gilbert's haunting voice, giving a result with so much more flavor than what I had heard before! I was truly impressed, go give that a spin!
27. WAKE – Devouring Ruin – Grindcore/Black Metal/Post-Metal – Canada – Translation Loss Records
Another very interesting mixture of different extreme metal genres that pushes boundaries and extends the possibilites of extreme music. A really great album with everything between grind, black and post-metal. To conclude the story started with this record, they even released an addendum to it in the form of an EP, titled Confluence, released later this year. The whole ensemble is indeed a ferocious hour of good riffs and relentless drum pounding with slower sections here and there that give the record its solidity.
28. SVALBARD – When I Die, Will I Get Better? – Post-Hardcore/Post-Metal – UK – Church Road Records
I'll tell you how to pique my interest with new music. You need THE OCEAN to announce they're going to take you on tour, and you need an album title like that. Works all the time. When I Die, Will I get Better is a great slab of post-everything, with added influences of extreme music, D-beat and grindcore in the drumming, for example. It's emotional, strikes right through the heart, and, to put it simply, it rips. Oh, and vocals are amazing. I always manage to catch THE OCEAN on tour, so it will be my pleasure to discover SVALBARD live as well.
29. DELUGE – Aego Templo – Black Metal/Post-Hardcore – France – Metal Blade Records
I already thought many good things about their first album, Aether. And yet, Aego Templo, their second effort, is a huge step up from that one. Keeping everything that previously was at their core, they made sure here to give more room to their post-hardcore elements, and I must say that this was a good decision. I remember a great live performance from them some years ago, at the French Motocultor Festival. I hope to catch them again while touring for this new record in the near future.
30. GLACIATION – Ultime Eclat – Black Metal – France – Osmose Productions
Here, I could repeat the same things I have previously said for the BÂ'A record. This is top-notch French black metal. I thought the project was dead after the release of Sur Les Falaises de Marbre in 2015. That latter record is one of my favorites of all time, so I was afraid of hearing anything new from GLACIATION. The previous disc holds a dear place in my heart, but indeed, Ultime Eclat is extremely good as well.
31. ATRAMENTUS – Stygian – Funeral Doom Metal – Québec – 20 Buck Spin
The only thing that separates this from DROWN's Subaqueous is that the latter is about whales. But Stygian is on par to be one the best funeral doom records ever made. Versatility and monstrously perfect musicianship stands out. Doom and ambient stuff, and into black metal territory on track 3, the perfectness of the record expresses itself in Phil Tougas' guitar mastery. This guy became my guitar god when I discovered his tech/neoclassical death metal band FIRST FRAGMENT a few years ago. Everything he plays for is outstanding.
32. CONVOCATION – Ashes Coalesce – Funeral Doom Metal – Finland – Everlasting Spew Records
I put on purpose three funeral doom records in a row there, because they're all very good in their own way. Slow lengthy songs that can catch the listener into their angry and violent screams, that's what CONVOCATION is all about. It may be more conventional in funeral doom aspects than Stygian, but it is perfect in its own ways as well. And the vocals are something on their own, performed by DARK BUDDHA RISING's Marko Neuman.
33. EYELESS IN GAZA – Act I: The Protagonist – Funeral Doom Metal – Armenia – Solitude Productions
The third in my row of outstanding funeral doom metal, EYELESS IN GAZA from Armenia. This one has the peculiarity of having a lot of ambient passages and acoustic guitars, as well as vocals that range from soft clean sounds to blackened high-pitched screeches. It feels, somehow, like funeral doom mixing elements of both older and recent KATATONIA, to great effect.
34. ORANSSI PAZUZU – Mestarin Kynsi – Psychedelic Black Metal – Finland – Nuclear Blast
It was a real surprise to see so weird a band signing with Nuclear Blast. ORANSSI PAZUZU are the kings of something that no one else can do. Psychedelic Black Metal. One could never see another band quite like them. I've been listening to them ever since Kosmonument in 2011, and their new record, Mestarin Kynsi, is definitely their best. Hopefully now this music can get the wider audience it deserves.
35. MALADIE – …the Grand Aversion… – Avant-Garde Black Metal – Germany – Apostasy Records
MALADIE at its best. They always have been producing forward-thinking black metal, with many classical and jazz influences, and this is the farthest they have taken everything. The only other band that can pull off this kind of weirdness in my opinion is the clownesque circus of French avant-garde black metal band PENSEES NOCTURNES. A fitting comparison, if I may say so. If you like it weird, go listen to MALADIE.
36. SIEGE COLUMN – Darkside Legions – War Metal – USA – Nuclear War Now! Productions
If you want raw death/black war metal, you're in the right place. Here, think BLASPHEMY with some punk leanings to add to the mixture. Angry, old-school and lo-fi, this contrasts with most other releases you may find in this list. On thissecond album, SIEGE COLUMN make no prisoners.
37. GOLDEN ASHES – In The Lugubrious Silence of Eternal Night – Atmospheric Black Metal – Netherlands – Oaken Palace Records
Just like last year with Gold Are the Ashes of the Restorer, GOLDEN ASHES, another solo project by Maurice de Jong (GNAW THEIR TONGUES, DE MAGIA VETERUM, etc), is the antithesis of black metal. Worshipping all the darkness within the genre through the opposite: eternal light, and soundscapes that are more reminiscent of Heaven rather than Hell. Both are masterpieces of atmospheric black metal.
38. WOBBLER – Dwellers of the Deep – Progressive Rock – Norway – Karisma Records
I've always loved progressive rock. I'm a huge fan of EMERSON, LAKE & PALMER, and similar prog outfits. If any modern band has perfectly encapsulated the craziness you could find in the 70s, in proggy and technical, yet cheerful and lengthy songs with a bit of everything inside, it's WOBBLER. They're one of the best new prog rock bands around. Their previous output, From Silence to Somewhere, was just as impressive. If you're eager to disover great prog rock, go ahead and listen to these guys.
39. MSW – Obliviosus – Blackened Doom Metal – USA – Gilead Media
THIS is the definition of sad music. MSW is just a solo black and doom release made by the author in honor of the passing away of his brother. Indeed, grief and despair may help channel true art. My respect for a work like that is innumerable. It is something I would never be able to do. Ambient doom and black metal oscillate in order to have the listener receive all the pain that went into the songwriting of this album.
40. VÖLUR – Death Cult – Doom/Folk/Black Metal – Canada – Prophecy Productions
Doom/folk with extreme metal leanings articulated a wide variety of vocal performances, violin, and chamber classical music. I can't see what could go wrong there. Indeed, nothing does. This record came to me as a surprise as I had no idea what VÖLUR was about. I finally checked it out knowing perfectly that Prophecy Productions cannot sign bad bands. This is something unique. It may remind some of AGALLOCH, but the band really stands on its own.
41. FOLTERKAMMER – Die Lederpredigt – Operatic/Symphonic Black Metal – USA – Gilead Media
This started as a side project of Zachary Ezrin, from IMPERIAL TRIUMPHANT. Obviously, that could only be great: and it is! Out the jazziness, let come the classically-influenced orchestrations with operatic vocals, over strains of old-school black metal. The ensemble is refreshing within symphonic metal in general, as there, the adjective truly means adding elements of classical music at the core of the project.
42. LITURGY – Origin of the Alimonies – Avant-Garde Black Metal – USA – Independent
Nobody does it quite like LITURGY. The music of the band takes the listener through a strange spiritual journey, devised by the frontwoman of the project, Hunter Hunt-Hendrix. There, you will hear mingling together modern black metal, classical music, and electronics to form a compound that only this band can offer. After a very ambitious album, HAQQ, last year, I expected great things from Origin of the Alimonies. I clearly wasn't disappointed, this record is probably as ambitious, except sadly a tad bit shorter, but it's not a big deal.
43. SPECTRALE – Arcanes – Ambient/Acoustic Post-Rock – France – Les Acteurs de L'Ombre Productions
Well, this isn't metal at all, true. But it has been made by Jeff Grimal, formerly of the black metal band THE GREAT OLD ONES, and was released on LADLO Prods, a famous French black metal label. So why not put it here? This music is really soothing, cinematic in scope, something I would love to see being played in a church, for example. I'm sure many more metal fans will enjoy this.
43 Bis – RÏCÏNN – Nereïd – Avant-Garde Whatever – France – Blood Music
Sorry for the 43 Bis. I just realized I had forgotten to put RÏCÏNN in my chart and I cannot not mention them. And since it's not really metal, or even rock, it feels quite okay to put it here with SPECTRALE (even more so since the singer of this project guested on one of their tracks). There is a bit of metal here and there, but this is an experimental project driven by many classical influences, led by Laure Le Prunenec, the lyrical singer from IGORRR. So you have to expect amazing weirdness in an otherwoldly language. Perfectness.
44. BOTANIST – Photosynthesis – Experimental Post-Black Metal – USA – The Flenser
I've loved this band for years! Otrebor, the main man behind the project, has had the great idea of playing post-black metal without guitars. Instead, he has been using, on every record, hammered dulcimers, which give out a specific sound that is both unexpected at first yet phenomenally good. Oh, and as well, it's only about plants, and that, in and of itself, is very interesting. It's rare to see so specific an interest being focused on in such a way in music.
45. WHEELFALL – A Spectre Is Haunting the World – Industrial Sludge Metal – France – Independent
There, you got some very serious heaviness. I had never listened to WHEELFALL before, but sure thing to say is that this album rips! It's a rare combination of really angry sludge, that often goes far into extreme metal, with huge doses of industrial metal melted into it. Blastsand screams come in and out unexpectedly between harsh sludge attacks, to the joy of the bleeding ears of the listener.
46. EYE OF NIX – Ligeia – Progressive Black/Doom Metal – USA – Prophecy Productions
This one is the album that went the latest into this top. I had forgotten to listen to that and only got to it recently. It's the beautiful cover that first attracted me. Another unique album, delving into doom and post-black, with ethereal vocals that range from lyrical singing, sweet lullabies to black metal shrieks. The balance between extreme metal and soft slower melodies is perfect. Another album to grace you with fresh originality that you don't want to miss.
47. EMMA RUTH RUNDLE & THOU – May Our Chambers Be Full – Sludge/Doom Metal – USA – Sacred Bones Records
This is a collaboration that came out of nowhere. I was quite familiar with THOU's droning sludge, less with EMMA RUTH RUNDLE's folk solo projects. Both are on separate universes, but the sweet voice of Emma soars through the sludgy anthems of the collaboration, exchanging between her soft melodic voice and high screams the way they're done in sludge and black metal. The contrast between both universes in this record is breathtaking.
48. CREPUSCULE D'HIVER – Par-Delà Noireglaces et Brumes Sinistres – Medieval Black Metal with Dungeon Synth – France – Les Acteurs de l'Ombre Productions
This one is a special record. It is the solo project of my friend Stuurm, who I met years ago on campus. I'm really happy that he managed to release his first album with LADLO. The result is the perfect combination of ambient sounds with medieval leanings with old-school melodic black metal, all in French and about castles, set in stone, for the pleasure of fans of medieval themes, battles and swords.
49. DARKENHÖLD – Arcanes & Sortilèges – Medieval Black Metal – France – Les Acteurs de l'Ombre Productions
DARKENHÖLD may be my favorite medieval black metal band. And this album is their most refined to date. Basically this is very melodic black metal infused with similar thematic elements like those found in CREPUSCULE D'HIVER, but with even more focus on medieval and heroic fantasy, magic and monsters. To me, they're the soundtrack to medieval fantasy tabletop RPGs and video games, they exude the same epicness and the same feelings they do.
50. HAIL SPIRIT NOIR – Eden In Reverse – Progressive/Psychedelic Metal – Greece – Agonia Records
While having roots in black metal, HAIL SPIRIT NOIR have to great lengths departed from that sound in this new record. If you want to know more, I wrote about it here. But, as MAYHEM IN BLUE was, this album is a prog/psych masterpiece, which has its slight references to extreme metal here and there, but focuses way more on psychedelia in a very interesting retelling of the story of Eden, which I'd love to see live as soon as possible!
51. SYMBOLIK – Emergence – Technical Death Metal – USA – The Artisan Era
Over the top neoclassical tech death, the way I love it. The kind of stuff that The Artisan Era (best label for this genre of music) is known for. It is in the vein of bands like FIRST FRAGMENT and EQUIPOISE. On this first record (and what an amazing first album!), expect 40 minutes of hyper-fast relentless guitar solos, over blast beating madness that will never stop. The best in this style this year!
52. BOISSON DIVINE – La Halha – Folk/Power Metal – France (Gascony) – Brennus Music
I did say that I don't listen to that much power metal. But when I do, I only listen to the best. The folk/power alliance, associated with Gascon language (a local language in Southwest France) of BOISSON DIVINE makes perfect. After a very good album in 2016, Volentat; with La Halha, they have totally outdone themselves. The album is long for metal standards, clocking around 1 hour and 14 minutes, but never gets tiring. It is full of catchy hymns rooted in local history and tradition from Gascogne. It has been a long time since I had listened to an album this good within this style. Truly amazed! Hoping to see you around my home (Dijon!) when it's possible.
53. UNLEASH THE ARCHERS – Abyss – Power Metal – Canada – Napalm Records
Since I'm out to write about power metal, let's get to the other best album in the genre this year! UNLEASH THE ARCHERS' Abyss! The band has some mild influences of melodic death metal, which are introduced here and there in the best of ways. I was really happy when this record came out, because I've been following this band ever since I was a teenager with Demons of the AstroWaste, and they were one of my favorites back then. Then, I was disappointed in Time Stands Still when it came out. Apex was better, but they only got back to their prime and best of their capabilities with Abyss. A true masterpiece of power metal!
54. MASTER BOOT RECORD – C:\>Defrag – Industrial/Chiptune/Electronic Metal – Italy – Independent
I had never taken the time to listen to this project before. What a mistake! Before metal came into my life when I was a teenager, my musical background was built off of classical music and soundtracks from old video games from the late 80s and 90s. MASTER BOOT RECORD offered me with this album everything I love about arcade and RPG soundtracks in a metallized form. It's the music I didn't know I needed.
55. ABYSSLOOKER – Burden – Sludge/Doom/Post-Metal – Russia – Independent
A very small band from Russia, which I found out by chance while looking for new music online, and which I dared to listen to because of the name of the band: ABYSSLOOKER. It is ferocious sludge with post-metal tendencies, lengthy songs which take you through different levels of despair across 1 hour of great music. It reminds me of the Swiss band HEROD, which you also should listen to.
56. AKHLYS – Melinoë – Black Metal – USA – Debemur Morti Productions
This is the solo side-project of Naas Alcameth, from NIGHTBRINGER, BESTIA ARCANA, etc. With AKHLYS, he has been releasing some of the best black metal in recent years. Melinoë is his third album, and has been a long-awaited release, waiting 5 years after the release of his previous disc to offer the world this work. It has ambient aspects, and dissonant passages reminiscent of some stuff one may find in BLUT AUS NORD or DEATHSPELL OMEGA.
57. OES GALLIATH – Sous l'oeil fermé des paradis – Black Metal – France – Fosse Commune Productions
After 20 years of music, releasing demos and one split album, they finally released their first – and last – album, as an epitaph to their career, before officially splitting up. Sous l'oeil fermé des paradis is perfect old-school black metal, oscillating between fast and mid-tempo songs, between poetry and modern decadent melancholy, typical of second-wave black metal. I would like to add also that this album has a really good and clear bass sound, which is something that is often absent in this branch of black metal, which is something I particularly enjoy.
58. PSYCHONAUT 4 – Beautyfall – Depressive Suicidal Black Metal – Georgia – Talheim Records
I don't know many other bands from Georgia, a small country bewteen Armenia and Russia, but PSYCHONAUT 4 are the best they have, and one of the best DSBM bands worldwide. Blast beats intertwine with highly ambient sequences, music ranging from atmospheric black metal to post-black metal, with the despairingly sad vocals typical of DSBM, with few passages in clear Georgian language (by the way, contrarily to previous albums, which were often sung in English or Russian, this one is mainly in Georgian), and lyrical content focused on self-destruction, hopelessness and destruction.
59. KATATONIA – City Burials – Depressive Rock/Gothic Doom Metal – Sweden – Peaceville Records
KATATONIA have had a wide career, with highs and lows, and drastic changes in style. I'm a huge fan of both Dance of December Souls and The Great Cold Distance. A lot has happened since those discs, and now the band has been embracing to the fullest their new progressive aspects within their blend of doomy depressive rock. Jonas Renkse's clear voice is, as always, one of the highlights of their sound. But instrumentally speaking, they have gone somehow out of their comfort zone, trying a lot of diverse new things on City Burials, making it on of their best releases, in my opinion.
60. THY CATAFALQUE – Naiv – Avant-Garde Metal – Hungary – Season of Mist
Honestly, I never found the right words to describe THY CATAFALQUE. Whether if we're talking about the debut of this solo projetc, when it was playing some kind of weird electronic black metal or what sort of avant-garde greatness it's been doing for years already, it has always been amazing. Every album is different, but you can tell for all of them that they're THY CATAFALQUE. Kind of like bands such as ARCTURUS or SIGH, it started one way, around black metal, and then the project went wherever the hell it wanted, and that's just so great.
61. CIRITH UNGOL – Forever Black – Heavy Metal/Epic Doom Metal – USA – Metal Blade Records
It took 29 years to have a new CIRITH UNGOL album. Was it worth the wait? Yes. The most unique band in old-school heavy metal (and one of my favorites), they're in between epic heavy metal like MANILLA ROAD and old-school doom like WITCHFINDER GENERAL. I fell in love a long time ago with King of the Dead when I heard BACH's Toccata in DM playing on it. The uniqueness of the band comes from its vocals, which you'll never hear in any other band. It's nice to hear that after so many years dormant, these vocals stayed the same. So glad they're back! And for heroic fantasy fans like myself, there's no other band that takes on Michael Moorcock's literature as good as they do!
62. HELLRIPPER – The Affair of the Poisons – Black/Speed Metal – Scotland – Peaceville Records
You can often hear me singing these tunes under the shower. Yes, really. HELLRIPPER is an amazing black/speed project hailing from Scotland, combining catchy aggressiveness with amazing vocals and smartly written lyrics, everything makes you want to smash everything in your place on this album. What's also amazing is that James McBain, the man making everything in this music, is just my age (I'm 25). He is definitely extremely talented. For fans of HEXECUTOR, MIDNIGHT or BÜTCHER.
63. KATLA. – Allt þetta Helvítis Myrkur – Atmospheric Doom/Post-Metal – Iceland – Prophecy Productions
KATLA. gives us its own version of depressive and melancholic metal. Formed in 2015 by SOLSTAFIR's former drummer, the project explores ambient doom and post-metal, with, in this record, many ventures into blackened metal. This project could remind some of SOLSTAFIR indeed, but in a more noisy, lo-fi, eerie and melancholic form.
64. OF FEATHER AND BONE – Sulfuric Disintegration – Death Metal – USA – Profound Lore Records
This is only 30 minutes, but it's the most punch you in the face release of the year. The band used to be more hardcore punk/deathgrind in its early years, but now it's entirely death metal. It's relentless brutality in the purest death metal form. It never stops blasting blasphemous attacks with an old production that is as suffocating as ever. It pummels you until it finishes and will keep in your head until you spin it again. A true death metal classic.
65. YAOTL MICTLAN – Sagrada Tierra del Jaguar – Folk/Black Metal – Mexico – Independent
This is a very interesting black metal act that released its third album after ten years of silence. All sung in Spanish, it focuses on pre-hispanic history and Aztec mythology. A few bands have been doing this in latinoamerica, and this is one of my favorites. Their black metal is very atmospheric at moments and very aggressive at others, all while blending traditional rhythms and instruments here and there.
66. THECODONTION – Supercontinent – Death/Black Metal – Italy – I, Voidhanger Records
Guitar is dead, long live bass! THECODONTION is a singular project that has no guitar and multiple lines of bass. Oh, and by the way, one good method to make me listen to your music, is to name your project after a dinosaur family from the early Triassic period and to release an album about supercontinents and superoceans from ancient geologic times. That works all the time. This music is raw and filled with destruction. Even without guitar, there are still some interesting bass leads within the primitive agression of the songs.
67. DEARTH – To Crown All Befoulment – Black/Death Metal – Sentient Ruin Laboratories
The debut of this Californian band is synonymous with annihilation. Few have ever produced a first record this marking. We can only hope for the best for the future of these guys. I guess that this is the soundtrack of human extinction, which seems quite fitting at the moment. For fans of DEAD CONGREGATION or INCANTATION in an even more destructive blackened shape.
68. PROTEST THE HERO – Palimpsest – Progressive/Math Metal – Canada – Spinefarm Records
Another band I've been following ever since my teenage years. So happy they finally release a new album, even though their lineup changed a bit. Their music is still as versatile as ever, and the singer's voice is as diverse: From his pop high-pitched voice to death growls, and music that is both technical and progressive, and that goes at speeds that never slow. They're definitely at a new high in their career!
69. LORD ALMIGHTY – Wither – Progressive Black Metal – USA – Independent
Black metal and nature isn't something new. Some would even say it's kind of cliché. Usually, people may think that bands within those themes would play some kind of atmospheirc or folk/black metal. That is not the case at all here. LORD ALMIGHTY's sound is rather melodic and very fast black metal, with progressive elements and D-beat hardcore punk tendencies, which I wasn't expecting at all at first, and which were very welcome.
70. BENEATH THE MASSACRE – Fearmonger – Technical Deathcore – Canada – Century Media Records
Slightly less than 30 minutes. Ten songs clocking around 3 minutes. Hyper fast gravity blasts most of the time with layers of extraordinarily technical and crazy guitar parts, which are basically going solo all the time unless there's a good old chuggy breakdown. But those are not the point there. This thing is so fast your brain melts before the end of the first song. A true delight of technical deathcore.
71. SPOOK THE HORSES – Empty Body – Sludge/Post-Metal – New Zealand – Pelagic Records
Aggressive sludge with post-metal. Great stuff from the Pelagic family again. Quite a stark change from their previous album, People Used to Live Here. From sweet post-rock in a kind of MONO manner to something more raw and violent. I don't know what happened in their minds to channel such a change, but it must have been something. In any case, both styles are great. Being a great amateur of sludge, I'm quite happy with this stylistic change.
72. UMBRA VITAE – Shadow of Life – Death Metal/Grindcore – USA – Deathwish Inc.
Another project from some renowned hardcore people, including Jacob Bannon from CONVERGE. But if there is some hardcore influence, it's in the grind spectrum and the energy-packed short length of the songs, the album being hardly more than 25 minutes long. The core of the final product is essentially death metal, that goes into hardcore territory to emphasize its raw violence. Angry music, angry vocals, that's what we want.
73. CULT OF LILITH – Mara – Technical/Progressive Death Metal – Iceland – Metal Blade Records
These guys dub themselves as "Necromechanical Baroque". I have no idea what that means, but I like it. Something quite unusual coming from Iceland, where we're more used to their blends of black metal or post-rock. And this death metal that CULT OF LILITH is giving us is something special. Technical, elements of blackened metal, flamenco parts and acoustics, and even some spanish singing. Those two latter elements are probably related to the fact that their singer is Spanish. Anyway, this album is great, diverse and refreshing. Totally my thing.
74. EARTH ROT – Black Tides of Obscurity – Black/Death Metal – Australia – Season of Mist
This is occult Old Ones and Satan worshipping black/death metal, that may remind some of bands like BELPHEGOR, albeit with a less straightforward execution. Nonetheless, Black Tides of Obscurity is no less destructive in sound and vision, it a ruthless slab of black/death with its intricacies that make it a worthy listen! All hail the tentacled goat from the ocean's abyss!
75. …AND OCEANS – Cosmic World Mother – Black Metal – Finland – Season of Mist
When …AND OCEANS reunited in 2017, and when I saw them doing shows here and there, I was quite happy. They released some of the finest Finnish black metal in the late 90s and early 20s. 18 years separate this album from the previous one. The band had started with a kind of symphonic black metal style and then shifted to industrial black metal. One could say there's is a bit of both in Cosmic World Mother. The album is really great, but of course it was created with a different lineup than the first records, so it has to be slightly different, but it still is definitely the same band! On vocal duties, some will surely recognize Mathias Lillmans, from FINNTROLL!
76. PORTA NIGRA – Schöpfungswut – Progressive Black Metal – Germany – Soulseller Records
This is that German band which loves Fin de Siècle decadence. PORTA NIGRA have here, however, put out their most straightforward album to date. It's heavy on melodies and blasts, and has an interesting approach to vocals, with new member Tongue from CHAOS INVOCATION singing. All in German language, there are often several layers of typical black metal shrieks with clear vocals on top of them, that oscillate between actual singing or spoken word.
77. COSMIC PUTREFACTION – The Horizons Towards Which Splendour Withers – Death Metal – Italy – I, Voidhanger Records
Should we call this cosmic death metal? Maybe. In any case, it's extremely good old-school death metal, greasy and dark with blackened touches, for fans of bands like BLOOD INCANTATION and INCANTATION (feels weird writing those two in a row). Another solo project worth checking out. Two albums in a row, between last year and 2020, both were of the same intense caliber.
78. IN CAUDA VENENUM – G.O.H.E. – Progressive/Post-Black Metal – France – Les Acteurs de l'Ombre Productions
Here's a very modern project within the black metal spectrum. IN CAUDA VENENUM offers a mix of its post-black metal with many influences and other instruments, with a great deal of cello, some piano, etc, and many different atmospheres within its two very lengthy songs. The album clocks at 44 minutes with only two songs, both being longer than 20 minutes. Although there are a lot of different elements giving way to experimentation in this record, it works and holds everything together very well.
79. CREATURE – Ex Cathedra – Experimental Black Metal – France – I, Voidhanger Records
One of the reasons why black metal is my favorite genre of music is because of how many solo projects can manage to create amazing pieces of art like this one, that go way beyong every boundary this genre of music has ever had. Ex Cathedra is neoclassical, it's avant-garde, it has so many instruments and weird things happening that it's impossible to define its genre. Does it matter? No, of course, because this is extreme everything and is one thing you should definitely listen to if you love music, even if you're not into extreme metal.
80. AETERNAM – Al Qassam – Melodic Death Metal with Maghrebi and Middle-Eastern influences – Québec – Independent
Singer/guitarist/songwriter Achraf Loudiy is originally from Morocco, which explains all the influences you can find in AETERNAM's music. Lyrics may be either in English or Arabic. The whole ensemble is something that is still rare to hear, but something I personally always look out for, being myself of Moroccan origin. If bands like ORPHANED LAND are more progressive and less extreme, and others like ACYL are more groovy, AETERNAM is their extreme counterpart which retains traditional instruments, groove, as well as progginess and symphonic elements.
81. MIDNIGHT – Rebirth By Blasphemy – Black/Speed Metal/Black'n'Roll – USA – Metal Blade Records
Crazy Fucking Speed and Darkness!!! This is what I've wanted MIDNIGHT to go back to for years. This band is crazy as hell, it's first wave black metal worhispping Satan and burning everything in its way. But, because there's a but. While their debut was packing the punch and set the tone for the project's style, even if some songs later became classics in other albums (like "Evil Like a Knife"), I found that in their other records most of the songs were somewhat boring and slow, and this was never what I wanted with this band. Here on Rebirth By Blasphemy, it's relentless and never stops. The slower instants are there, but in the right amount, everything else is chaos and destruction.
82. THE TRUE WERWOLF – Devil Crisis – Black Metal – Finland – Werewolf Records
This is going to sound cheesy, but this is quality black metal for vampires and werewolves barking at the full moon on unholy nights. It's very melodic, has probably been influenced by Gothic literature and games employing such creatures in their stories. As a matter of fact, if the cover of the album looks like it could have been taken from a video game from the Castlevania series, there is an actual cover of a Castlevania song on the album (Bloody Tears, composed by Kenichi Matsubara, for those who know, originally found in Castlevania II: Simon's Quest on the NES, which has been reused in many games in the series).
83. GORATORY – Sour Grapes – Technical Brutal Death Metal – USA – Everlasting Spew Records
This shit's crazy, the way I like it. After a long hiatus, GORATORY came back for a fourth album 16 years later. The boys in the band have matured, and some of the members have made a name for themselves in acclaimed bands like JOB FOR A COWBOY, SERPENT OF GNOSIS or DEEDS OF FLESH. The humor typical of the band has shifted to less gore and shit to similar stuff but in a more subtle manner. Musically, it never stops (well except that the album is only 26 minutes). For longer technical/brutal death metal, check Darren Cesca's (the drummer) other solo project PILLORY, which just released an album too!
84. BORIS – NO – Experimental/Noise/Drone/Doom/Hardcore/Metal – Japan – Independent
BORIS have been doing whatever the hell they want for nearly 30 years now. While they're known for often going ways into noise/drone and various slow and minimalistic experimentations, here with NO, they shifted towards something at the other end of the spectrum. This album is like no other BORIS record, it goes way into hardcore, D-beat, crust punk and aggressive forms of speedy and noisy attacks, although it retains on some tracks the type of doom we may expect from them. If you've ever wanted to hear blasts on a BORIS album, you gotta check this out.
85. PRECAMBRIAN – Tectonics – Raw Black Metal – Ukraine – Primitive Reaction
A side project of members of DRUDKH, this has nothing to do with the latter band whatsoever. Raw and primitive black metal about geology topics? Count me in. This is lo-fi and aggressive, it tackles, among other things, extinction events between geological periods, and the band exploits all the time a gimmick between tracks, which I think is related to that. It's disturbing at first, but every song stops and starts extremely abruptly, which is why I guess it's a reference to those extinction periods, even if not all songs are specifically about them.
86. DROUTH – Excerpts from a Dread Liturgy – Black/Death Metal – USA – Translation Loss Records
Malignant and evil black metal that goes ways into haunting fast melodies to trap the listener into eternal darkness. While the genre of relentless black/death is often built off of shorter songs, in this case, the album is made of 5 songs for a total of 40 minutes. Songs in which songwriting took the liberty of adding many atmospheric slower sections to gain momentum for the faster attacks.
87. MEDICO PESTE – ב: The Black Bile – Black Metal – Poland – Season of Mist
Poland has many great black metal bands indeed. MEDICO PESTE is among them. It is black metal, with great production, a clear and interesting bass sound, and while it may feel natural in a sense that it may have similarities to bands like MAYHEM, it is more twisted, like their Grand Declaration of War. Modern and twisted in sound, The Black Bile won't leave you unimpressed. One of the great true black metal records of the year!
88. GLACIER – The Passing of Time – Heavy/Power Metal – USA – No Remorse Records
Formed in 1979, it took them 41 years to release their first album. After a critically-acclaimed EP released in 1985, the band had gone dormant. With The Passing of Time, original singer Michael Podrybau shows he and his new line-up can do. If this were released in the 80s, it would have been an instant classic, and surely the band would have toured with the likes of IRON MAIDEN. Now, in 2020, this is a prime example of the revival of old-school classic heavy metal sounds like no others. Fans of classic heavy metal, time to get into GLACIER!
89. EXPANDER – Neuropunk Boostergang – Sludge Metal/Crossover – USA – Profound Lore Records
As soon as I saw the title of this album and the futuristic psychedelic colors on its cover art, I knew I would enjoy it. It's a rare breed of sludge and crossover thrash/hardcore punk. Think the hypervitaminized bastard child between HIGH ON FIRE and POWER TRIP. Add a pinch of cyberpunk to your dough, and you get EXPANDER's Neuropunk Boostergang.
90. PRISON OF MIRRORS – De Ritualibus et Sacrificiis ad Serviendum Abysso – Atmospheric Black Metal – Italy – Oration
After two EPs, here is the masterfully crafted first occult ritualistic full-length of Italian black metallers PRISON OF MIRRORS. Here, atmospherics and dissonance are at your service to offer you in sacrifice to their most esoteric magic rituals. More than fifty minutes of music, along for different spells. There, atmosphere isn't just mystical, as it often is in this genre of black metal, it is also suffocating. The darkness pervades in every second of these tracks; now let the fiends devour you in their unholy black mass.
91. FORGOTTEN TOMB – Nihilistic Estrangement – Depressive Black/Doom Metal – Italy – Agonia Records
I had the chance of discovering this truly amazing band in 2019, when they played at a festival in Switzerland where I went. This is an old band in the Italian black metal scene, one of the originators of DSBM. Their blend of doomed black metal breeds despair and nothing else. This is, as the name of the album implies, a negative art in sound in one of its purest forms. No happiness lurks in there, only torment. But if, like me, you're able to enjoy that… Dive deeper into FORGOTTEN TOMB. You won't regret it.
92. PANYCHIDA – Gabreta Aeterna – Pagan Black Metal – Czech Republic – Independent
Another great band that I have discovered in the same Festival as FORGOTTEN TOMB. I had literally never heard about them before, and was of course curious to check what this band was. I was really impressed by their performance, which was one of the best of the festival! Especially the singer, who seemed so happy to be there, it was a delight to see him sing! The album Gabreta Eterna takes you to the mountains of Bohemia. All the lyrics are in Czech language, so although I don't understand a thing of it, I must say that the language fits the music perfectly (And having always been good with learning more about other languages, now I'm interested).
93. ANAAL NATHRAKH – Endarkenment – Industrial Black Metal/Grindcore – UK – Metal Blade Records
Ever since getting into them when The Whole of the Law was released, I've been a huge fan of this band. While that latter album is still my favorite, Endarkenement expands the band's range namely in vocal possibilites (which were already very diverse and top-notch). I didn't know a grind/black band could put one of the best power metal choruses I've ever heard in one of their songs! I also love the philosophical meanings behind the album's title and main theme, which relate to the decadent self-destructive behaviors of humankind. Good music for the apocalypse.
94. JUDICATOR – Let There Be Nothing – Power Metal – USA – Prosthetic Records
I've been calling JUDICATOR the American BLIND GUARDIAN for a while now. This title still holds true with the release of their fifth album, Let There Be Nothing. John Yelland and his gang had proved to be masters of progressive power metal ever since I got my ears upon At the Expense of Humanity, five years ago. If that latter album was a thematic exception in the band's discography (being about life struggles and grief), Let There Be Nothing continues to revisit historical events in their epic music. A highlight in power metal from a band that should get more recognition from metal fans!
95. BODY COUNT – Carnivore – Rapcore/Crossover Thrash – USA – Century Media Records
Don't think I'm the kind of person who listens only to metal music. Ice-T's been my favorite hip-hop figure for a while. In his project BODY COUNT, even more now than ever, I recognize myself, the struggles of marginalized people, of people with origins, wherever they're from. The world we live in is bullshit, and it's getting worse. Ice-T is the best to put into words and anger the same feelings I hold for all the ugliness I see growing everywhere, whether if it's in the US, or my home in France, or Morocco where my family's from, or anywhere else in the world. Thanks to Ice-T and his friends in BODY COUNT for their message.
96. CRYPTIC SHIFT – Visitations from Enceladus – Technical Thrash/Death Metal – UK – Blood Harvest
If you like your sci-fi thrash in a VEKTOR style, CRYPTIC SHIFT is definitely for you. The album starting with a monstrous epic reaching 25 minutes in length, you're in for a ride in every spatial direction and dimension. To be honest, it really sounds like VEKTOR or VEXOVOID. But this kind of sound is so rare that it's a delight to hear anything new in this genre. Yet they have their distinct aspects which will make them stand out from the other two. Just have a tour between those three bands and be done with it!
97. AVERSIO HUMANITATIS – Behold the Silent Dwellers – Dissonant Black Metal – Spain – Debemur Morti Productions
AVERSIO HUMANTITATIS's second album Behold the Silent Dwellers is a perfect slab of modern black metal, with soaring distinct vocals and guitars that very often go into dissonant territory, in a similar way as bands like DEATHSPELL OMEGA and ULCERATE. It's masterfully executed, and it's an album that is as modern as it is abstract. The darkness within cannot be grasped just as it is. But you may be able to let it seep into your soul.
98. FAIRYLAND – Osyrhianta – Symphonic Power Metal – France – Massacre Records
It's safe to say that I have grown up with this band. When I was 12 years old or so, all my imaginary battles with dragons were fought to the tunes of The Fall of an Empire. Fans have been waiting a long time for a new album, 11 years to be precise. It may be due to the musicians' perfectionism, but it was worth the wait. Osyrhianta continues to take you the magical fantasy lands that the band has created, and they sound as marvellous as ever.
99. IHSAHN – Telemark – Progressive Black Metal – Norway – Candlelight Records
IHSAHN is the God of black metal and always will be. The brain behind EMPEROR never ceases to amaze in his solo projects. This year, he has graced us with two EPs, Telemark going into his black metal territory with added rock'n'roll and jazzy elements, and later with Pharos, going into the progressive rock sound he's been digging into for a while now. Both are excellent, this man never ceases to evolve and create the best music in the universe.
100. LYCHGATE – Also Sprach Futura – Avant-Garde Black Metal – UK – Debemur Morti Productions
WHY THE HELL IS THIS AN EP? LYCHGATE, with Also Sprach Futura, have released one of the best black metal discs of the year. The only problem is that it's a 20-minute EP. We want an album like that. In so short a time, there are many things: classical elements, dissonance, bits of doom, and dystopian black metal the likes only LYCHGATE can produce. It is far better than last album, and I really hope that the next one they write will be composed along the lines of this EP. If yes, it will be a masterpiece.
If you've read up to this point, that means you've listened through 99 albums and 2 EPS. You can congratulate yourself.
This sums up my favorite listens of the year 2020. Again, remember that, whether they're in position 1 or 100, all of these are equally amazing. Undoubtedly, there will be many more to come next year. There are many others that I've listened to that were amazing, but let's say that a hundred is enough for now. It took me three days straight to write this article. By the way, feel free to give me your recommendations, and other albums, whichever the genre, that I may have missed out on!
We also all hope that the Covid-19 situation will progressively fade out with the spreading of vaccines, and I hope that the music industry can get back on its feet properly. People need to go out to concerts and have some fun in these dire times.

Let's all hope that 2021 will be a better year. And if not, let's hope that the 24th wave of the pandemic in 2028 finally destroys human civilization as we know it, in order to start again better. Or, maybe we'll finally have a zombie apocalypse, that will put some fun and action in my routine. I'm joking of course. Let's hope for better tomorrows.

Meanwhile, Merry Kriegmas and Happy ÜGH Year!

See you in 2021 for more stuff!
-Hakim