SKULL NEWS Playlist zum Internationalen Frauentag (D/E)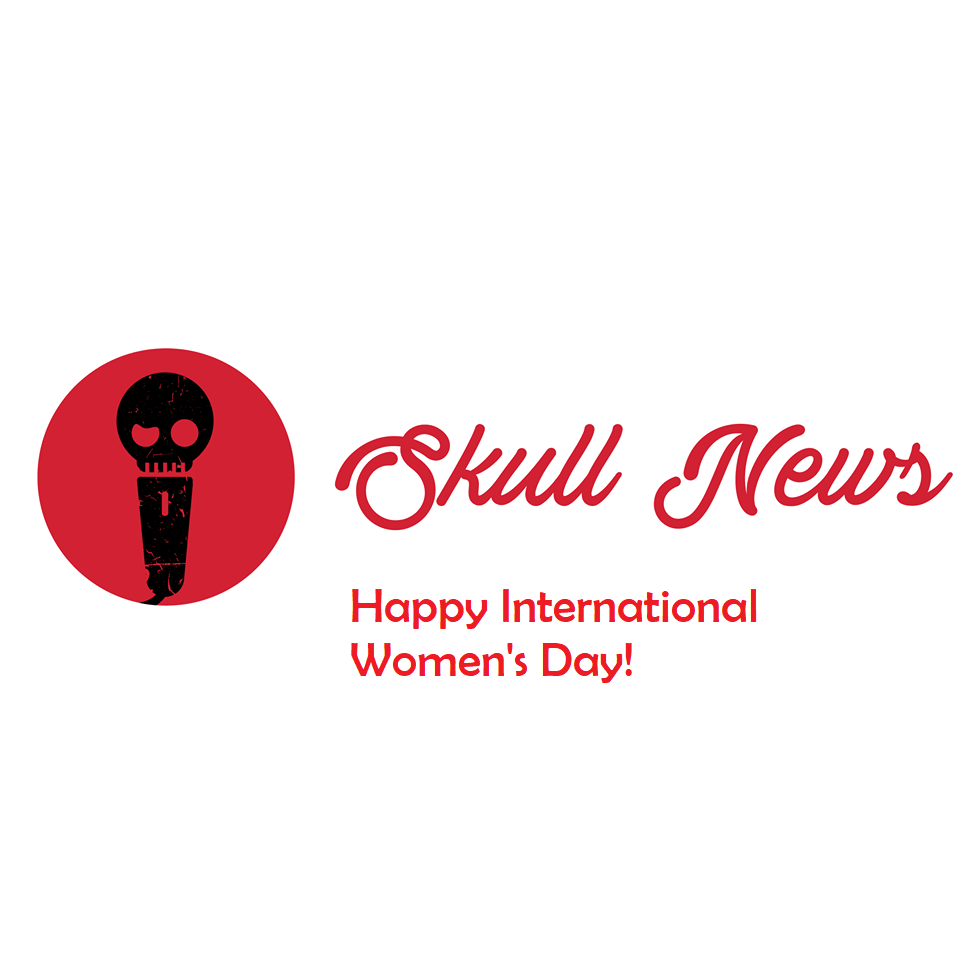 Deutsch / English
As international as possible, shifting away from Eurocentrism and white dominance, maximally multilingual, representing a variety of music genres of newer music eras, as well as reflecting as wide a range of topics around "womanhood" as possible, and furthermore the diversity of gender and sex – these were the criteria I set myself when I prepared this playlist for you in celebration of the International Women's Day. SKULL NEWS stands for diversity, tolerance and mutual respect. That's why we want to present a wide selection of music by and for *women in our playlist. The result is a colorful mix of pop, singer-songwriter, folk, rap, electropop, punk, political chanson and protest song, rock 'n' roll, rockabilly, stoner rock, extreme metal, soul, progressive metal and more! We let *women have their say in a wide variety of languages, with English inevitably being the most represented. But we have songs in French, German, Spanish, Arabic, Russian as well. It's a multicultural mix of well-known musicians and unknown newcomers, which we hope will tickle your curiosity! Have fun listening to our SKULL NEWS –Playlist for the International Women's Day! Feel free to leave a comment below the article if you want to suggest other songs and bands! We use the term *woman in the article to symbolize that this term is open to your individual definitions. Oh yeah, International Men's Day is on November 19, don't forget! We hope you like the selection of songs in our playlist, no matter what gender or sex and no matter what orientation. We love you!
Möglichst international, weg vom Eurozentrismus und von weißer Überpräsenz, maximal mehrsprachig, eine Vielfalt von Musikgenres, neuerer Musikepochen repräsentierend, sowie eine möglichst große Auswahl von Themen rund ums "Frausein" besprechend, und darüber hinaus die Diversität von gender und sex wiederzugeben – das waren die Kriterien, die ich mir selbst gestellt habe, als ich euch diese Playlist zum Internationalen Frauentag vorbereitet habe. SKULL NEWS steht nicht umsonst für Diversität, Toleranz und gegenseitigem Respekt. Deshalb wollen wir hier in unserer Playlist eine große Auswahl an Musik von und für *Frauen präsentieren. Heraus kommt ein bunter Mix von Pop, Singer-Songwriter, Folklore, Rap, Electropop, Punk, politischem Chanson und Protestsong, Rock 'n' Roll, Rockabilly, Stoner Rock, Extreme Metal, Soul, Progressive Metal und mehr! Wir lassen *Frauen in den verschiedensten Sprachen zu Wort kommen, wobei unvermeidlich das Englische am meisten vertreten ist. Doch wir haben Songs auf Französisch, Deutsch, Spanisch, Arabisch, sowie Russisch. Es ist ein multikultureller Mix aus bekannten Musiker*innen und unbekannten Newcomer*innen, die euch hoffentlich neugierig macht! Viel Spaß beim Anhören unserer SKULL NEWS -Playlist zum Internationalen Frauentag! Lasst gerne einen Kommentar unter'm Artikel, wenn euch noch andere Songs und Bands einfallen! Wir benutzen im Artikel die Bezeichnung *Frau, um zu symbolisieren, dass dieser Begriff offen für eure individuellen Definitionen ist. Ach ja, der Internationale Männertag ist am 19. November, nicht vergessen! Wir hoffen, euch gefällt die AUswahl an Songs in unserer Playlist, egal welches gender oder sex und egal welche Orientierung. We love you!
Für alle, falls ihr die Videos wegen des Geoblockings nicht sehen könnt, hier die Liste der Bands und Lieder, damit ihr sie auf anderen Plattformen suchen und anhören könnt. Alle Videos mit Infos zu den Musiker*innen kommen unten im Artikel.
For everyone in case you cannot watch the videos due to geoblocking, here's the complete list of songs and bands so you can check them on other platforms. All videos with insightful info about the musicians are below.
SKULL NEWS Playlist for the International Women's Day
01 – Mercedes Sosa "La Maza"
02 – Balbina feat. Ebow "Weit Weg"
03 – Bebe "Malo"
04 – Joanna "Pétasse"
05 – Messer Chups "For Everyone over 30"
06 – Kitty, Daisy & Lewis "I'm So Sorry"
07 – Hillbilly Moon Explosion "Walk Italian"
08 – The Ettes "Crown Of Age"
09 – Shawnee "Warrior Heart"
10 – Nina Hagen Band "Unbeschreiblich weiblich"
11 – Empress Of Fur "Johnny Voodoo"
12 – Clara Luciani "La grenade"
13 – Twin Temple "I Am A Witch"
14 – Stereo Total "Liebe zu Dritt"
15 – Grausame Töchter "Ich liebe meine Vagina"
16 – Janelle Monáe "Pynk"
17 – Pussy Riot "Органы"
18 – Ebow "Schmeck mein Blut"
19 – Chilla "Si j'étais un homme"
20 – SXTN "Die Ftzn sind wieder da"
21 – Shea Diamond "I Am Her"
22 – Ana Tijoux feat. Shadia Mansour "Somos Sur"
23 – Le Trigre "Viz"
24 – Dream Nails "Payback"
25 – Northward "Big Boy"
26 – Jucifer "When She Goes Out"
27 – Killin' Baudelaire "(Ex) Ecute"
28 – Feminazgûl "Forgiver, I Am Not Yours"
29 – Half Girl "Lemmy, I'm A Feminist"
01 – Mercedes Sosa "La Maza"
Mercedes Sosa ist eine der bedeutendsten südamerikanischen Sängerinnen der "Nuevos Cancioneros". Sosa, geboren 1935 in Tucumán in Argentinien und gestorben 2009 in Buenos Aires, engagierte sich in ihren politischen Protestliedern gegen soziale Ungerechtigkeiten wie Krieg, Diktatur, für Frauenrechte und gegen die Unterdrückung der indigenen Völker. Stets politisch aktiv, musste Mercedes Sosa ins Exil nach Spanien fliehen, doch dies hielt diese starke Person nicht davon ab, ihre Stimme für die Unterdrückten zu erheben. So erhielt Sosa bald internationale Beachtung und Stars wie Shakira, Sting, Luciano Pavarotti, Joan Baez und andere standen mit Mercedes Sosa auf der Bühne. In Deutschland wurde Sosa durch ihre gemeinsamen Auftritte mit Konstantin Wecker bekannt.
Mercedes Sosa is one of the most important South American singers of the "Nuevos Cancioneros". Sosa, born in 1935 in Tucumán in Argentina and died in 2009 in Buenos Aires, was committed in her political protest songs against social injustices such as war, dictatorship, she fought for women's rights and against the oppression of indigenous peoples. Always politically active, Mercedes Sosa had to flee into exile in Spain, but this did not stop this strong person from raising her voice for the oppressed. As a result, Sosa soon received international attention and stars such as Shakira, Sting, Luciano Pavarotti, Joan Baez and others appeared on stage with Mercedes Sosa. In Germany, Sosa became known through her joint performances with Konstantin Wecker.
02 – Balbina feat. Ebow "Weit Weg"
Balbina was born as Balbina Monika Jagielska in 1983 in Warsaw, but she grew up in Berlin. Already as a small child Balbina discovered the world of music for herself and learned singing techniques on her own. The songs of Whitney Houston inspired her early, later she felt attracted to the Berlin hip hop scene, meanwhile Balbina mixes the most different styles in her music. Balbina stands out especially with her unusually deep, warm voice, with her stage outfits and performances she intentionally provokes with unclear gender symbols and roles. Balbina also repeatedly speaks quite clearly about the existing sexism in the German music scene, so she criticizes that she is often underestimated by cis men in the industry.
Balbina wurde als Balbina Monika Jagielska 1983 in Warschau geboren, doch sie wuchs in Berlin auf. Schon als kleines Kind entdeckte Balbina die Welt der Musik für sich und lernte in Eigenregie Gesangstechniken. Die Songs von Whitney Houston begeisterten sie früh, später fühlte sie sich zur Berliner Hip Hop Szene hingezogen, mittlerweile mischt Balbina in ihrer Musik die verschiedensten Stile. Besonders sticht Balbina vor allem mit ihrer ungewöhnlich tiefen, warmen Stimme hervor, mit ihren Bühnenoutfits und Auftritten provoziert sie gewollt mit unklaren Gender Symbolen und Rollen. Balbina spricht auch immer wieder ganz klar über den existierenden Sexismus in der deutschen Musikszene, so kritisiert sie, dass sie von cis-Männern in der Branche gerne unterschätzt wird.
03 – Bebe "Malo"
Bebe ist eine spanische Singer-Songwriterin aus Valencia, eine Schauspielerin und wurde mit der Single "Malo" weltberühmt, welche auch der Titelsong für die argentinische Serie Mujeres Asesinas wurde. In "Malo" prangert Bebe häusliche Gewalt und toxische Beziehungen an, rechnet mit gewalttätigen Partnern ab und gibt Opfern eine starke Stimme.
Bebe is a Spanish singer-songwriter from Valencia, an actress and became world famous with the single "Malo", which also became the theme song for the Argentine series Mujeres Asesinas. In "Malo" Bebe denounces domestic violence and toxic relationships, settles accounts with violent partners and gives victims a strong voice.
04 – Joanna "Pétasse"
In "Pétasse," French singer Joanna condemns sexual assault and the need for consent to intimacy. In a 2018 survey by the Fondation Jean Jaurès organization, one in ten women in France say they have been raped at least once in their lives. Of these, 42% within the relationship! That there is a big problem of sexual assault even in public spaces in France was shown by a video that went viral that same year: a man becomes pushy and does not accept the young woman's rejection and throws an ashtray at her. In broad daylight, in front of the stunned guests of a sidewalk café. It is precisely this climate of lack of respect that Joanna impressively shows in "Pétasse".
In "Pétasse" klagt die französische Sängerin Joanna sexuelle Übergriffe und die Notwendigkeit von Einwilligung zu Intimität ein. In einer Umfrage von 2018 von der Organisation Fondation Jean Jaurès, sagt eine von zehn Frauen in Frankreich, dass sie schon einmal in ihrem Leben vergewaltigt wurde. Davon 42% innerhalb der Beziehung! Dass es in Frankreich ein großes Problem von sexuellen Übergriffen sogar im öffentlichen Raum gibt, zeigte ein Video, das im selben Jahr viral ging: Ein Mann wird zudringlich und akzeptiert die Ablehnung der jungen Frau nicht und wirft einen Aschenbecher nach ihr. Mitten am helllichten Tag, vor den verdutzten Gästen eines Straßencafés. Genau dieses Klima von mangelndem Respekt zeigt Joanna in "Pétasse" eindrücklich.
05 – Messer Chups "For Everyone over 30"
Die russische Surf Rock/ Electro Pop Band Messer Chups macht schon seit Jahrzehnten experimentelle Musik. Schon in den frühen Jahren machte das virtuose Thereminspiel von Lydia Kavina die Messer Chups einzigartig im Genre des Surf Rock. Seit 2015 haben sie eine nicht nur bildhübsche sondern auch talentierte Bassspielerin mit dem frechen Namen Zombierella im Gespann, ein echtes Unikat in der eher von gender Klischees dominierten Subkultur. Das Lied "For Everyone over 30" haben wir ausgewählt, weil ein Fan der Band dieses tolle Musikvideo mit Clips aus Vera Chytilovás kameratechnisch bahnbrechendem, experimentellem, feministischen, sofort vom sowjetischen Regime verbotenem Film Tausendschönchen (1966, Tschechoslowakei) erstellt hat.
The Russian surf rock/electro pop band Messer Chups has been making experimental music for decades. Already in the early years the virtuoso theremin playing of Lydia Kavina made Messer Chups unique in the genre of surf rock. Since 2015 they have a not only pretty but also talented bass player with the cheeky name Zombierella in the team, a real unique specimen in the rather gender stereotype dominated subculture. We chose the song "For Everyone over 30" because a fan of the band created this great music video with clips from Vera Chytilová's cinematically groundbreaking, experimental, feminist film Daisies (1966, Czechoslovakia), which was immediately banned by the Soviet regime.
06 – Kitty, Daisy & Lewis "I'm So Sorry"
The trio from Great Britain built their fame on their own, as multi-instrumentalists the three siblings plus their mom on the double bass rock in the style of rock 'n' roll, swing, blues and country of the 1940s and 50s. From home studio and all Do It Yourself, Kitty, Daisy & Lewis have become international stars.
Das Trio aus Großbritannien baute sich ihren Ruhm selbst auf, als Multiinstrumentalist*innen rocken die drei Geschwister plus ihrer Mama am Kontrabass im Stil des Rock 'n' Roll, Swing, Blues und Country der 1940er und 50er Jahre. Vom Heimstudio und alles Do It Yourself sind Kitty, Daisy & Lewis mittlerweile internationale Stars geworden.
07 – Hillbilly Moon Explosion "Walk Italian"
Die Subkultur des Rockabilly bezieht sich sehr auf Mode und Musik der 1950er und 60er (manchmal sogar ein bisschen früher) Jahre und so werden gerne auch gewisse gender Rollen aus dieser Zeit reproduziert. Völlig wertfrei kann ich heute nur sagen, dass ich lange Jahre Teil der Szene war und irgendwann hatte ich genug davon, dass es leider immer wieder den einen oder anderen sexistischen Moment gab. Tolle Musik und Mode findet man im Rockabilly immer noch und jede*r kann sich dort wohl fühlen, wie man will. Ich erinnere mich noch gerne an ein geniales Konzert der Zürcher Band Hillbilly Moon Explosion in der Kantine in Augsburg zurück. Mich beeindruckte da vor allem, neben dem frischen Mix aus Rockabilly, Country, Surf, Chanson, die starke Frontfrau Emanuela Hutter. Was für eine Stimme und Präsenz! Hillbilly Moon Explosion gelten zurecht als eine der besten Rockabilly Bands, dennoch sind sie für viele Menschen noch ein Geheimtipp.
The subculture of rockabilly refers very much to fashion and music of the 1950s and 60s (sometimes even a bit earlier) years and so certain gender roles from that time are also reproduced with pleasure. Completely without judgement I can only say that I was part of the scene for many years and at some point I had enough of it that unfortunately there was always the one or other sexist moment. Great music and fashion can still be found in Rockabilly and everyone can feel comfortable there, as they want. I like to remember a brilliant concert of the Zurich band Hillbilly Moon Explosion in the Kantine in Augsburg. I was impressed by the fresh mix of rockabilly, country, surf, chanson and the strong frontwoman Emanuela Hutter. What a voice and stage presence! Hillbilly Moon Explosion are rightly considered one of the best rockabilly bands, yet for many people they are still an insider tip.
08 – The Ettes "Crown Of Age"
I saw The Ettes live in Augsburg in 2009 at the Haifischbar and was immediately blown away by the dry, noisy garage rock of the three ladies from Los Angeles.
The Ettes habe ich 2009 in Augsburg live in der Haifischbar gesehen und wurde direkt umgehauen vom trockenen, krachigen Garage Rock der drei Ladies aus Los Angeles.
09 – Shawnee "Warrior Heart"
Die Shawnee sind ein indigenes Volk, das in Nordamerika im Bereich der heutigen Bundesstaaten Ohio, West Virginia und Kentucky ansässig sind. Den Namen übernimmt die Sängerin Shawnee aus Stolz auf ihre Herkunft. Sie stammt aber aus einer der im heutigen Kanada lebenden Shawnee Familien. Sängerin Shawnee identifiziert sich aber nicht nur über ihre Ethnie der Mohawk, sondern auch als "Two Spirit", was eine Bezeichnung für ein drittes Geschlecht ist. Shawnee engagiert sich für die Rechte von LGBTQI* sowie für den Erhalt der Kulturen der indigenen Völker. Beide Themen sind im Song "Warrior Heart" präsent.
The Shawnee are an indigenous people who reside in North America in the area of the present-day states of Ohio, West Virginia and Kentucky. The name is adopted by the singer Shawnee out of pride in her heritage. However, she comes from one of the Shawnee families living in present-day Canada. However, singer Shawnee identifies herself not only through her Mohawk ethnicity, but also as "Two Spirit", which is a designation for a third gender. Shawnee is committed to LGBTQI* rights as well as preserving the cultures of indigenous peoples. Both of these themes are present in the song "Warrior Heart."
10 – Nina Hagen Band "Unbeschreiblich weiblich"
Nina Hagen, the Goddess of German punk, there are not enough words to describe her wild life, her sometimes bizarre performances and ideologies, but also her extensive political commitment. Nina Hagen is simply a living legend. In "Unbeschreiblich weiblich" from 1978, Nina Hagen calls for women's self-determination over their bodies, that it should be normalized if a woman did not want to become a mother. 26 years later, we in Germany have unfortunately not yet taken a step further. For example, the abolition of paragraph 2019a is still being discussed and the doctor Kristina Hänel was sentenced for "advertising abortion"…
Nina Hagen, die Göttin des deutschen Punk, es gibt nicht genug Worte, um ihr wildes Leben, ihre teils bizarren Auftritte und Ideologien, aber auch ihr umfassendes politisches Engagement zu beschreiben. Nina Hagen ist einfach eine lebende Legende. In "Unbeschreiblich weiblich" von 1978 fordert Nina Hagen die Selbstbestimmung von Frauen über ihren Körper ein, dass es normalisiert werden müsse, wenn Frau keine Mutter werden wollen würde. 26 Jahre später sind wir in Deutschland da leider noch keinen Schritt weiter. Noch immer wird zum Beispiel die Abschaffung des Paragraphen 2019a diskutiert und die Ärztin Kristina Hänel wurde wegen "Werbung für Schwangerschaftsabbruch" verurteilt…
11 – Empress Of Fur "Johnny Voodoo"
Um mehr Selbstbestimmung über den eigenen Körper geht es auch in "Johnny Voodoo" von Empress Of Fur. Ein bisschen verspielter und sinnlicher, immerhin will die Frontfrau ihre Weiblichkeit bewusst zur Verführung einsetzen können dürfen.
Empress Of Fur's "Johnny Voodoo" is also about more self-determination over one's own body. A bit more playful and sensual, after all, the front woman wants to be able to consciously use her femininity for seduction.
12 – Clara Luciani "La grenade"
Clara Luciani lets the sensual bomb burst in "La grenade". In the 70s discofox beat, the French singer invites us to fall for female seduction. Feminism does not mean being against eroticism, but being allowed to live all facets of *womanhood.
Die sinnliche Bombe lässt Clara Luciani in "La grenade" platzen. Im 70er Jahre Discofox Beat lädt uns die französische Sängerin dazu ein, der weiblichen Verführung zu verfallen. Feminismus heißt nicht, gegen Erotik zu sein, sondern alle Facetten des *Frauseins leben zu dürfen.
13 – Twin Temple "I Am A Witch"
Keinen Hehl aus ihren Absichten machen Twin Temple. Das US-amerikanische Duo aus Hohepriesterin Alexandra James und Partner Zachary James vermischt in ihrer teuflisch guten Musik Satanismus, Feminismus, Metal und Rock der 1950er und 60er. In "I am A Witch" geht es ohne Umschweife um die sexuelle Befreiung der *Frau, wobei Twin Temple immer LGBTQI* und cis inklusive bleiben.
Twin Temple make no secret of their intentions. The US duo of high priestess Alexandra James and partner Zachary James mix Satanism, feminism, metal and rock of the 1950s and 60s in their devilishly good music. "I Am A Witch" is straightforwardly about the sexual liberation of women, with Twin Temple always remaining LGBTQI* and cis inclusive.
14 – Stereo Total "Liebe zu Dritt"
Even in 2021, *women have to listen to reproaches when they stand by their sexuality and their needs. Stereo Total breaks with the taboo of free lust in a playful way in their song "Liebe zu Dritt". Why shouldn't *women also be allowed to dream of more?! The Berlin synthpop band Stereo Total are characterized by the witty punk lyrics in which they like to break taboos, as well as Francoise Cactus adorable French accent. This icon of my younger years unfortunately passed away in February 2021 from breast cancer.
Auch im Jahre 2021 müssen sich *Frauen Vorwürfe anhören, wenn sie zu ihrer Sexualität und ihren Trieben stehen. Mit dem Tabu der freien Lust bricht auf verspielte Weise Stereo Total in ihrem Lied "Liebe zu Dritt". Warum sollen nicht auch *Frauen von mehr träumen dürfen?! Die Berliner Synthiepop Band Stereo Total zeichnen die witzigen punkigen Texte aus, in denen sie gerne mit Tabus brechen, sowie Francoise Cactus sympathischer französischer Akzent aus. Diese Ikone meiner jungen Erwachsenenjahre ist leider im Februar 2021 an Brustkrebs verstorben.
15 – Grausame Töchter "Ich liebe meine Vagina"
Ein weiteres Tabu bricht die Hamburger Band Grausame Töchter: In "Ich liebe meine Vagina" erklärt Frontfrau Aranea Peel ihre Zuneigung zu ihrem eigenen Körper. Immer mehr Künstler*innen tragen zur Debatte um Body Positivity bei, so auch Grausame Töchter. Die musikalisch im Bereich EBM, Industrial und Punk angesiedelte Band fällt vor allem durch orgiastische Shows mit BDSM Einlagen auf und bringt so auch das Thema sexuelle Vorlieben und Ausleben der eigenen Bedürfnisse im gegenseitigen Einverständnis auf.
The Hamburg band Grausame Töchter breaks another taboo: In "Ich liebe meine Vagina" (I love my vagina), frontwoman Aranea Peel explains her affection for her own body. More and more artists are contributing to the body positivity debate, including Grausame Töchter. The band, musically located in the area of EBM, industrial and punk, stands out especially through orgiastic shows with BDSM interludes and thus also brings up the topic of sexual preferences and living out one's own needs – in respect of consent of course.
16 – Janelle Monáe "Pynk"
The video for Janelle Monáe's song "Pynk" caused a sensation because the ladies dance in vulva-colored and shaped outfits. Thus, the U.S. singer, dancer and actress Janelle Monáe, showered with international awards, protests against the censorship of the female body. "Pynk", like the previous songs, is a tribute to what in American media is coyly called "Hooohaa". The vulva! Call it by its name!
Aufsehen erregte das Video zu Janelle Monáe's Song "Pynk", weil die Ladies in Vulva-farbigen und förmigen Outfits tanzen. So protestiert die von internationalen Preisen überhäufte US-amerikanische Sängerin, Tänzerin und Schauspielerin Janelle Monáe gegen die Zensur des weiblichen Körpers. "Pynk" ist, wie die vorigen Lieder, eine Hommage an das, was in amerikanischen Medien verschämt "Hooohaa" genannt wird. Die Vulva! Nennt sie beim Namen!
17 – Pussy Riot "Органы"
Übersetzt heißt der Titel von "Органы" auf Deutsch "Organe". Die russische Punkband Pussy Riot provozieren seit 2011 mit öffentlichen Guerrilla-Auftritten in Metrostationen, Supermärkten und dem Roten Platz in Moskau, vor allem durch ihre aggressiven Attacken auf das Patriarchat, die Unterdrückung der Frauen, die Zensur durch den russischen Staat. 2012 erregte ihre Festnahme während eines Guerilla-Auftritts in der Christ-Erlöser-Kathedrale weltweites Aufsehen, viel mehr noch der nachfolgende Prozess. Pussy Riot haben ihre Gefängnisstrafen mittlerweile abgebüßt und sind wieder musikalisch und politisch aktiv.
Translated, the title of "Органы" means "organs" in English. Russian punk band Pussy Riot have been provoking people since 2011 with public guerrilla performances in metro stations, supermarkets and Moscow's Red Square, mainly through their aggressive attacks on patriarchy, oppression of women, censorship by the Russian state. In 2012, their arrest during a guerrilla performance at the Cathedral of Christ the Savior caused a worldwide sensation, much more so the subsequent trial. Pussy Riot have since served their prison sentences and are once again musically and politically active.
18 – Ebow "Schmeck mein Blut"
Ebow is such a significant artist that she deserves to appear twice in our playlist. Her linguistic creativity is particularly strong: the Kurdish-born German rapper (born in Munich in 1990) Ebow, granddaughter of guest workers from Turkey, eloquently mixes English, German and Turkish in her lyrics – and also likes to invent completely new words. She proudly stands by her origins, as in the song "Kanak 4 life," but Ebow is also one of the few *women in German-language hip hop and a feminist to boot. She doesn't mince words and in "Schmeck mein Blut" she confidently deals with the fact that *women usually have periods. This is how Ebow strikes back against all "Hey, you're so bitchy, do you have your period" prejudices.
Ebow ist so eine bedeutende Künstlerin, dass sie es verdient, zweimal in unserer Playlist zu erscheinen. Besonders stark ist ihre sprachliche Kreativität: Die kurdisch-stämmige deutsche Rapperin (geboren in 1990 in München) Ebow, Enkelin von Gastarbeitern aus der Türkei, mischt eloquent Englisch, Deutsch und Türkisch in ihren Lyrics – und erfindet gerne auch völlig neue Wörter. Stolz steht sie zu ihrer Herkunft, wie zum Beispiel im Song "Kanak 4 life", doch Ebow ist auch eine der wenigen *Frauen im deutschsprachigen Hip Hop und noch dazu eine Feministin. Sie nimmt kein Blatt vor den Mund und in "Schmeck mein Blut" geht sie selbstbewusst mit der Tatsache um, dass *Frauen normalerweise eine Periode haben. So schlägt Ebow gegen alle "Hey, du bist so zickig, hast du deine Tage"-Vorurteile zurück.
19 – Chilla "Si j'étais un homme"
Die junge frankophone Sängerin Chilla fragt sich in "Si j'étais un homme", wie es wäre, wenn sie ein Mann wäre. Anders als im verspielten "Wenn ich ein Junge wär" von Stereo Total geht Chilla's Song unangenehm in die Tiefe. Sie thematisiert, wie die anderen französischen Sängerinnen in der SKULL NEWS Playlist, das Problem sexualisierter Gewalt gegen Frauen, vor allem durch ihre Partner oder Dates. Das Musikvideo stellt zwar auf ästhetische Weise diese Übergriffe als Tanz dar und zeigt doch die Brutalität in der Realität.
In "Si j'étais un homme," the young francophone singer Chilla wonders what it would be like if she were a man. Unlike Stereo Total's playful "Wenn ich ein Junge wär," Chilla's song goes uncomfortably deep. She, like the other French singers in the SKULL NEWS playlist, addresses the problem of sexualized violence against women, especially by their partners or dates. While the music video portrays these assaults in an aesthetic way as dance, it still shows the brutality in reality.
20 – SXTN "Die Ftzn sind wieder da"
Gangster rap from *women?! SXTN counter the penis-emphasizing genre with concentrated pussy power. The Berlin duo provokes in "Die Ftzn sind wieder da" by reversing typical aggressive and sexist lyrics of cis men in the genre. SXTN thus question the genre itself and are clearly having fun doing so. In the feminist debate, it is rightly discussed whether it is a good idea to invert the sexist strategies, but SXTN just have to be granted their cheekiness.
Gangster-Rap von *Frauen?! Dem penis-betonten Genre setzen SXTN geballte Pussy-Power entgegen. Das Berliner Duo provoziert in "Die Ftzn sind wieder da", indem sie typische aggressive und sexistische Lyrics von cis-Männern im Genre umkehren. SXTN stellen so das Genre an sich in Frage und haben dabei sichtlich Spaß. In der feministischen Debatte wird zurecht diskutiert, ob es eine gute Idee ist, die sexistischen Strategien umzukehren, doch SXTN muss man einfach ihre Frechheit gönnen.
21 – Shea "I Am Her"
Shea Diamond engagiert sich in den Lyrics und im Musikvideo zu "I Am Her" für die Akzeptanz der Minderheiten, im Video besonders der Transgenderpersonen. Ein wunderschöner souliger Song mit einer starken Message.
Shea Diamond is committed to the acceptance of minorities, especially transgender people in the video, in the lyrics and in the music video for "I Am Her". A beautiful soulful song with a strong message.
22 – Ana Tijoux feat. Shadia Mansour "Somos Sur"
In her music, French-Chilean singer Ana Tijoux defends pacifism and women's rights. Ana Tijoux sings mostly in Spanish and denounces gender inequalities in her music. In "Somos Sur" she sings for the hearing of those who have no voice, the oppressed, the neglected in all societies of the world. For "Somos Sur" Ana Tijoux brings on board the Palestinian-British born, controversial, singer Shadia Mansour. Shadia Mansour has been famous since 2003 as a politically active rapper, especially in the Middle East. In her early years as an artist, Shadia Mansour liked to open controversy around herself by calling herself the "musical intifada" to represent her commitment against the occupation of Palestine. Meanwhile, her main themes are mainly the struggle against conservatism and the oppression of *women.
In ihrer Musik verteidigt die französisch-chilenische Sängerin Ana Tijoux Pazifismus und Frauenrechte. Ana Tijoux singt überwiegend auf Spanisch und klagt die Ungleichheiten der Geschlechter in ihrer Musik an. In "Somos Sur" singt sie für das Erhören derjenigen, die keine Stimme haben, die Unterdrückten, die Vernachlässigten in allen Gesellschaften der Welt. Für "Somos Sur" holt sich Ana Tijoux die palästinensisch-britisch stämmige, kontroverse Sängerin Shadia Mansour ins Boot. Shadia Mansour ist seit 2003 als politisch aktive Rapperin vor allem im Nahen Osten berühmt. In ihren frühen Jahren als Künstlerin eröffnete Shadia Mansour gerne eine Kontroverse um sich, indem sie sich als die "musikalische Intifada" bezeichnete, um ihr Engagement gegen die Besetzung Palästinas zu repräsentieren. Mittlerweile sind ihre Hauptthemen vor allem der Kampf gegen Konservatismus und die Unterdrückung der *Frauen.
23 – Le Tigre "Viz"
In "Viz" sprechen sich die US-amerikanischen Elektropunker*innen Le Tigre für mehr Akzeptanz von Bisexualität aus. In der Tat kann man in den letzten Jahren in den Mainstreammedien eine Tendenz zur Löschung von Bisexualität (bi-erasure) beobachten.
In "Viz" the US electropunkers Le Tigre speak out for more acceptance of bisexuality. In fact, in recent years, one can observe a tendency towards the erasure of bisexuality in the mainstream media.
24 – Dream Nails "Payback"
Since 2015, the feminist activists of Dream Nails don't put up with anything anymore. "Payback" is about the fight for equality and justice for *women.
Seit 2015 lassen sich die feministischen Aktivist*innen von Dream Nails nichts mehr gefallen. In "Payback" geht es um den Kampf für Gleichheit und Gerechtigkeit für *Frauen.
25 – Northward "Big Boy"
Floor Jansen kennt man vielleicht vor allem als Frontsängerin der Symphonic Metal Band Nightwish, davor von ReVamp und After Forever, und zahllosen Kollaborationen mit anderen Bands. Floor Jansen ist also ein echter Metalhead und eine der nuancenreichsten Sängerinnen im Genre. 2018 überraschte uns Floor Jansen mit einem Hardrock Album, das sie als Duo Northward mit Jørn Viggo Lofstad (Pagan's Mind) veröffentlichte. In "Big Boy" zeigt Floor Jansen eine ungewohnt sexy Stimmfarbe und weist einen als "Big Boy" bezeichneten Verehrer gewitzt in seine Schranken. Was maßt er sich auch an, zu denken, sie würde nach seiner Pfeife tanzen?
Floor Jansen is perhaps best known as the lead singer of the symphonic metal band Nightwish, and before that of ReVamp and After Forever, and countless collaborations with other bands. So Floor Jansen is a true metalhead and one of the most nuanced vocalists in the genre. In 2018 Floor Jansen surprised us with a hard rock album she released as the duo Northward with Jørn Viggo Lofstad (Pagan's Mind). In "Big Boy" Floor Jansen shows an unusually sexy vocal color and shrewdly puts a suitor referred to as "Big Boy" in his place. What does he presume to think, she would dance to his tune?
26 – Jucifer "When She Goes Out"
It's hard to define Jucifer's style. Hailing from Georgia, the band happily mixes elements of noise rock, alternative metal, grunge, punk and more. The charisma of singer Amber Valentine also stands out.
Es ist schwer, den Stil von Jucifer zu definieren. Die aus Georgia stammende Band mischt fröhlich Elemente aus Noise-Rock, Alternative Metal, Grunge, Punk und mehr. Hervorsticht auch das Charisma der Sängerin Amber Valentine.
27 – Killin' Baudelaire "(Ex) Ecute
Killin' Baudelaire sind eine ausgezeichnete Alternative Metal Band aus Mailand, die komplett von *Frauen besetzt ist, was eine echte Rarität im Metal ist. Wir haben euch das killergute Debütalbum letztes Jahr auf SKULL NEWS bereits vorgestellt (hier geht's zur Review). Leider ist vor Kurzem Sängerin Cleo ausgestiegen. Killin' Baudelaire machen aber weiter Musik. SKULL NEWS hält euch auf dem Laufenden. Bis dahin können wir euch ihr Album Vertical Horizon sehr empfehlen.
Killin' Baudelaire are an excellent alternative metal band from Milan, composed entirely of *women, which is very rare in metal. We already introduced you to their killer debut album last year on SKULL NEWS (check out the review here). Unfortunately singer Cleo left the band recently. Killin' Baudelaire are still making music though. SKULL NEWS will keep you up to date. Until then we can highly recommend their album Vertical Horizon.
28 – Feminazgûl "Forgiver, I Am Not Yours"
Feminazgûl are a feminist atmospheric black metal formation from North Carolina. Their name is a combination of the words "Feminazi", an anti-feminist insult, and "Nazgul" from Tolkien's Lord of the Rings series. Their album No Dawn for Men, which is both hated and loved by critics, is about anti-fascism, women's rights and all in an innovative black metal style with influences from folk, wave and other subgenres. In "Forgiver, I Am Not Yours" Feminazgûl speaks out against religiously based oppression of *women.
Feminazgûl sind eine feministische Atmospheric Black Metal Formation aus North Carolina. Ihr Name setzt sich aus den Begriffen "Feminazi", eine antifeministische Beleidigung, und "Nazgul" aus der Herr der Ringe-Reihe von Tolkien zusammen. Auf ihrem Album No Dawn for Men, welches von Kritikern gehasst wie geliebt wird, geht es um Antifaschismus, Frauenrechte und alles in einem innovativen Black Metal Stil mit Einflüssen aus Folk, Wave und anderen Subgenres. In "Forgiver, I Am Not Yours" sprechen sich Feminazgûl gegen religiös begründete Unterdrückung von *Frauen aus.
29 – Half Girl "Lemmy, I'm A Feminist"
Den Abschluss unseres SKULL NEWS Samplers zum Internationalen Frauentag macht die Berliner feministische Supergroup Half Girl. Sie selber sagen, dass sie die Monstrosität des Normbruchs zelebrieren in einer kreativen Mischung aus Punkrock, Easy Industrial, Sixties Garage und was ihnen sonst noch einfällt.
The conclusion of our SKULL NEWS sampler for International Women's Day is made by the Berlin feminist supergroup Half Girl. They themselves say that they celebrate the monstrosity of breaking norms in a creative mixture of punk rock, easy industrial, sixties garage and whatever else they can think of.