Lang ist es her, fast vergessen aber jetzt gibt es doch endlich einen Nachfolger in der Age of Empires Serie.
"Time changes everyone. And everything. Empires will rise, kingdoms will fall. The grounds of battle become stained with fire and blood. But our thirst for adventure, exploration, discovery and conquest will stand the test of time. Together we have battled through history. Now a new age is apon us."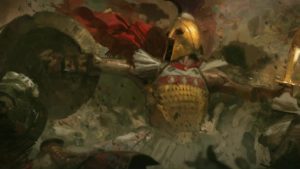 Zeit verändert jeden. Und alles. Imperien werden sich erheben, Königreiche werden fallen. Die Schlachtfelder werden mit Feuer und Blut besudelt. Aber unser Durst nach Abenteuer, Erforschung und Eroberung werden den Test der Zeit standhalten. Zusammen haben wir durch die Geschichte gekämpft. Jetzt steht uns ein neues Zeitalter bevor.
Ich persönlich bin sehr gespannt auf den vierten Teil, da ich an die Vorgänger noch gute Erinnerungen haben. Ich freue mich auf spannende Runden mit und gegen Freunde.