Review: Nothing But Thieves Moral Panic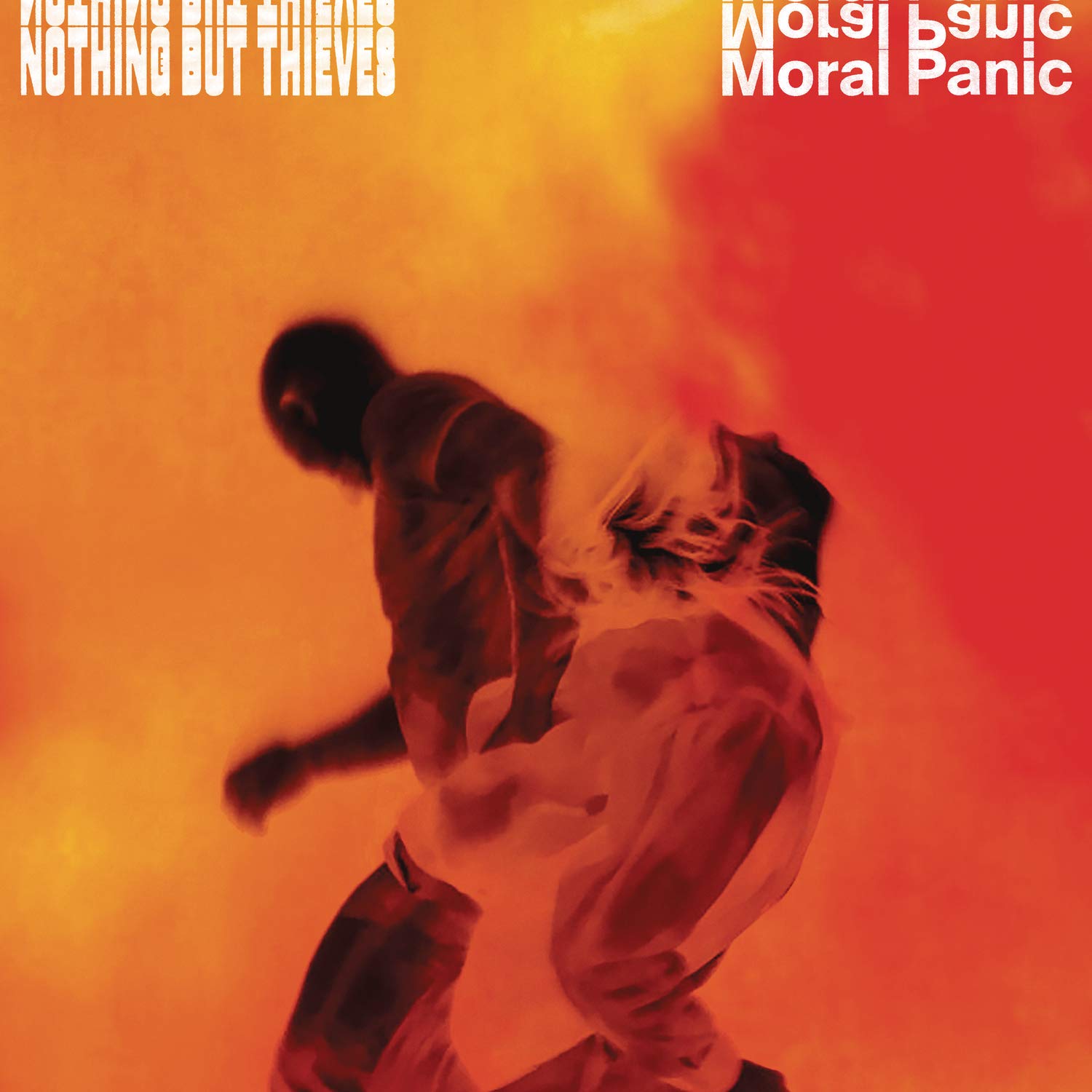 Guest contribution by Sophie Younger
For anyone unfamiliar with Nothing But Thieves, they are a five piece Indie/ Alternative rock band from Southend, who first burst into wider attention after supporting Muse on the British leg of their tour in 2016. This was my initiation also; I remember being wowed by this group of fairly young men who were capable of filling Manchester Arena with powerful sound. After all, although it is a huge honour to be the support band for a world famous established band like Muse, it is also a daunting job to win over their hardened fans and generate interest in your own music. I must admit here that subsequently, I was so blown away by Muse's outrageous spectacle, that I had completely forgotten how impressed I had been by Nothing But Thieves. Months later, my significant other offered me the self-titled debut album in the deluxe edition. That was when I was lost to most other band's forever, down the Nothing But Thieves rabbit hole. I jest.
Ever since, I have had the pleasure of seeing the band several times live, from small venues like the nightclub at the Leeds University Students Union to the O2 Arena London in 2018 (supporting Muse once more), and gaining in confidence, skill and charisma every time. The interest of the band's music lies in the fact that not only do they have in Conor Mason an outstanding vocalist, but also that every single band member is equally virtuoso with their instrument. With such caliber, there can be a risk of drowning out the vocals and each vying for attention. Careful songwriting and production establish balance in everything Nothing But Thieves have produced so far, building a rich and dynamic soundscape.
The debut album, Nothing But Thieves (2015), compiled some of their most popular – and still fan favourite – songs such as "Itch" and "Graveyard Whistling" and added a whole host of equally interesting songs. If you do not own the album yet, invest in the deluxe edition, as personally, the four additional songs ("Honey Whiskey", "Hanging", "Neon Brother" and "Six Billion") should not be missed out on. This album is diverse, slightly random, in topics but also in sound. The overall genre is still rather Indie and Alternative Rock. An impressive first album which left fans begging for more for quite some time.
The following album, Broken Machine (2017), was mostly written whilst still on tour. It is much more coherent than the debut as it is a concept album which centres around the topics like mental health struggles and the negative impact of society, addiction, substance abuse and religion on the self. It imposed itself as a critically acclaimed successor of Nothing But Thieves and some of its singles like "Amsterdam" and "Sorry" are still regularly played on mainstream radio. The immense success of the Broken Machine album can only be attributed to the way the band works through the topic mental health in its many aspects, which must have resonated with many a listener. Again, the deluxe version is a must have, because of the magnificent ode to atheism, "Afterlife", and the odd-one-out, "Number 13", whose unique sound took me some time to love. Now, in hindsight and with Moral Panic (Sony Music) out, this song could be seen as a glimpse at the musical future of the band. Nowadays, their style is steering further into hard rock, which is particularly obvious on tour. Having been to plenty of punk, psychobilly, death metal and symphonic metal concerts, I can say that the fiercest, most terrifying mosh pits are those of Nothing But Thieves fans… But, I digress. It is fair to say that the band plays louder, faster and harder now in the studio and live.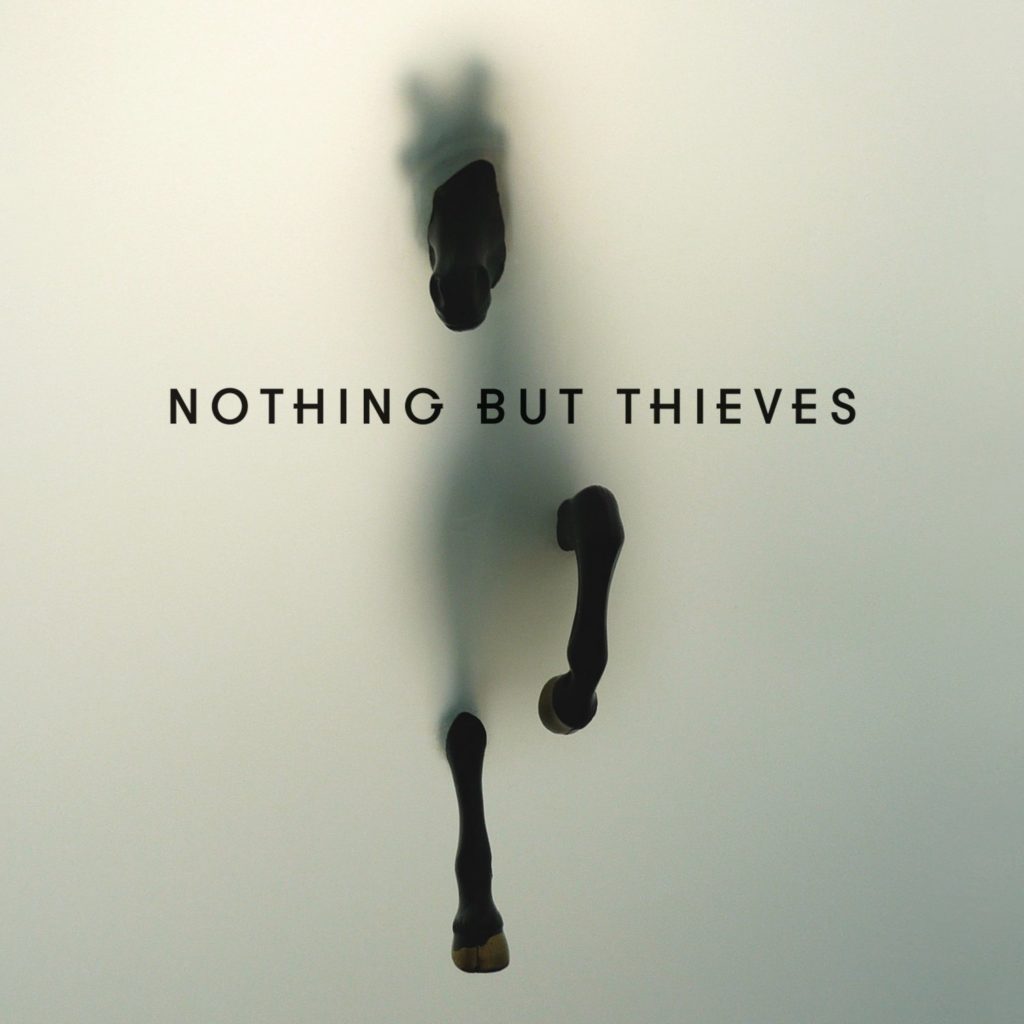 Moral Panic – Nothing But Thieves could not have found a more fitting title for their third studio album, released in one of the most eventful years possible. In fact, they had already published an enormous teaser with "Is Everybody Going Crazy" back in March, days before the start of the national lockdown in the UK. During a time of heightened political tensions across the world, there was an increased hunger for new music at the image of its era. As one delves deep into NBT's newest musical experiments, it becomes clear that the band had used their expertise in making sense of it all.
In recent interviews, the band spoke about their drive to innovate and experiment in their music; however, this had been the case ever since their first album. This is a group of extraordinarily talented musicians who have been constantly pushing their skills and artistic expression throughout the two predecessor albums and five EP's – whilst ensuring that they remained true to their identity as a band.
The most recognisable feature of their unique stylistic devices is, of course, vocalist Conor Mason's voice, but you will also be delighted to find the band's signature dry, almost abrupt and rhythmic use of the guitars by Dom (Dominic Craik) and Phil (Philip Blake), layered with Joe's more melodic riffs, and the irresistible drive of James Price's drumming. However, Moral Panic as a whole displays a much wider mix of genres and influences, including distorted vocals and an increased use of synthesiser. Despite the diversity of the new songs, Nothing But Thieves still manage to maintain continuity with their previous work and also coherence within the new album which is, evidently, down to the choice of the songs' subjects.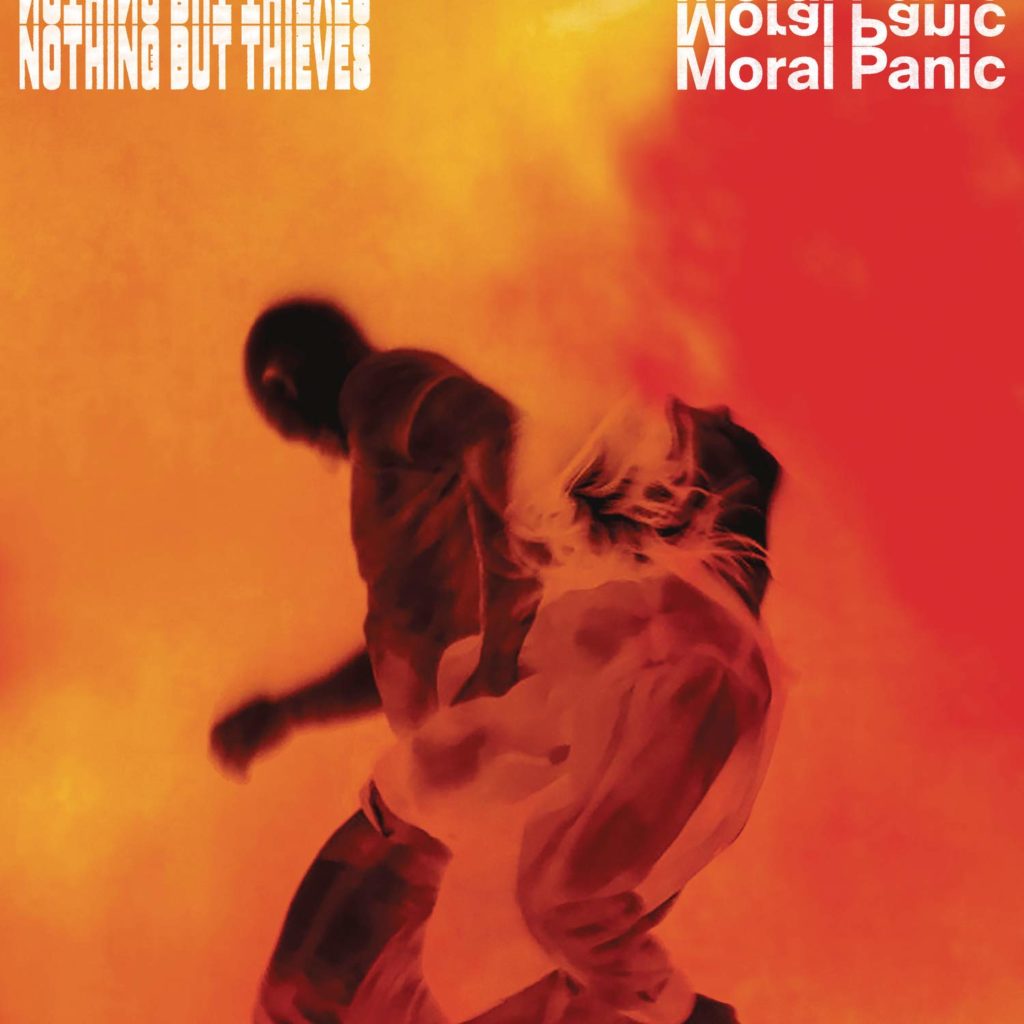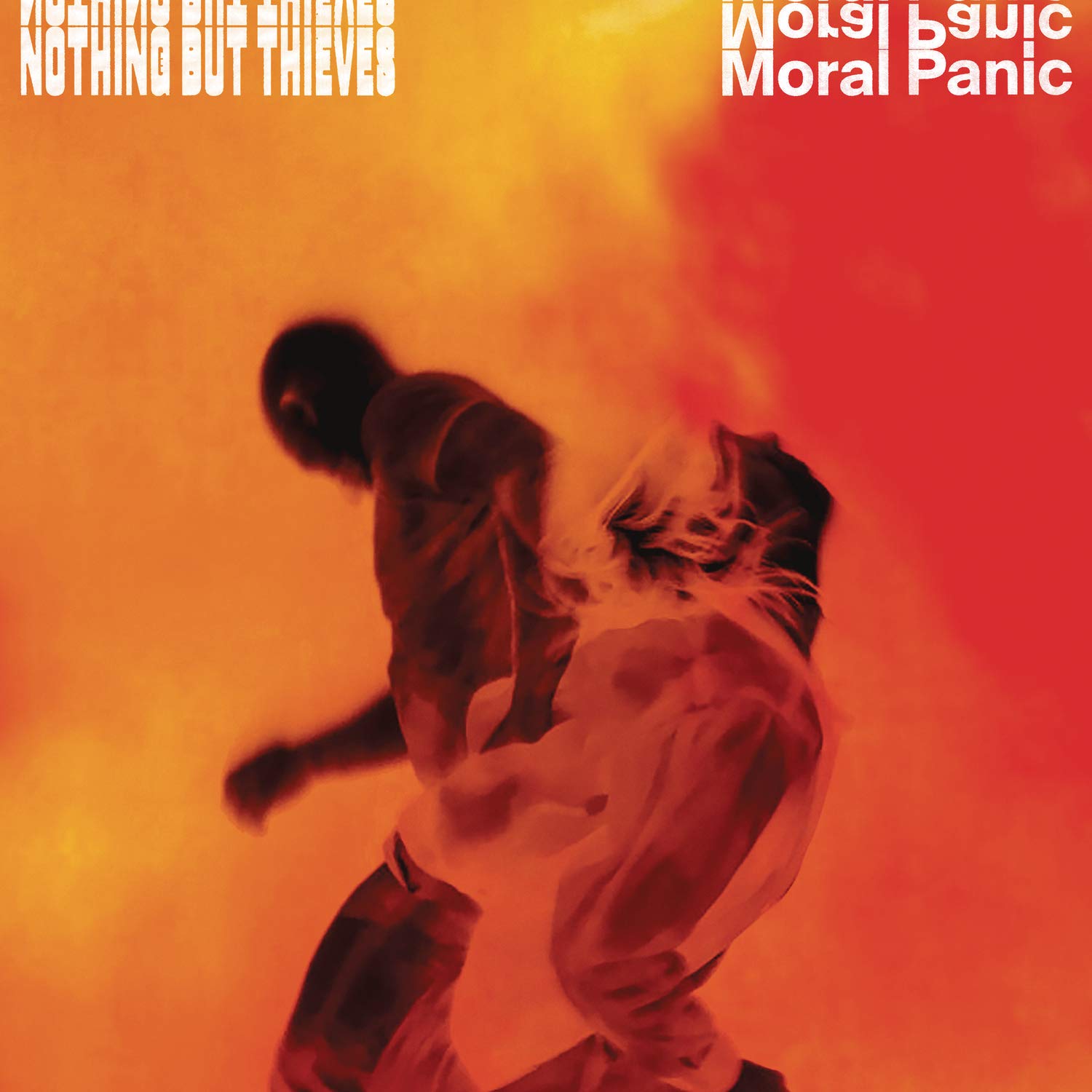 Tracklist: Nothing But Thieves Moral Panic (September 23, 2020, Sony Music)
01 – Before We Drift Away
02 – Free If We Want It
03 – Impossible
04 – Individual
05 – Is Everybody Going Crazy
06 – Moral Panic
07 – Phobia
08 – Real Love Song
09 – There Was Sun
10 – This Feels Like The End
"Unperson"
The album opener, "Unperson", is loud, daring and unrelentingly fast-paced. There are strong, memorable riffs, pounding drums and the vocals vary from high-pitched head voice to belting, shouting and some computer-generated repetitions of "clone of a clone" in the outro. It's anarchy in a song, an anthem of the underdog. He accuses society of making him this flawed, ugly unperson who is worse than what you could even imagine in your wildest nightmares. The only vindication he has is that his thoughts are still his and his alone. This song references a "grand designer" – although not literally talking about some godly intervention, it might be another Nothing But Thieves song throwing doubt at the whole idea of a benevolent creator. It fits perfectly into the band's earlier work such as "I'm Not Made By Design" (rejecting both the notions of deities in general and also of Intelligent Design), "Afterlife" (which violently refutes the specifically Christian premise of life after death, especially in the lines "You can tell your God he can keep his salvation, and if you like, the angels can fly into the sun") and more recently, "Gods" (which mockingly complains that "Gods are everywhere, pollute the air, with their everafter"). However, "Unperson" is full of rage against "The Grand Designer" – the identity of which is less clear. The lyrics mention how this flawed unperson, who had no choice in the matter and should maybe not exist at all, is defenceless against a terrifying, mind-controlling computer as well as taking orders from above. Whichever might be the intended meaning, this song echoes the album opener of Broken Machine, "I Was Just A Kid", with the lines "I'm out here searching for some meaning":
"I was just a kid
I needed answers
I found a screen
Promised adventures…
And then you gave me something
gave my life a meaning". The meaning of the first verse of "I Was Just A Kid" is foreboding and almost predicting how this "kid" would later, as a grown-up, turn into this technology dependent, mind-controlled "clone of a clone" unperson.
"Is Everybody Going Crazy?"
Released in the middle of pandemic panic buying and various political scandals, this song captures brilliantly just how "hopelessly faded" we seem to have become. It expresses perfectly this sense of loss of control within a raging storm of negative news whilst growing ever more distant from oneself and those around you. The percussion and rhythmic guitars are oddly upbeat, almost euphoric which emphasises even more the emotional detachment the lyrics are describing. Conor's ability to reach rather impressively high falsetto notes is nothing new, but in this song, he outperforms himself in the pre chorus, as he immediately returns to the deeper ranges of his chest voice just before the chorus kicks in. The song's chorus is particularly interesting because of its beautiful harmonies created by layering Conor Mason's voice. Anyone sceptical about how this would translate into the realities of live music must have been reassured when Nothing But Thieves published their Solitude Sessions version of the song later in spring: Conor more than nails the demanding vocals all the way through. Dom delighted NBT fans by releasing an extensive and very informative video about the production process behind "Is Everybody Going Crazy?", showcasing his confidence and skill as a producer. Comparing the computer simulated version of the song with the finished product, played and sung by actual human beings, highlights how much the band has evolved since their debut album. Overall, this song is both challenging and catchy and will, no doubt, become a fan favourite on tour – just imagine how well it would lend itself to moshing and extended jamming.
"Moral Panic"
The title of the song and its lyrics clash nicely with its driven, rather fast and almost optimistic sound. Playing with the listener's expectations seems to be a theme throughout the album – more about that when we reach "Real Love Song" and "Impossible". This song is hard to put into a genre box. It starts off with just synthesiser, electronic rhythms and Conor's voice, which elevates itself clearly and strongly over the faint background music. However, in the chorus, Conor Mason almost whispers on high notes, whilst repeating over and over "Moral Panic is setting in". With the second verse, James' sharp and precise drumming sets in and accentuates the meaning of the repeated lines "This is the last day of my life, yours too". Finally, in the bridge, the guitars are allowed to join in, too, finally taking the song's genre back to rock. One's first impression is that of a joyful rave into madness. The bridge makes use of electronically generated percussion, which has not been a notable feature in previous work by NBT, but also some nice guitar elements. For the bridge, final chorus and outro, Conor changes gear once more and chooses strong chest voice belting to introduce tension and contrast compared to the first two choruses. Overall, as the song lending its title to the album, it is, subjectively speaking, maybe not as memorable as "Unperson" for example.
"Real Love Song"
When the title of this single was released in June, one would have been forgiven for believing that, finally, Nothing But Thieves had produced a truly romantic song. Yet, just like with "Moral Panic", the actual song is nothing like it. Instead, it characterises love as something feral, sinister and obsessive. This is in keeping with the band's previous angles of the notion of love, desire and sensuality. In "Honey Whiskey", they explore the danger of losing oneself into regrettable acts when intoxicated with alcohol, hinting at what could lead to non-consensual behaviour. Still on the debut album, in "Lover, Please Stay", love is shown as a crushing burden, as the lyrical self cannot seem to bear losing the person who matters the most in their life. As the band matured, on Broken Machine, love features as a key concept again, but here, in "Particles", it is about the unequal relationship with a suffering addict. With "You Know Me Too Well" on their EP What Did You Think When You Made Me This Way, Nothing But Thieves discuss a carnal, addictive kind of desire rather than romantic love. "Real Love Song" is perhaps the one song on Moral Panic which is the most reminiscent of the band's previous sound – especially that from their debut album -, namely, the slight nod to 80's alternative rock, the marked drums and the strong, melodic guitars, which take the relay in the chorus, once the vocals have ended, rather than competing with them. The more traditional NBT sound of this song potentially results from the very different manner of songwriting, compared to "Is Everybody Going Crazy?", as it was written over a weekend in a BnB rather than perfectly planned and orchestrated on the computer. It's a deceptively simple song, yet it perfectly showcases each band member's expertise, resulting in a beautifully layered soundscape. Particularly noteworthy is that Conor is exploring the deeper notes of his impressive vocal range in the verses, mirroring the lyrics ("this is a dark song, real dark"). The use of identical rhymes throughout the verses ("love", "dark", "sad") appears simplistic at first but this deliberate choice emphasises much more that the key message of this "Real Love Song" can be expressed in three monosyllabic words which are yet so meaningful. The bridge reminds the listener very much of the exquisite display of vocal power in "Get Better" and "Particles", and the band's Solitude Session version proves that this is indeed perfectly possible to achieve live.
"Phobia"
Speaking of lower vocal range, in "Phobia", Conor experiments with a technique previously unheard of in any Nothing But Thieves songs. He barely forces his vocal folds; instead, he almost murmurs on a very low pitch, which is technically rather challenging, because it is all to easy to slip into a whisper or a croaked voice. This unusual singing style has been made popular by Billie Eilish, for example. Conor achieves a low and melodic tone which sounds effortless, almost bored and detached from reality. His voice is offset to a fast synthesiser rhythm and minimal instrumentation throughout the first couple of verses and choruses. The band is playing with the listener, who is beginning to wonder what direction this song will take and whether or not the signature drums and guitars will come in at all. "Phobia" is full of surprises and is not based on the traditional pop music structure of verse, chorus and bridge. Sure enough, the song builds in intensity with the electronic sounds until it breaks from its own concept after the second chorus, where the typical dry and abrupt guitars seem to crash into the song uninvited. After a short moment of confusion believing that this is a sequel to "Is Everybody Going Crazy?", Conor's vocals also take a turn and he starts to unleash the full power of his lungs. The rest of the song is a mad crescendo both in tempo, instrumentation and vocals, but skillfully ending with a few single dissonant guitar notes. "Phobia" is a crazy vortex figuratively spiraling out of control as the lyrical self declares over and over again that they need healing from the pseudo world of the internet soon.
"This Feels Like The End"
"This Feels Like The End" is the most explicitly political song to date by Nothing But Thieves. It requires several listens to unravel the full extent of its message. Musically, it represents an excellent link between the original NBT sound and the new electronic influences. Phil's prominent bass line counters Conor's high vocals in the verses and pre choruses; Dom's and Joe's rhythmic lead guitars and James' complex drumming paired with distorted background vocals, electronic percussion and synthesiser result in a song full of suspense, culminating in the mournful repetition of "I don't wanna see what we've become". There is a great juxtaposition between the upbeat rhythm and the lyrics, which list, in an accusatory tone, one horror after another. For one, the song denounces how desperate refugees are risking drowning in the sea in the hope for a better life. Furthermore, it references increasing numbers of deaths to which we become number every day, but the cause is not mentioned. Is this a reference to COVID-19 deaths? More explicitly discussed are deaths in the streets, which could be interpreted as victims of police shootings or the deaths of homeless people. Another topic are man-made environmental disasters which have been at the forefront of news reporting this year, such as plastic pollution and unsafe food standards like the infamous chlorinated chicken. Choosing an anonymous male voice to simple read out this list of horrors is an excellent artistic choice. The band denounce that we are becoming "inferior beings", leaving our humanity behind, but unlike in "Unperson", the fault lies with each of us. Lastly, they define the root of the problem as being at danger of becoming divided which is what corrupt politicians and click bait mass media want in order to steer us in the direction they want. "This Feels Like The End" leaves the listener feeling disgusted about being part of it all. It is a shockingly artistic summary of everything that went wrong in 2020.
"Free If We Want It"
This song offers a beautiful intro with synthesiser, and a soaring falsetto which then goes right back down to lower notes, showing off Conor's full vocal range and techniques. Again, the listener will find the gradual introduction of drums, rhythmic guitars and backing vocals typical for Nothing But Thieves. It is a simple but effective song, which ends with the promise that if you "Don't look back, keep going", you can be free. Reclaiming your freedom can come in this format and not necessarily an angry, shouty political manifesto type song. In "Free If We Want It", there is a recognition of one's past but that there's nothing to lose as the lyrical self does not even have any faith holding them back, but there is the possibility of actually regaining faith – in humanity? The emphasis is on the "us", repairing whatever divided us, and the conscious decision of moving on together or to remain trapped and alone. The song's place in the context of the album is surely deliberate, because it is a rather reconciliatory song after "This Feels Like The End". It is then followed by the possibilities which open themselves up to anyone who lets go according to "Impossible".
"Impossible"
Impossible not to get drawn into this song. It is convincing on all levels, as the lyrics are personal, simple and effective; the vocals are soaring and the arrangement of the instruments, the whole composition, create a memorable song. Arguably, if seen through the lens of love, this could be the most 'romantic' song by NBT to date ("I thought it was impossible, but you made it possible"). Unless, of course, it follows the theme of the album, which is more about the individual's role in a broken society. Nothing But Thieves are brilliant at creating a dramatic crescendo by introducing one instrument at a time. A hint of millennial whoop in the bridge immediately establishes a sense of familiarity, ensuring that the song remains stuck in one's subconsciousness for quite some time. "Impossible" is an unusually optimistic song, although a couple of lines towards the end of the bridge, "There is a change on its way tonight, … and I fear it so", are a reminder that nothing in life is straightforward.
"There Was Sun"
Even after several listens to this song, one still wonders what to make of this song. It is so unlike anything that Nothing But Thieves have released so far, at least on the surface. For instance, the vocalist is singing in an almost emotionally detached manner, not dissimilar to the earliest songs such as "Emergency" or "Last Orders". This is backed up by the lines "Some days I feel somewhere else… some days I don't feel a thing at all". It is also an allusion to the emotionless clone of a clone in "Unperson". The song starts off with gently muffled vocals almost veering into a pop music style feel. It is rather heavy on the synthesiser, yet slowly returning to a more rock sound as it progresses. The overall sound becomes multi-layered and complex. Trying to imagine this song played live is somewhat of a challenge. The image coming to the mind's eye when listening to "There Was Sun" is that of glaringly golden sunlight illuminating a post apocalyptic world. A central topic is a desire to return to a better past where you could still dream everything you could be. The first step is to let the sun back into one's life.
"Can You Afford To Be An Individual?"
Upon the first time one listens to this piece, one is left thinking: what the heck is this? It features spoken words in the verse, almost like rap, but also melodic parts. It is a compilation of what the band denounce about modern day America under Donald Trump, and the list is long. Although the President is not named, it is easy to identify him and his followers because of the line "you are a walking contradiction in a MAGA hat". First off, Nothing But Thieves reject the expectations linked to toxic masculinity. Moreover, they criticise the exploitation of people's fears on the internet by creating echo chambers full of xenophobia, homophobia and conformity. The whole thing is officially signed off by God who blesses the Land of the "Free". Arguably, this is the heaviest and hardest song by Nothing But Thieves so far. This song feels like a sequel to "Live Like Animals" (which now seems tame in comparison!) and "Unperson", both in style and in topic which it accentuates and exaggerates. The vocals are spiraling out of control as the song progresses, leading to screaming and furious shouting. It is not an aesthetically pleasing song, but it is strangely compelling. Ironically, the song's own title, "Can you afford to be an individual?" is distorted so much, that it is almost impossible to make out the meaning of the syllables being repeated over and over again between the first and second verse. However, Conor angrily shouts out the line twice just at the end as a rhetorical question. Trigger warning: there is an explicit suicide reference at the end. The song denounces the death of the individual in society and asks the question whether actual physical death is the only way out.
"Before We Drift Away"
Fittingly, as the previous song ends on the theme of death, the title of the ultimate song on the album is also about the same topic ("Before We Drift Away"). The first verse dives straight into the subject matter with the two lines "I wonder where I float to when I return to dust?". This question about the existence of an afterlife is a recurrent theme in NBT's music, as described previously. After the ear-splitting exit of "Can You Afford To Be An Individual?", this song is almost soothing and peaceful. Just like a river, the music softly trickles into one's consciousness but accelerates and builds to a multi-layered, powerful stream over time. It mimics the lyrics which ask whether our love for each other pours into the river or disappears forever when we pass. Clearly, this is a reference to the Roman river of the underworld, Lethe, and its Greek counterpart, the Styx, which are both the realm of the dead. If one is not convinced, the line "Somnus waits for no one" could not be clearer. Somnus is the personification of sleep in Roman mythology (or: Hypnos in Greek tradition), who is also associated with death. In this song, sleep is evidently not meant to be the daily rest for the body and mind, but eternal sleep, death. Moreover, the haunting image of a faceless clock is conjured, which is continuously ticking away one's lifetime, without telling us what "time" it is and how long is left. We shall never know in advance when our time has come, neither shall we know how this moment of the final sleep will feel like. Will it feel like a violent end to our lives, arresting us in the middle of something important, or will it represent the long awaited deliverance from our earthly existence? The song does not seem to suggest that death itself was problematic, but rather a necessary aspect of being alive. The biggest regret, however, which appears to transpire from the lyrics and the musical arrangement is losing the love of the other when they are gone. Not even wars raging in the world can be of higher importance. "Before We Drift Away" is a thought-provoking end to Moral Panic, especially as it finishes with soft, hushed, "I don't wanna grow old".
To sum up, the new album Moral Panic by Nothing But Thieves is a gem in independent / alternative rock. Captivating your attention with the first haunting note sung by Conor Mason, gripping the emotions, fears, hopes, anger, desperation, love of a whole generation, combining a new heavier and more aggressive tonality to the typical melancholy and even a contradictory upbeat frenzy here and there – Moral Panic is a suspenseful album that SKULL NEWS highly recommend for everyone who enjoys pop/rock with much deeper dimensions than the average bands provide in this genre. On Moral Panic, Nothing But Thieves also prove more than ever how well the young Brits have merged into a powerful combo of equally virtuous musicians who each get their special moments in the delicately arranged and mastered new songs. Moral Panic is without a doubt a SKULL NEWS top recommendation for 2020!
Nothing But Thieves on Facebook
Nothing But Thieves on Instagram
Nothing But Thieves on YouTube
This article is a guest contribution written by Sophie Younger. Thank you for your dedicated in depth review!
"Hi fellow music lovers. I am Sophie, a teacher of French and German in England by day, known for blasting ear-splitting music out my classroom's loudspeakers first thing in the morning, preferably symphonic metal, alternative rock and Indie. However, I also quite enjoy Scandinavian folk and some pop music, too. My connection with SKULL NEWS is my music aficionado of a sister, Jasmin, whose to-the-point reviews and interviews are a huge inspiration for me." – Sophie Younger