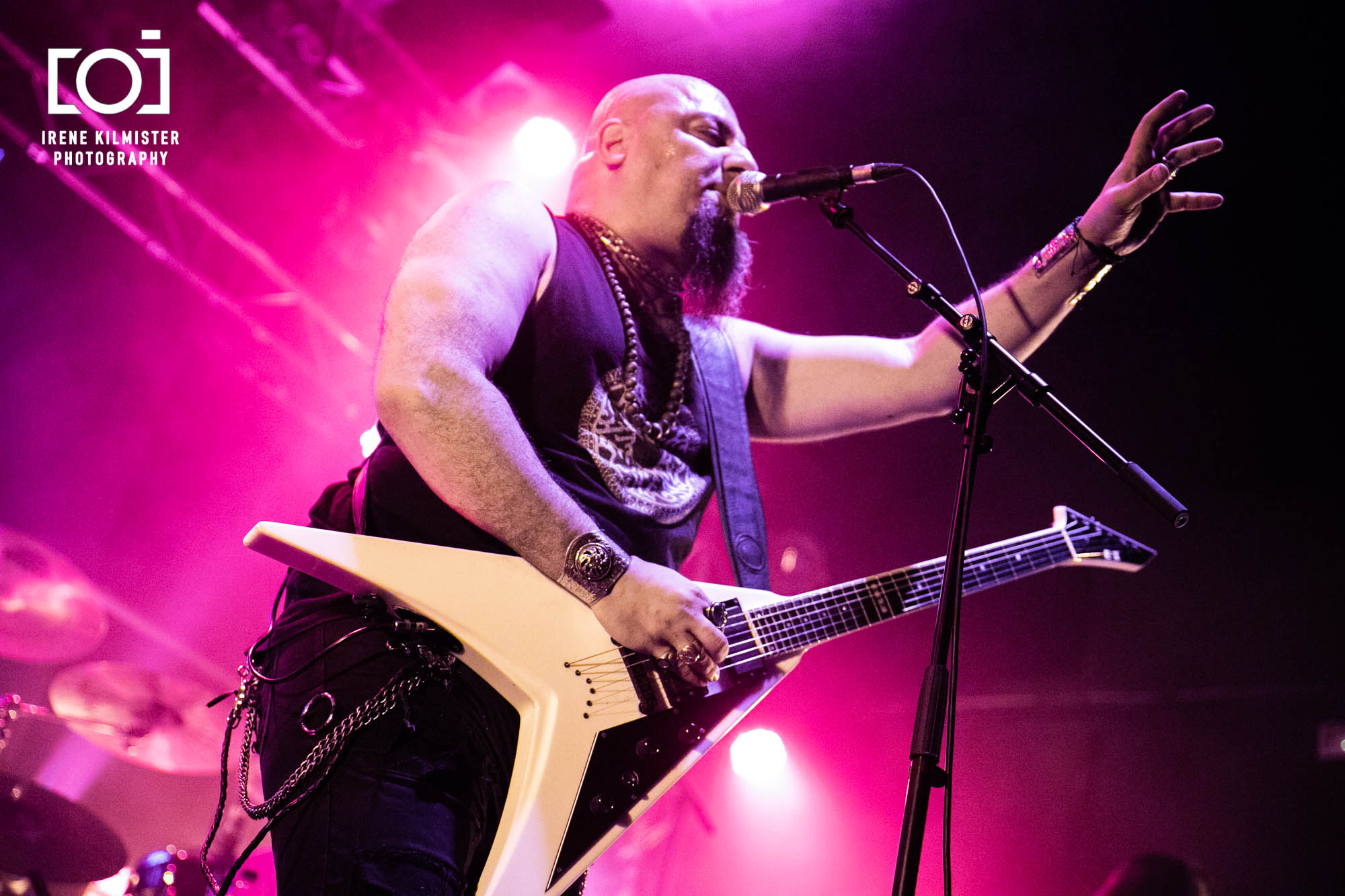 Interview with Ashmedi from Melechesh at Damask Metal Fest II in Barcelona, 16th of November 2019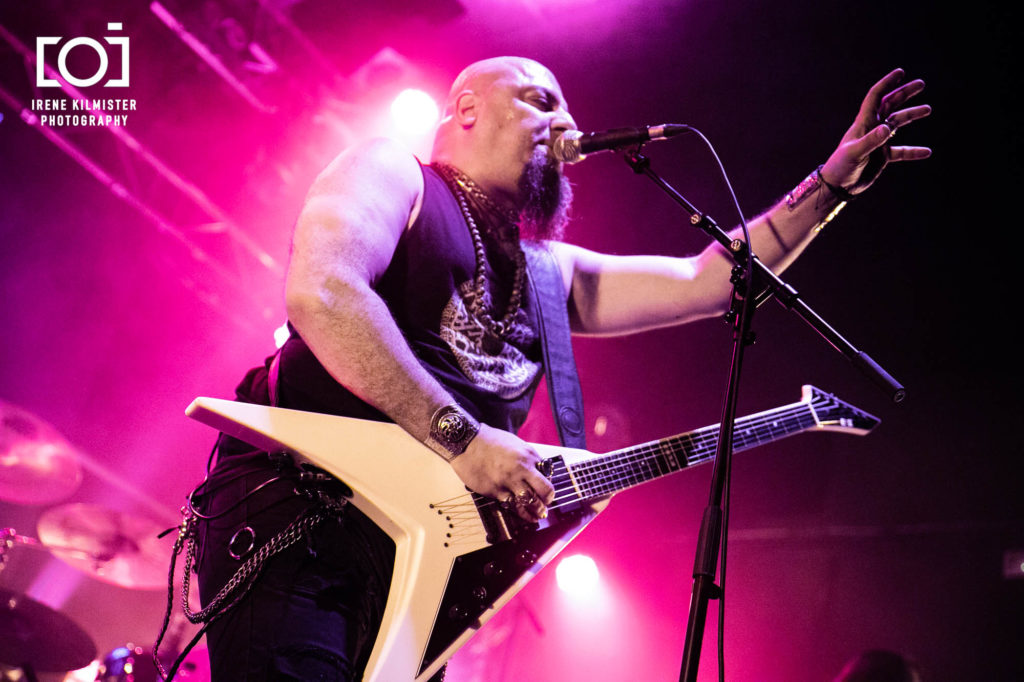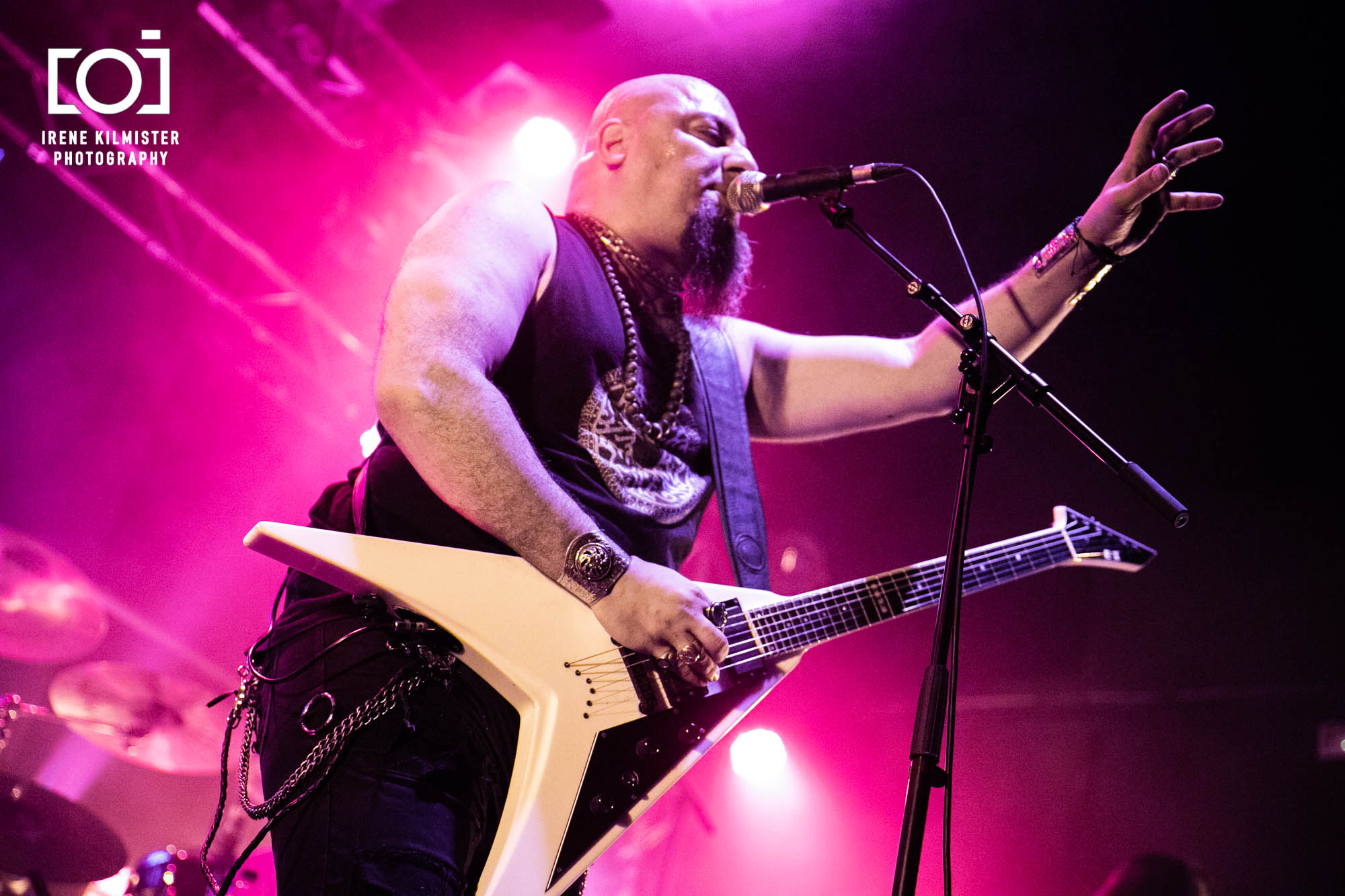 Melechesh are originally from Jerusalem, but refuse to be called "oriental" as it is a way too broad and way to inaccurate term. In our discussion, Ashmedi explained how he considers this label as an expression of white supremacy and how he wishes that people perceive his band. Melechesh are indeed extraordinary, mixing blackmetal and thrash metal elements with references to the rich multiculturalism of the Middle East. Other than other bands from that region, Ashmedi doesn't want to meddle into politics, but he wants to treat the subjects of mythology and spirituality in his music. Why the band didn't release anything new since their last album "Enki" in 2015, he also told me during our interview. But new ideas are already becoming concrete at the moment and Ashmedi teased me with some glimpses into his current creative processes. Where Melechesh are soon going to tour in Europe, you will learn more below!
I met Ashmedi from Melechesh for our interview in the afternoon before the second day of the Damask Metal Fest II in Barcelona started so we could also talk about their performance the night before. In the well-known venue, the Sala Salamandra, a very mixed crowd mostly from Spain, but also from Germany, France, even Argentina, easily got into headbang mode from the heavy guitar riffs of which the Middle Eastern melodies and harmonies and the dynamic changes between metal blast beats and arabic and armenian rhythms quickly got the audience on their feet and moving. Melechesh have been a highlight of three the first night, followed by the bit more atmospheric Primordial, who dedicated a song to their friend Ashmedi, and finally Finntroll (see concert review) made the whole venue jump. All in all, the combination of bands of that first evening worked well and Melechesh seemed pleased with their performance, too. More tour dates are coming, a new album is in the making, so better be prepared! Ashmedi and I had a blast doing this interview – have fun reading it! The photos are from the talented local live photographer Irene Kilmister Priest who feels honored to be able to share her photos for this article. Check out her Facebook for more amazing shots!
Jasmin: Thank you, Ashmedi, that we can meet for this interview! How are you? Tired from the show yesterday?
Ashmedi: I'm fine, thanks, a bit hungover, we went out last night after the show.
Jasmin: Fully enjoying the nightlife of Barcelona, right?
Ashmedi: Yeah!
Jasmin: I brought you something from my city, Dijon, in France!
Ashmedi: My first language was French! Je parle un petit peu de français! Quand je bois de l'alcool, je parle très bien le français [laughs]!
Jasmin: Wow you are switching languages like zip zip!
Ashmedi: I speak five languages!
Jasmin: That's impressive! Do you know this, the speciality "Nonettes de Dijon", gingerbread with cassis filling!
Ashmedi: Oh, thanks! I am usually not the sweet guy but [takes a bite] these are good! It's not very sweet though, it's perfect.
Jasmin: What I find funny about this gingerbread is that it is the typical cake from the region of Dijon, and you know, France has a long Catholic, occidental tradition, despite being officially a secular country. And this traditional gingerbread is made with oriental spices! Whatever the right wing and populist people say, oriental cultures have always been part of the culture. As Melechesh are bringing different cultures together …
Ashmedi: I see, I see! Clever!
Jasmin: Talking about France, will you be touring there any time soon?
Ashmedi: We will come to France, but when, I don't know yet. I really need to finish the new album first.
Update: December 3rd, Melechesh announced a tour in Europe starting 10th of January 2020 in Germany. There will be shows in France, the UK, Austria, Switzerland, Italy, Hungary, Czech Republic, Poland and even a few dates in Russia. All infos and dates can be found on Facebook!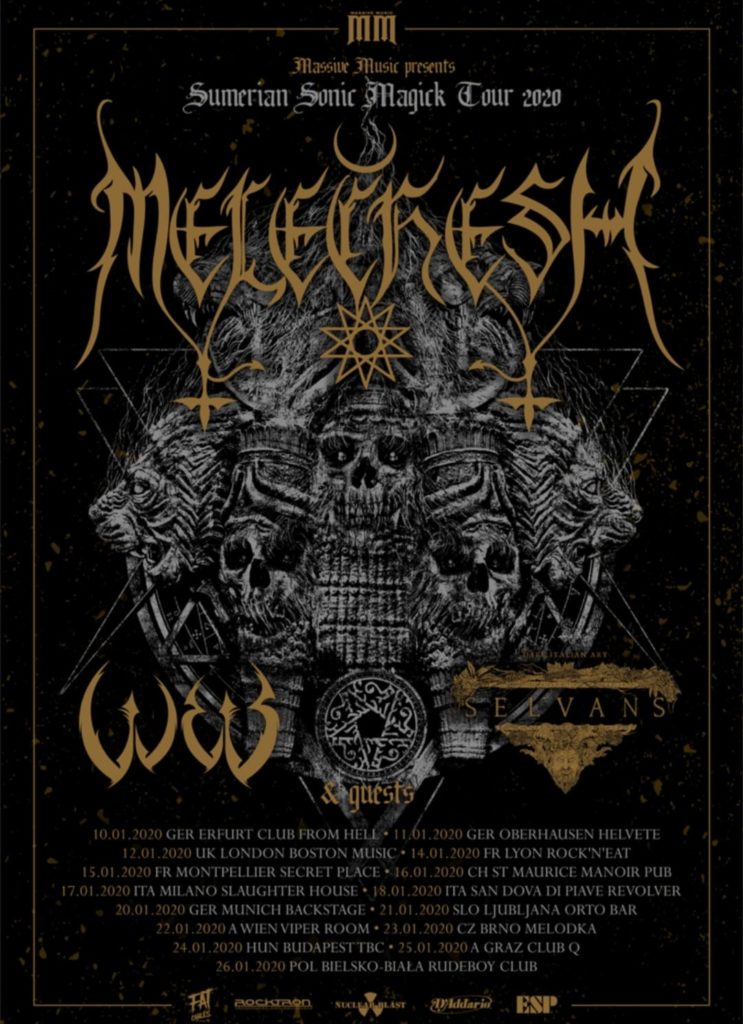 Jasmin: Wow, that's great news, a new album! I am excited!
Ashmedi: It takes so long for me to write an album.
Jasmin: Why?
Ashmedi: Because I am doing it alone and we tour a lot. Also, the last years had been quite tough for me. I had PTSD and some problems, now I am feeling better and I'm writing again.
Jasmin: That's good to hear that you're better!
Ashmedi: I am writing good stuff, but it is taking it's time. We are going on tour again in January, but we haven't planned to come to France, but the booking is not done yet.
Jasmin: Maybe come to Lyon, it's a great city with a big metal scene.
Ashmedi: Yeah, I know, the people in France like us!
Jasmin: Unfortunately, not in all cities, there are good metal scenes, some others are really forgotten by the world of metal.
Ashmedi: Then we should go there first!
Jasmin: Yes, please! Coming back to the new album …
Ashmedi: Yes, I've got so many riffs! And I have finished writing six songs now. But I really need to work on them, like the drums and stuff.
Jasmin: Can you tell us already what the songs, the albums will be about?
Ashmedi: It's all in my head, all of my ideas are from my head. It's like a micro cosmos, inside of my head and I kind of get into a little spaceship there. It's so big inside! I've got a whole universe of imagination inside of my head.
Jasmin: So is it going to be a concept album?
Ashmedi: I never write concept albums, the whole band of Melechesh is a concept. Our music is like a loose concept of certain aspects. So it's not going to be one story.
Jasmin: And your inspiration, does it come from what happens in reality? There is going on so much in this world.
Ashmedi: I get inspired by the real world, yes, but much more from everything that is mythology, cosmology, transcendency. But when there is something from this world inspiring me, then I don't necessarily put it into the lyrics, but more in the music, in a subliminal way, like in the song "The Lost Tribes". I've never told anyone before, but while I was recording this song (on the album "Enki", 2015), my cousin in Syria was shot by people from ISIS. They shot him in the shoulder, he didn't get killed. Then they wanted to execute him and his mom, my uncle's wife. They told them to hand over their keys, that they won't need their house anymore. His torture was so loud, that they heard him in the buildings around. But they didn't kill him, because the neighbours came and paid money to save him. His torture affected us, I never said this in public before. If I showed you his photo, you would see that he looks now like my grandfather, but he is actually a year younger than me. He looks like an old man from all of the trauma! And then I hear people in the European metal scene saying nasty things about refugees, like "Fuck the refugees!".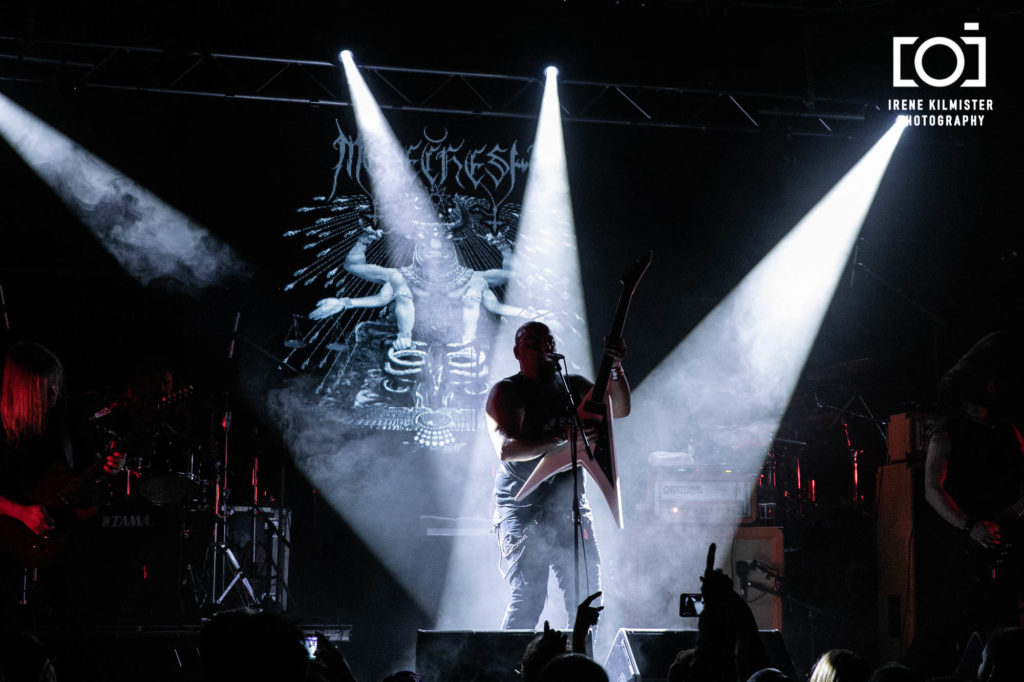 Jasmin: There are people in the metal scene who say something like this?!
Ashmedi: Yes! There are many who feel safe and comfy in Europe and don't mind the military interventions in the Middle East, destabilizing the region, but they don't want people from there coming here to save themselves. This is the utmost disgusting thing!
Jasmin: Yeah, that's result of populist parties getting more attention. They divide people, telling them that this or that culture isn't part of society.
Ashmedi: It is all mixed and influenced by other cultures! Already food, there wouldn't be Italian pasta without the Chinese who invented the pasta first. Our the Dutch flowers, the tulip, is from Turkey, or Sinterklaas had been a Turkish monk, but according to the legend, he came to the Netherlands via Spain, once a year.
Jasmin: You know so many history facts, so I guess you passed the immigration test?
Ashmedi: I wasn't required to do the test, I only did the language test, as I did not really immigrate. I've been in the Netherlands a long time, as a student, then I got a very lucrative job and they gave me a permanent residence permit. Later, to get the passport, I just needed to do the language test and I thought, why not?
Jasmin: So you speak Dutch fluently?
Ashmedi: Pretty much, yes.
Jasmin: Since when do you live there?
Ashmedi: Yes, in 1998, I moved to the Netherlands and I liked it. But now, I am kind of living in Jerusalem again. I spend a lot of time there.
Jasmin: How did this experience, living far away, change your view on your home country?
Ashmedi: I've lived in many different places all over the world, so I realized that the people in the Middle East are more angry and the Dutch are more timid. For me, going to the Netherlands, people said like, yeah, there's good beer, and it's liberal and fun, but to be honest, in Israel, I had more party. So being in the Netherlands, I could focus on my studies.
Jasmin: What did you study there?
Ashmedi: I've got a Master in Business, which is useful as a band leader, I learned to deal with the human part of business. The biggest challenge in my business is to do the human contacts for booking etc., the music, the touring, getting signed, is not tiring. But now I am back to Jerusalem, for now, because I never plan more than a month ahead. For now, I am there, but who knows where I will go next.
Jasmin: Would you say that moving back and forth to different places, does this influence your songwriting for the new album?
Ashmedi: Yes, like I said, I get my inspiration from my mind, my cosmos, that always comes with me. Some of my best things I wrote happened in the calm city of Amsterdam, where it's been raining all the time. Yes, I can say it is an influence, because when I go back to Israel, it's a desert region, and where I live in the Netherlands, there are trees everywhere. In Israel, I do feel inspired, by the colours, and the difference, of course it influences me. Also, you should remember that Israel is not one culture. In my opinion, Israel has an identity crisis itself. There are so many cultures there, it is hard to not get inspired, it's so heterogenic. That's what Melechesh is about, too. Coming back to what I said about metalheads who follow populist opinions and right wing politicians, they exist. But there is such a huge metal scene all over the world of open minded people. The subculture of metal is stronger than national cultures, it's global. And the metalheads from all over the world communicate and somehow get along. I was in Indonesia in 1995, wearing my metal stuff openly when I walked through the market, an area that was supposed to be a scary area. But people were just so nice and positive towards me, the scary metalhead! And vice versa, to most metalheads, immigrants are no problem, but there are some people who have right wing opinions. Metal is a mixed culture.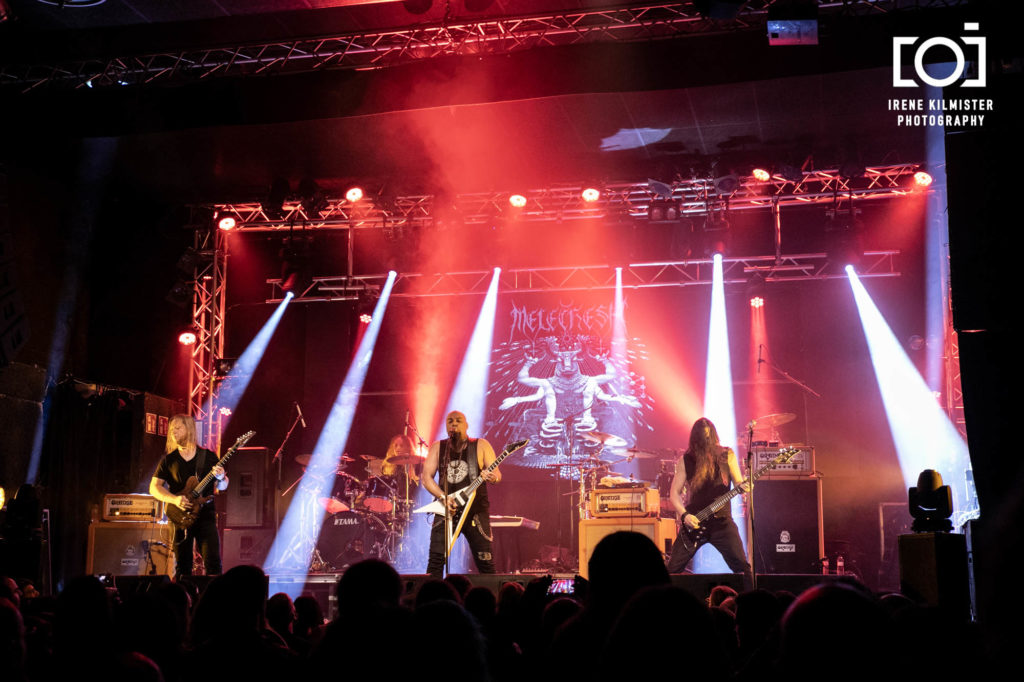 Jasmin: How do you represent this mixed culture in your lyrics?
Ashmedi: My lyrics have some words in Arabic, some lines in Sumerian, a linguist translated them for me. It's been weird first, because it's about the occult and in Arabic, it's never been done before. All this magic, it's hard to swallow for some people. So it's been the first time to hear these occult words in Arabic!
Jasmin: How was the reception of this?
Ashmedi: Good! We got a very good reception. People were curious!
Jasmin: Yes, people are curious and you can see in the last years a growing interest in the metal scene in Europe for subjects and music from the "Orient".
Ashmedi: I don't like this word. This word apparently has very different meanings everywhere. For the Germans, the "Orient" means the Middle East, but for me, it's a word from colonial times. It's absurd! Everything else is "occidental": Metallica is occidental, and Slayer and Primordial, they are all "occidental". And people always go like, we are "oriental", okay, whatever.
Jasmin: It's almost like in movies, when they say, that the suspect has "oriental features", it could be anything.
Ashmedi: Yes, right! In the US, by law, you have to tell your race in the documents. My race, apparently, is "caucasian". But when I go down the streets in the US, the police would probably say, "here's a male hispanic".
Jasmin: That is funny and weird at the same time.
Ashmedi: Yeah …
Jasmin: What I wanted to point out is that in the last years is that "oriental" music – whatever that means – has become more present in European metal and bands from the actual "Orient" – wherever that is – like Myrath, or Orphaned Land, or you guys, Melechesh, get more attention now in Europe. And all of them get summed up as "oriental".
Ashmedi: It's "Middle Eastern" or "Mediterranean" music, that's fine. See, music is sound. And journalists write down, what they discuss about music. They need to write it down, because there is no sound. So they need labels to describe the music, put in words what they hear. This is okay, as long as they are not obsessed with labels. Melechesh are a Middle Eastern band with mythological subjects, that's true, but I don't like the label "oriental". Calling half of the planet "oriental" and the other half "occidental" is just stupid and very inaccurate. If you want to put words on it, then be accurate. If you describe a band as "celtic", it's accurate, and you wouldn't call it "occidental". Like I said, are Primordial and Finntroll and Metallica and System of a Down and Deftones all "occidental", because they are living on this half of the planet?!
Jasmin: This way, it suddenly sounds very silly indeed!
Ashmedi: That's what I mean! But I understand that putting labels on music is the only way of communicating the music in the written word. So it's okay.
Jasmin: Yet, don't labels, stereotypes also help to sell?
Ashmedi: I sing in a blackmetal voice but I use blast beats. Never in my life someone told me I could make a living of it. But hey, look where we are. That I'm here is a miracle. I never strived for success, this is what I love, this is what I do, that's all. I'm not writing my music to sell it. It's happening on its own. If I would have wanted to make money, I wouldn't do blackmetal, as it is a niche of a niche. I wanna do blackmetal of my culture, Assyrian, Aramaic, Armenian, you know, and talk about the beauty of the Middle East. It's not always about war and religion. How about mythology and the cradle of civilisation? The beautiful sounds, the Middle Eastern music has that tribal thing and metal has a tribal thing. Tribal music is primal as is metal, so it fits. I want to sing about the beauty of my area, there is so much! A very rich culture! I never thought of it as a money maker. I just keep saying, this is Melechesh and if it is not us, then it is not us. No marketing interest! More like a principle. Some bands maybe are working more actively on their marketing strategies, but I can promise you, we always go with the feeling. I do have a business degree, but when it comes to Melechesh, on the business level, I've made all the wrong decisions. I've always been emotional and not logical. I've made many mistakes but also had many situations of being at the right time at the right place, but I never had a plan other than just making music. To let things happen. I never thought, let's do "oriental music".
Jasmin: So, how do you feel when European bands refer to "oriental" cultures?
Ashmedi: For me, personally, I'd say that music is for everyone. No-one owns it. I mean you should respect the others and like it, then it's okay. But what really weirds me out is if there are let's say Mexican bands doing Viking music, everybody would laugh. But if it is an American guy or a Swedish guy doing Arabic music, then it is okay. So that's the white privilege thing. For me it is all okay and it should be for everyone else. Unfortunately, there is this biais, this white privilege. And some people don't even think about it. Yet, music is a global thing! If you like the music from another region, you've got the right to do it! Also I hate that nowadays when actors do the part of someone from the Middle East and people complain that it's not a person from the Middle East – I tell them, the word is "actor". It is "acting" , it is "mimicking", so come on, let the "actor" "act". If someone represents the president of a country, he still is an actor who is acting. Pretending. So it is okay.
Jasmin: So you oppose yourself to the cultural appropriation discussion?
Ashmedi: What I am against is having biais. Either everyone is doing it, or nobody. Not some people can do it and some not. That's my problem, that's the hypocrisy. Also with cultural appropriation: Every subject in the hands of masses becomes a stupid discussion. Because most people are not educated. Let me explain: If there is an actor in a commercial eating a coconut and people criticize him for cultural appropriation. I say, you are maybe not qualified to judge him. Labels are put on things too quickly. It is a problem, that many people are not informed, they have no idea. See, there are some Christian fundamentalists in the US, and my family is Christian, and these fundamentalists say "Fuck Allah, praise God!". They just said "Fuck God, praise God!", because "Allah" is "God" in Arabic. Even the Christians say Allah too, it's not a muslim word, it's Arabic. And what people don't understand is that the Islam is practiced in Arabic. But you can say "Allah" in a christian church. So, when people say, "Fuck Allah, praise God!", this makes no sense. I've seen discussions in the Netherlands, simple, like, you've got Allah, we've got God, let's get along, it's the same word. It's the same dude, in whom I don't believe in, but with a different name. It's like saying Dieu and God. Some people just don't get it. That also is why democracy is a problem, when too many stupid people vote other stupid people or the media influences them, then it's a problem. That's how Donald Trump got elected. Democracy is amazing when people are smart, it's dangerous when people are uninformed. And then we get Trump. But what else then, the alternatives to democracy are not good as well. When you think of the Eastern part of Germany, which weirdly had the name "German Democratic Republic" – when I was a kid in school, I got confused, which one was the actually democratic one?! I always confused them, because the one that called itself "democratic" had been a dictatorship actually.
Jasmin: It's true that people need to get themselves educated about subjects … is this also the objective of your music, educate people?
Ashmedi: I want to transcend people. It's a bigger picture. It's about talking about spirituality, mythicism, the big questions of humanity. I support bands like Orphaned Land who are engaged in getting people to be in peace and I hope that it happens like they wish. That's just not my subject. I'm just tired of seeing people fight. Everything get become something stupid in the hands of stupid people.
Jasmin: Will this reflect on your new album?
Ashmedi: You'll see. It's all in my head,
Jasmin: When will it be released, anyway?
Ashmedi: It should be next year. It should be! I can't make it later than next year, I've got enough material. I've got some very good riffs, some are simple melodic, straight forward, some are like occult wizard stuff. Some are straight to the point and others are crazy [laughs loudly] By the way, I love to joke. Life is too serious and laughing is the best medicine and it is for free.
Jasmin: Also on stage yesterday, you were joking around a lot.
Ashmedi: Yeah, especially there. The occult and joking around. It's powerful!
Jasmin: Yeah, the audience enjoyed your show very much last night! For me, it's been the first time Melechesh live and you guys were absolutely powerful! Can't wait to see you again soon. Thank you for this interview and your time!
Ashmedi: Thank you for this talk! Yes, it's been nice last night, nice audience. Finntroll were fun.
Jasmin: Will you come to the other bands later, too?
Ashmedi: Yes, I think so. Haven't seen Orphaned Land live before, so maybe I'll come.
We later met in the audience of the Sala Salamandra and enjoyed seeing the other bands. Ashmedi proved what he said about himself: He really is someone who doesn't care about other people's judgement. So why not, as a grumpy looking black/thrash metal guy, dance belly dance to Orphaned Land with a German journalist?! See here for the interview with Kobi Farhi from Orphaned Land in which he tells us about his connection to Amorphis, his utopian visions and the plans for his band.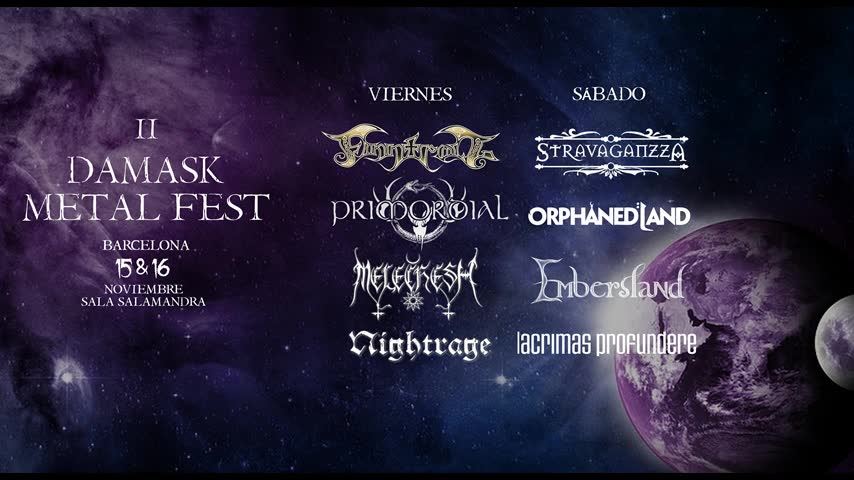 The festival Damask Metal Fest held its second turn in 2019 with twice as many bands and a two day program instead of one day like in 2018 – which means that last year's reception of the festival's debut was good enough to encourage the organizers to continue. And indeed, the line up of 2019 was a great combination of international and Spanish bands: On Friday, 15th of November, Nighrange, Melechesh, Primordial and Finntroll made the audience jump, dance, sway and sing. On Saturday, 16th of November, Lacrimas Profundere, Embersland, Orphaned Land (interview with Kobi Fahri here) and Stravaganzza hit the stage. All in all, it's been a nice little festival in a smaller venue which has the advantage of a very intimate concert atmosphere. There is no stage pit separating the bands from the fans that is how the fans got in close contact, shaking hands, giving high fives with the musicians, danced together and had nice chats with them at the bar and at the merch stand. The festival team is super friendly and helpful, the audience was nice, and it should be mentioned that Barcelona is still warm and sunny in November. On top of it, the concert venue, the Sala Salamandra, is next to the Metro station, so you can go quickly to every other part of the Spanish metropole and you are quickly at the airport. These positive aspects together mean that Damask Metal Fest has the potential to become a nice metal meet up in winter outside of the fully packed summer festivals season!