Fresh and hot post-metal band Tarmak from Belgium just released their debut Plow (our review in German here) where they explore rhythm and groove and the limits of rock music. The creative trio, Sander (guitars, vocals), Geert (bass), and Simon (drums), took their time to answer our questions. Have fun reading our interview below!


SKULL NEWS: Thank you guys in advance for agreeing to do the interview! First, some questions about your band for people who don't know you yet and who should learn more about Tarmak! With which label have you released your debut Plow?
Simon: We self-released it for now, mainly because after about a couple of years rehearsing, we just wanted to have our 'business card' ready with the purpose of starting to play more shows.
Sander: Yes so right now, we don't have a label and we're doing everything by ourselves (from investing in the record to promoting the release). It takes a lot of time & effort, but it feels really rewarding/fun to be fully independent and do whatever the hell we want!
SKULL NEWS: What does your band name Tarmak mean?
Simon: We were mainly looking for the kind of word that has a strong sound to it. In our local West-Flemish dialect, it means 'asphalt', just like the song 'toton' is coming from the West-Flemish "tot ton". Sander and me were both born in West-Flanders and we like the feeling of putting our roots in it in some way.
Sander: We have a small fetish for strange words that somehow sound mentally satisfying to all of us. I think 'Tarmak' does that for us but on top of that, I feel the sound of the word captures the sound of our band and the music we want to make. In a way we've named our band (and are titling our songs) in the same way some parents choose a name for their baby; waiting until it's born, looking at the child and intuitively coming up with a suitable name that matches its character. But besides our word-fetish-motivation, there's another reason I like 'Tarmak' as band name. For me, an important motivation for making our music is wanting to construct an escape route. An escape route for ourselves personally, but also for the people listening to our music. To me, 'Tarmak' is a kind of vehicle that allows me to fly or drive away from reality for a while, and all the problems/worries that I've got going on at that time in my life. And it is exactly that therapeutic aspect that I also want to offer our audience. In aviation, 'Tarmak' means: the surface for parking aircrafts, allowing passengers to board and disembark, load and unload cargo, collect fuel and so on. I like to think that's a nice metaphor for what our band is.
SKULL NEWS: In your band profile, you write that you started as acapella singing band with Mongolian throat singing. It's a joke, right?
Geert: Haha, who knows?
Sander: Good question. We don't say yes but we don't say no either. Besides whether it's a joke or not, Simon is deeply fascinated by the practice and has looked into it a lot. It's a real fantasy of us all to be able to do this with the band someday. It sounds fantastic to be able to do it.
SKULL NEWS: How did you guys get together in the beginning? What were your first ideas for the band (music, subjects for the songs etc.)?
Simon: It started out with Sander me, after our last band State of Time decided to quit. We kept jamming and after some time we felt like the sweet spot of our own personal preferences in music was reached.
Geert: When their previous bass player left the band right before a gig, Sander asked me to fill in. After that I stuck around!
Sander: I'd like to briefly elaborate on this. I met Simon about 8 years ago when I was 20. At that time, I was playing in State of Time and Simon was 'just' a friend of the band (he didn't play in it). We had about an hour of music with State of Time at that time, and just started doing our first live gigs. Our bass player still lived with his parents who had a massive garden and a caravan at the very edge of their garden. It's in this caravan that we rehearsed (and slept) but also organised occasional barbecues to which we invited our friends. On one of these barbecues, Simon was invited through a mutual friend and I arrived late that day. When I finally got there and was approaching the caravan, I heard some jamming going on from a distance, and I remember thinking: "Damn our drummer's on fire today. I've never heard him play like this before". When I got in the caravan, I saw that it wasn't our drummer, but a stranger (called Simon). Our 'usual' drummer couldn't be there that day, so we ended up jamming with Simon for a few hours straight. It was awesome and there definitely was some chemistry there that I hadn't experienced before. When we said goodbye that day, I remember telling him to keep doing what he was doing (as far as the drumming was concerned). Little did I know, at that time, that I was going to see much more of him after that. A few weeks later we decided to let the drummer go and get Simon in the band. Looking back, we didn't handle that in a way that I'm very proud of … but that's another matter that I won't get into now. Simon joining was definitely a good thing for the band but it couldn't resolve the bigger issues that were at hand, which ultimately caused the band to separate altogether, about a year after Simon joined. In the last few months, Simon and me were jamming in the caravan on almost a weekly basis, and the other guys usually weren't into it. So a lot of the times, it was just the two of us jamming, in someone else's caravan and garden. That's where the first riffs of our first song, "Petanque", arose. Those riffs didn't match with the softer-sounding music we were making with State of Time. I don't think Simon and me ever had a serious conversation about starting up a new band or something. We just focused on continuing our jams and working out ideas between the two of us. After State of Time separated, the two of us spontaneously continued because it just felt like the right and logical thing to do. So we might not have realised it at that time, but in 2014, Tarmak was born.
At first, things went rather slowly. We needed a lot of time to figure out the direction of our band. We searched for additional musicians which was hard. And Simon and me were both still in our student years, and definitely more guilty of laziness than now. All those factors combined meant we needed a few years to really get the band on the rails, but in 2017-2018 we finally got together a full band and a live set of music worth playing. Then, while we were preparing for our first live shows, Wannes (who played guitar #2) quit. That caused me to start experimenting with loop/sample pedals and we decided that these live loops/samples offered a nice compensation for the loss of our second guitar. But after that, right before our first show, the bass player quit too. Talk about bad timing… I immediately asked Geert (who plays bass in my other band BufferState) if he wanted to play bass with us. He accepted the offer and really rescued us in style there. He learned the material in almost no time and we ended up actually playing the live shows without having to cancel.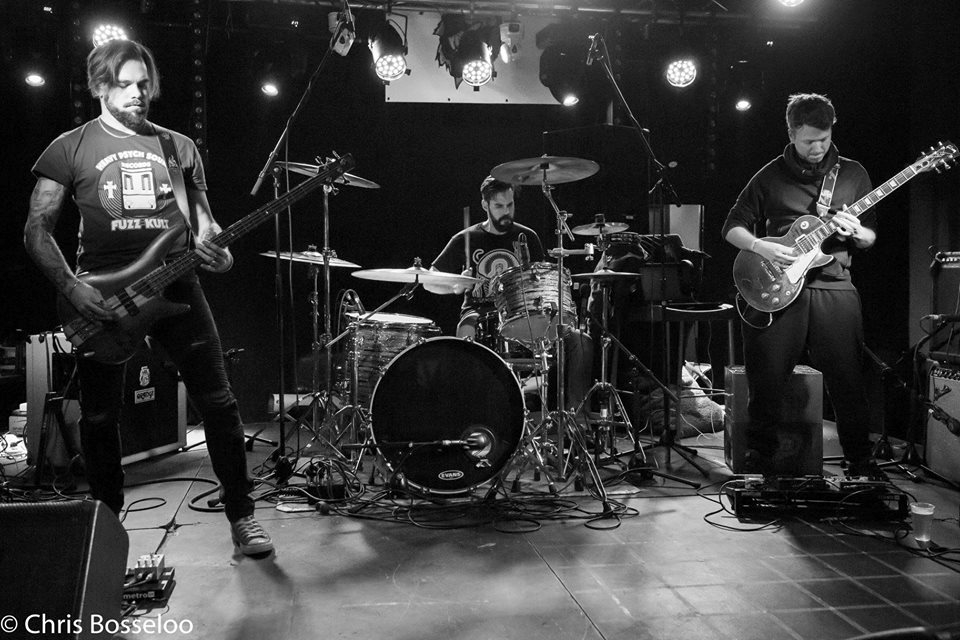 Now about your debut Plow ….
SKULL NEWS: Who created the artwork for you? How did you get the idea for the picture of the ostrich man? Reminds us of the surrealist work of René Magritte, actually…
Geert: Simon can tell you all about that. As a huge fan of Magritte's work, I really appreciate that!
Simon: I'm a graphic designer in daily life, and after creating the logo it made sense that I would create the rest of the artwork. The idea behind it is to imagine a world where the place of animals and humans on the food chain would be upside down. In some way it sounds more like a fair way of living, seeing how humans can seem to react so bad to power. A guy named Alexander Pokusay did the incredible work of making the main illustration, and I altered this to find the concept and idea.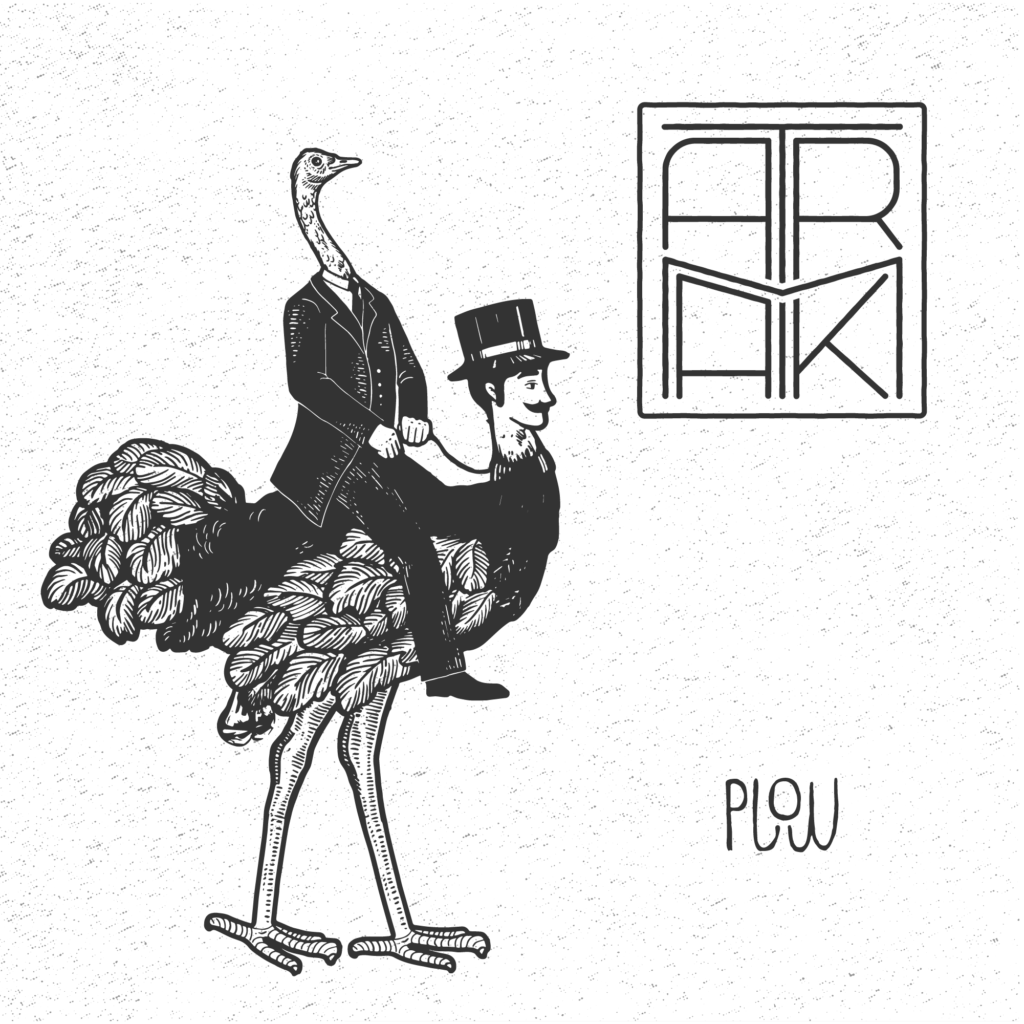 SKULL NEWS: The songs are almost all instrumental (so most of them have no lyrics), but have interesting titles, "Krater", "Petanque", "Krampus" … that already tell stories, plus, your music is very complex and musically invite us to imagine stories. Could you give us some background about the song titles, please?
Simon: The kind of stuff we try to make is exactly that: telling a story. And with that philosophy we make the songs that we do, in the same way a story is told. So the structure of the song is more like a straight line connecting each 'chapter' to another and only sometimes referring back to what happened before. Because of trying to approach our structures a bit different, our music isn't always as approachable when you hear it for the first time.
Geert: Storytelling. That reaches the very core of our music. Each song represents a journey, with its ups and downs, going through a whole range of emotions. As for the titles, some are more literal, others more abstract. Sander can say more about that!
Sander: I think Geert & Simon really hit the nail on the head here. Fun fact here is that all 3 of us are big fans of cult horror & sci-fi (B) movies. It's a subject we often talk about and Simon & me have watched a lot of very weird shit together. So maybe this unconsciously influences us when we're writing! In any case, I'm glad to hear your fantasy was activated in a similar way when you were listening to "Krampus" (I saw in the review that you imagined a sea monster at the bottom of the sea when listening to this). Because that's the type of story we wanted to tell with "Krampus". It's about a creepy creature that represents the sinister personae that we carry with us and try to supress in our daily lives. The alter-ego, the dark passenger, the shadow side, whatever you call it.
Our other song "Toton", like Simon mentioned, kind of means "see you later" in our local dialect. For me it's a story about being forced to part ways with someone close to you while there are still lots of unresolved issues. Choosing our titles mainly happens intuitively. When we're (almost) done with the music, we try to purely listen to the song and come up with a word that sounds interesting and also matches the story that we pick up in the song.
SKULL NEWS: What are the lyrics of "Krater" about?
Geert: That's another one for Sander.
Sander: The lyrics are kind of observational / philosophical. I think in a way, our society is just as barbaric as we were a few hundred years ago. Everyone is a conscious or unconscious participant in carefully woven power/control structures. A weird phenomenon happening these days is that we get so excited about watching crime TV shows. I think people get aroused by this because these shows give a glimpse of what it could be like if you would be able to detach yourself from these fixed structures of control. It's that flood of sudden kind of misplaced excitement that inspired me and to think deeper about where it originates from. In a way, this documentation of criminals hints at the possibility of true free will, which is something none of us can ever totally possess, yet we're all aching for it. Nevertheless it's the type of destination that can never be reached. I do realise that sounds quite depressing, sorry for that! But in a way, you could say we're all contributing to the elimination of free will because we observe each other, more than ever (via social media too). Besides observing, we're also constantly judging. The judgements we make are based on the moral framework that is put / pushed forward by our society. So somehow, we're imposing the same behavioural laws on each other, and everyone actively pushes but also gets pushed themselves into a pre-designed mould. It's a system that's more subtle yet more effective than the physical punishments that were invented in the Middle Ages, but the goal remains the same: pushing everyone into that mould. Usually I'm not super excited about having deep philosophical debates but when it comes to writing lyrics I try to 'unlock' that side of myself. We barely have any lyrics so for the small amount we have, at least some meaning should be in there I think!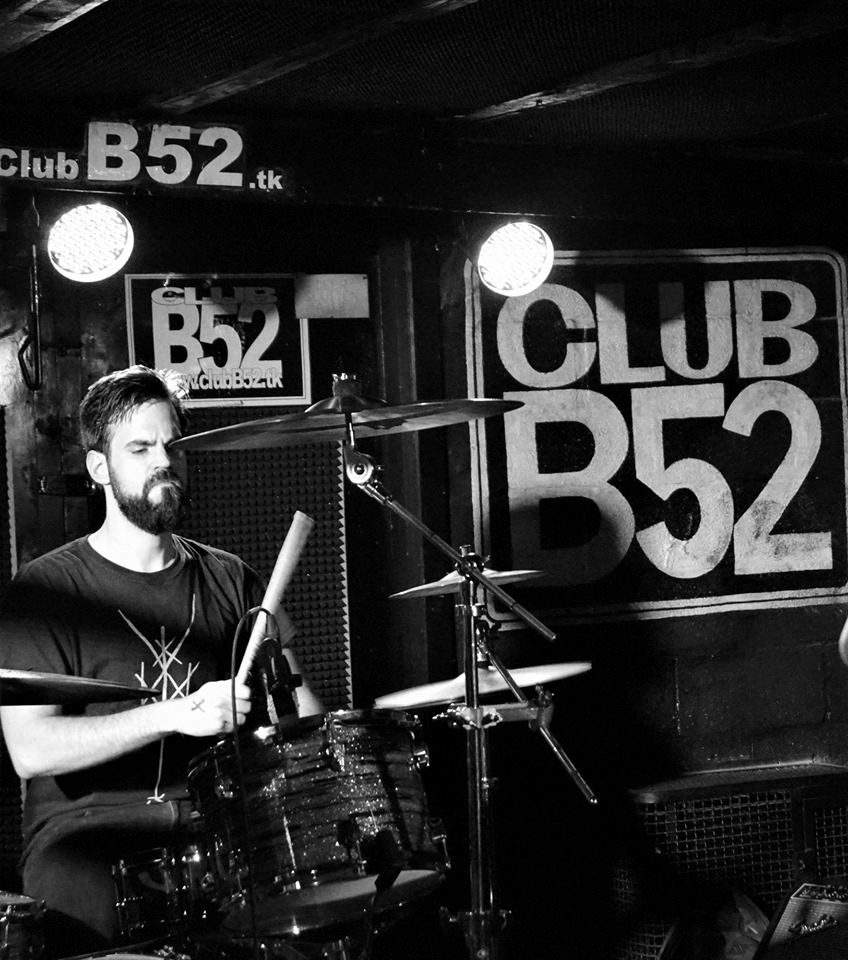 SKULL NEWS: Why is your music mostly instrumental? Is this your band concept/ goal?
Simon: Because of the somewhat more complicated structures we felt there wasn't always a need for an extra voice. In the past we had organized some auditions for finding a singer, and although each of them had something, none of the sounds seemed to be really fitting.
Geert: It's easier to tell stories using lyrics. You can be quite literal. But that shifts away the focus form the instrument. We want to be a bit more abstract, use the music itself to guide the listener through the story. That also leaves more room for the listener to put something of themselves into our music.
SKULL NEWS: Have you thought about guest vocalists? If you could have any guest vocalist you want – who would you love to have on one of your songs and why?
Sander: Damn, that's a tough one, there's a lot of great choices out there. First names I'm thinking of are (of course) Maynard (from Tool), Brent Hinds or Brann Dailor (Mastodon) or Josh Homme (QOTSA). But let's go with Thom Yorke from Radiohead. I think he has a unique ability of finding the most intriguing, perfect, complementing melodies, and he can achieve this on all types of different songs and atmospheres. I was seriously impressed by the recent soundtrack he made for Suspiria. I think that record demonstrates the extreme boundaries to where he can take his talent of inventing and executing a unique melody that makes you feel exactly what he's feeling. The music gets really bizarre, sinister and alien-like at the same time, yet he still manages to find a great melody that allows the whole song to transform into something bigger than its parts. He makes music that isn't anything like ours but I really admire it, as well as his underlying skill & abilities.
Simon: We're always looking for new sounds to discover, so if it's one that fits, why not? I think it would have to a be pretty versatile voice with a lot of character. We have always looked up to people like Brent Vanneste of the band Stake, he has so much depth and character in his voice and he keeps himself occupied with so much kinds of music projects, each in a different style, that he would definitely be a good choice.
Geert: Used sparingly, like we do on "Krater", vocals can add a bit of extra dimension to the songs. So if we could have anyone, I'd love to hear Opeth's Mikael Akerfeldt with our music. He can go from really fragile to extremely harsh, which would compliment our musical journeys very well. Without us suddenly sounding like an Opeth clone.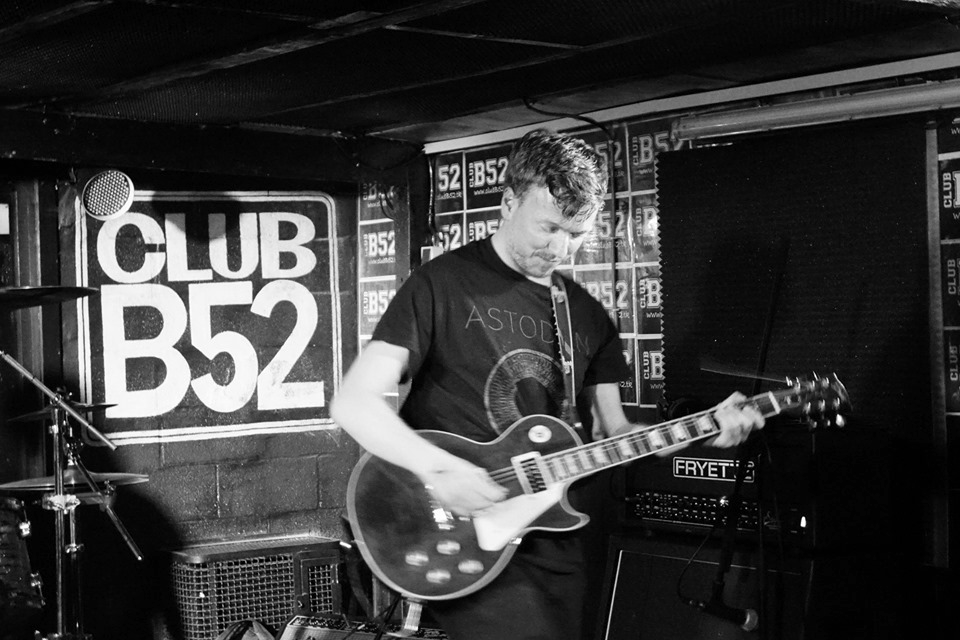 About the essence of Tarmak …
SKULL NEWS: All in all, Plow offers a very diverse and surprising, fresh sound. Like a mix of Tarantino soundtracks, then there are references to progressive metal (such as Tool, Psychonaut), surf rock, jazz or even oriental melodies. And in its complexity, it sounds like a musical psychoanalysis.
How do you proceed in the song writing process?!
Simon: Sounding like a mix of Tarantino soundtracks is possible the most flattering thing we ever heard. It's true that each of us has his own background and preference in music and in writing our songs we try to make ourselves feel inspired by those different preferences.
Geert: Tarantino. That's quite a compliment! The main riffs usually come from Sander, and then we proceed to mold them into final songs through endless playing in the rehearsal room. At that point we all come with our ideas. We add things, we throw things away… it's quite a time-consuming process, but you want it to be right. Simply okay is not enough.
Sander: I couldn't formulate it any better than you guys. I'd like to add that Simon also has an important role regarding quality control. He's very firm but fair when it comes to that. More than half of my riffs probably don't reach past him but I think he manages to filter the good from the bad to make sure that at the end of the day, our story is as coherent and impactful as it can be.
SKULL NEWS: Would you say that your music is more the fruit of your intellect, or of your instincts?
Simon: Playing on instinct is the most natural way of playing, you end up in a process of overthinking pretty fast when you keep thinking of what to do. You can have something prepared for a rehearsal which makes sense in your mind but when you try it out with the rest of the band it might not be as perfect as you had in mind.
Geert: If it sounds good, it sounds good. That may be us going on our instincts, but then again, who's to say our instincts aren't driven by our intellect. A solid grasp of musical theory does not mean you build your songs mechanically without feeling. It simply means that you can fall back on a wider pallet of sounds. You might not think about that when writing the songs, but that knowledge feeds into your musical instincts. They are connected. That's a pretty roundabout way of saying "both" I guess!
Sander: That's a tough one! I agree with Geert that there's a bit of both worlds going on. Though coming up with the first foundations for a song is for me always just a matter of whether a riff 'tickles' my ears or not. The best riffs for me are the ones that tickle my intellectual ear but also the instinctive one. The ones that have some technical uniqueness in it but are also very much feel-able in your gut. I'm particularly proud of "Toton" because I feel like we mastered that with the riffs at the end section. Again, I think Simon and me have some kind of counterbalance thing going when it comes to this. I sometimes get lost in the intellectual side of writing music. Then I bring a very busy song idea along to the rehearsal, with constantly differing riffs and multiple layers. Simon then uses his instinctive ear to help transform this overconcentrated complex fusion of ideas into a real breathing song.
SKULL NEWS: Seems like all of you have a rich biography of different musical experiences in your lives. How have the music tastes of your parents, your preferences as children and teenagers, your concert experiences, both as fans and as musicians, formed the sound of Tarmak?
Simon: Around the age of 12-13 I stumbled upon things like Korn, System of a Down, Coal Chamber, things like that. Eventually that turned into mainly death and black metal being 16-17. And eventually doom, post-rock, progressive metal…. But since I was 20 I started to develop a way more broader taste of music, like I suddenly felt inspired by everything that was good in music, and not necesarrily sticking to a genre of music.
Geert: I've listened to many different types of music throughout my teen and adult life, and I still enjoy all of it (well, that early 90s dance phase I had when I was 15 not so much). My dad plays guitar and loves blues and fusion jazz, so I grew up with guitar masters like Stevie Ray Vaughan, Eric Clapton, Larry Carlton and Lee Ritenour. But in my teenage years I wanted to find my own music, and after that brief flirtation with dance music I discovered the 80s hard rock scene. Van Halen and Mötley Crüe became my favorite bands. Queensrÿche was my gateway into progressive rock, with Marillion's Misplaced Childhood sealing the deal. They are still my favorite band to this day. From there I discovered bands like Opeth, King Crimson and a whole host of others that form a more direct inspiration for Tarmak. But I never gave up on the bands and music I enjoyed growing up, so all of that comes together and informs my playing in one way or another.
Sander: I discovered Tool when I was 15. I listened to their records all day every day, and they had a very inspiring effect on me. Right away, I felt like I re-discovered the concept and beauty of music through their work. They stimulated me to pick up a guitar and start learning their songs.
When, after months and months of practice, I was able to play some of their stuff, my motivation shifted and I wanted to make my own songs. Before I was 15, I really had no connection at all with music, and if you would have asked me then, I would've assured you that making music had no place in my future. So Tool completely changed this for me, and after 'unlocking' my deep passion for (creating) music, I went on to discover a whole bunch of other bands from many different genres that heavily influenced me. Most of those other bands are situated in the post-rock / post-metal / film music sphere. First names I can think of are Isis, Russian Circles, And So I Watch You From Afar, Cult of Luna… Perhaps it's because of that that I'm a very instrument-focused guy. I like a sweet melody as much as the next guy, but if the instruments aren't doing anything interested, I find it hard to stay interested too. I would say there's strangely enough almost no influence from my parents' music taste. I'm especially glad my mother's taste didn't infect me, because I might as well have turned out to be playing in a Lionel Richie tribute band then.
SKULL NEWS: If Plow could be the soundtrack for a movie – what kind of movie would it be (genre, subject, director, setting)?
Sander: My instinct tells me to give Jurassic Park as the answer and leave it at that. But upon further reflection, I think Mad Max (2015) would be perfect. There's a constant chase and threat vibe in that movie, from start to finish, and there are a lot of bizarre different characters. When Immortan Joe gets introduced, that's when "Krampus" needs to be played. It would be a perfect match!
Simon: I'm crazy about movies that were made by Quentin Dupieux, for me he makes these kinds of unique movies that are so weird and bizarre in their own way that they just become hilarious. So that would be the director for me. The way that he makes movies is what I personally love in music as well, for instance Raketkanon for me has that beautiful mix of weirdness that it becomes hilarious in a serious way.
Geert: That's a great question. We all love a good weird movie. So it would definitely have to be something like that. Something perhaps a bit psychedelic, something like Phase IV from Saul Bass. It's a bit sci-fi, a bit horror, but it never becomes what you expect from a typical sci-fi or horror film. Or something colorful and over-the-top like the recent Lovecraft adaptation Color Out Of Space. Our music would work well with that kind of movie I think.
SKULL NEWS: Tarmak have a very stimulating, complex music that needs the will to discover it, and it's maybe not music for the mosh pit. What do you recommend, what is the best way to experience your music?
Geert: People have different ways to experience music, so it's up to the individual listener. Our music doesn't necessarily dictate a certain way to be enjoyed. If you want to start a mosh pit, go right ahead! But give some space to the people who just want to listen with closed eyes.
Simon: Everyone has his own preferences of listening to music, so it's hard to tell how someone has to enjoy your music. But structure wise being maybe a bit more less common than usual, a good way would be to just make some time to listen it, just driving in the car or relaxing in your couch or whatever. But being able to make time for it.
Sander: The best way is probably when you're in space, looking out the window at our planet, given that there are no nasty distractions like a crying baby next to you. Dancing is fine too of course, but I don't recommend it.
SKULL NEWS: (As soon as concerts are possible again …) What would be the perfect setting for a concert (size of the venue, indoor/outdoor, day/night, audience)?
Simon: The night always has somewhat of a more cosy atmosphere to play, it makes it easier to forget your environment and be able to be more focused on music. In an open air concert it can be a challenge to get a good sound but it feels more freely to play though.
Geert: Something atmospheric. At night under the stars at a small outdoors festival would be great.
SKULL NEWS: Final question. You just released your debut Plow. What are the next steps and plans? What do you want to achieve this year?
Geert: Hopefully we can return to our rehearsal studio very soon, so first order of the day would be to refresh our set a bit. Then it's time to find some new gigs and go out there. Now that we've started to create some interest with Plow we need to bring it to as many people as possible, so planning a healthy schedule of gigs will be a priority. But we also have plenty of fresh ideas we started working on before the pandemic hit, so we are also looking forward to finishing those songs.
Simon: We mainly just want to start playing as much shows as possible. We like the coziness of smaller, more intimate venues, but we would love to eventually be able to play at festivals where we always feel so excited for, for instance Dunk! Festival.
Sander: Getting invited to play at Dunk! Festival would definitely feel like a huge achievement. I'd be over the moon. So let's aim high and take that as a target for this year. If it doesn't happen a festival with roughly equal greatness will have to make do!
Thank you so much for your time and your answers! We wish you a great success with Tarmak!