"Many people out there have a need for uplifting music right now" – Interview with Pekka Ansio Heino of Brother Firetribe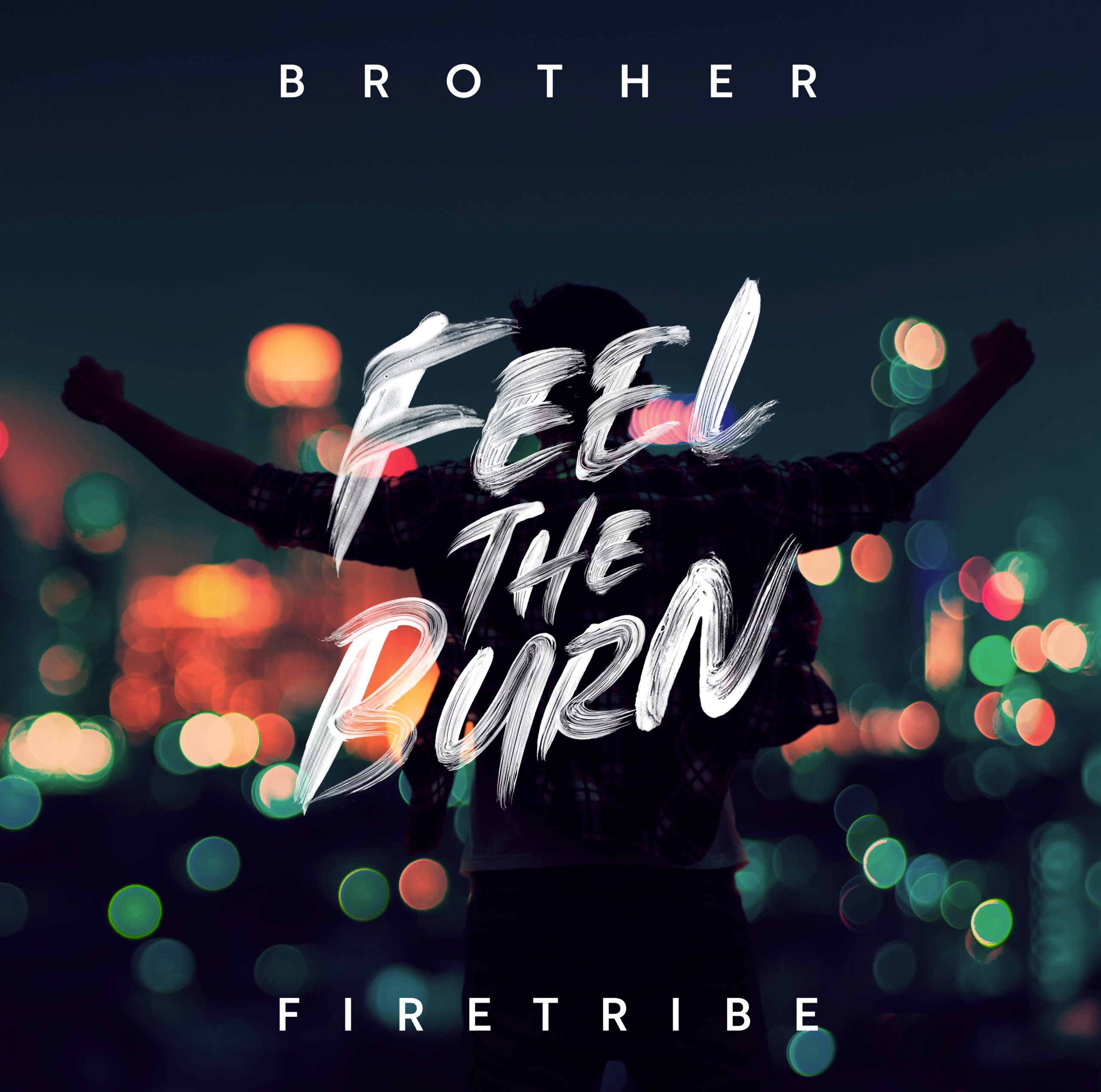 The Finnish melodic rock band Brother Firetribe, founded in 2002, are an institution in rock music for a long time. The quintet, currently formed by Pekka Ansio Heino (vocals), Tomppa Nikulainen (keys), Jason Flinck (bass, backing vocals), Hannes Pisilä (drums, percussion) and Roope Riihijärvi (guitar), just released their new album Feel The Burn – a tribute to appealing US-American dreams of long road trips, vintage cars and old rock music. Creatively playing with these clichés, Brother Firetribe still reinvent themselves on this record, not only in the course of the change in the lineup. Indeed, it stirred up the dynamics in the band and tickled them to find a new, fresh twist of the band's sound when long-time guitarist Emppu Vuorinen left to focus on his job in Nightwish and Boycott's guitar player Roope Riihijärvi, a good friend of Pekka's, stepped in as a permanent band member.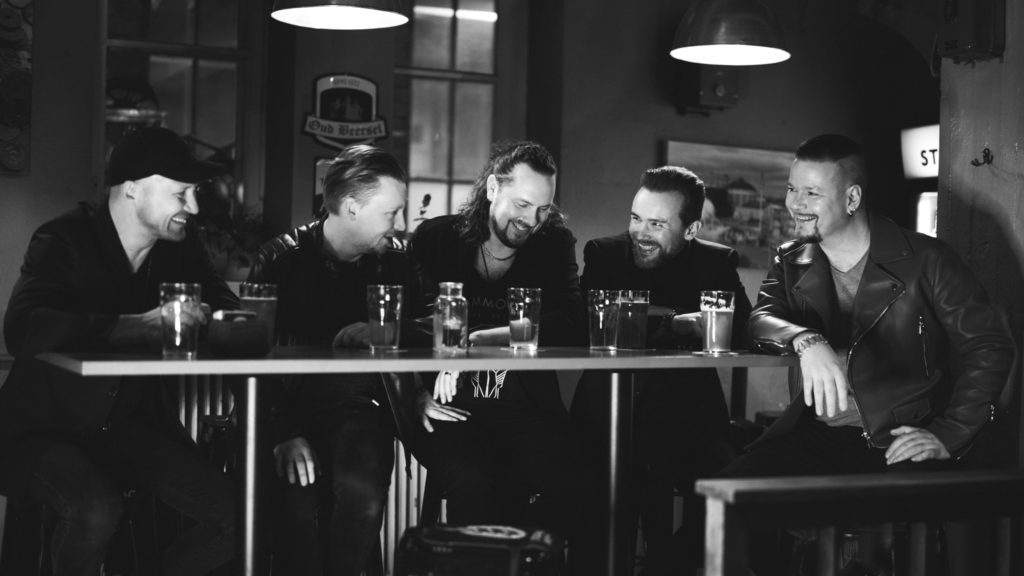 What else is new in Brother Firetribe and why you should listen to their new album Feel The Burn, well, let's find out in the interview we did with singer and writer, Pekka Ansio Heino, in the capital of rock and metal, Helsinki:
Jasmin: Thank you, Pekka, for meeting us for the interview!
Pekka: Sure!
Jasmin: Your album Feel The Burn is out almost a week now, how are the reactions so far?
Pekka: Well, to be honest, I am not in social media, but from what I've heard, people are quite pleased. They seem to be very enthusiastic about it. All of them agree that it's very much Brother Firetribe but with a new twist to it. This is a really nice feedback as it's what we intended with Feel The Burn.
Jasmin: Indeed, it's my observation, too. I follow your band since the single with Anette Olzon of Nightwish came out in 2008, "Heart Full Of Fire". What I've seen is that all of your previous albums entered higher ranks in the charts each time, do you know where Feel The Burn is at the moment?
Pekka: No, I don't know, all I know is that it's out now and that I am very pleased with it.
Jasmin: You mentioned the new twist. And of course, I will ask you about the change in the band now. Your guitar player Emppu Vuorinen has left the band to focus on Nightwish and Roope Riihijärvi has joined Brother Firetribe. Is Roope staying as a permanent band member now?
Pekka: Absolutely!
Jasmin: Had Roope Riihijärvi been involved in the songwriting and the creation of the new album already? Pekka: No, not from the beginning. The songwriting has always been me and our keyboard player Tomppa Nikulainen and then the other guys add their own individual parts. So that hasn't really changed, but Roope kind of stepped in during the making of the album when we've already working on it. He jumped in head first and did a great job! Just right how I knew he would, as I know him. I played with him on numerous occasions, playing and singing, as we're making our living of playing music. We played together on different line ups on cruise boats and corporate gigs. Therefore, I knew his style and his sound and knew that Roope is a great guy. It was pretty obvious for me that this is going to work and sure as hell, it did.
Jasmin: Would you say that Roope Riihijärvi coming to the band has added to the beforehand mentioned new twist, or was it a team effort?
Pekka: Of course, as it obviously changes everything. Thinking about the whole band, we are talking about a rock band where the guitars are of course very important for the whole sound. Especially with Emppu Vuorinen who has such a unique style and sound. His style was part of what Brother Firetribe was all about, so when that changes, it changes a lot. Emppu is on two tracks on Feel The Burn though as he was still in the band when we started working on the album. Then there is also our producer, Jimmy Westerlund, who is our producer for the first time and he is a great guitarist himself. He plays an additional guitar on the whole album, there are actually three guitarists playing on the album which is very cool.
Jasmin: Yes, the sound is very rich on this one. Also the sound of the whole album is very consistent even with the change of the guitar players. Still, there's a variety of sounds and atmospheres in the songs themselves. On which criteria did you base the choice of the singles ["Night Drive", "Bring The Rain", "Rock In The City" – editor's note]?
Pekka: Oh man, I couldn't. Being so close to the songs, when the time comes to choose the singles, I throw my hands in the air and say, please, can someone else choose? I'm okay with any of the songs! Today, I'm not sure if you can still call them singles anyway, when half of the album is published in digital format. But it is like this today and I just hope that some of the songs stick. We are very pleased to give the responsibility to someone else to pick the singles.
Jasmin: Throughout the whole album, you have this positive road trip, driving vibe. Some songs have more personal, more emotional lyrics, though, like "Love Is A Beautiful Lie" and "Ticking Away", where did you get these ideas, any personal experiences?
Pekka: It's just the way we do things. We don't plan too much, we are just playing what feels right and see if it sticks. That's the way we've always wrote our music. Except for the fact that this time we had a producer for the album which made a whole difference. This was something we all agreed on after our album Sunbound, that for the next album, we want to try something different. So far, it's been me and Tomppa writing the songs, then recording and mixing, but this time we wanted something else. The first step was to get a producer from outside of the band – and it truly helped! It was opening up a whole new world of how to construct songs and it was really healthy.
Jasmin: The song "Ticking Away", whose thoughts are expressed in the lyrics?
Pekka: They're mine, it's my role in the band to write the songs, together with Tomppa. Except for this time, working with Jimmy, it's been different. He takes lyrics very seriously in terms of making every line sound as cool as possible. I never approached lyrics like that and he had a great input. For example the song "Love Is A Beautiful Lie", and "Chariot Of Fire", for these, I had a chorus, but that was basically it. I went to the studio for a lead vocals session and most sessions are normally really long as we work our asses off. For those two songs we just sat down and started writing lyrics, we were thinking about the story and how precise the lines can be. We changed it over and over again, it's been a back and forth with Jimmy. Then I would go into the booth and record it. After those sessions, I went home, totally beat and probably had no idea of what I had come up with. It's been like a new song for me when I came back to the studio the next day. I came into the studio and wondered what has happened, there were pieces of paper lying around, cigarette boxes and small pieces of the lyrics everywhere. Jesus, I had to listen to the song again to get the lyrics right, but I loved it, as it was so spontaneous.
Jasmin: A very romantic image actually, that you are still writing on actual paper.
Pekka: That's the easiest way. But the next time we are writing something, we need to make sure there's enough paper. We ran out of paper at some point, we wrote on tissues, on our arms.
Jasmin: The new twist … yeah, I thought that "Love Is A Beautiful Lie" stands out of the other songs with its more personal lyrics. What can you tell us about it?
Pekka: It's the kind of story everybody can relate to. You thought you had someone special and then it all came apart. This just makes you wonder, what the hell is love, after all? There is something true about it, but it can also be just a big lie and still be beautiful.
Jasmin: Indeed, and even this more thoughtful song has a subtle positive energy. The whole album Feel The Burn has a very positive energy which is very wholesome in these difficult times. Where do you get this drive, this motivation?Pekka: We could have postponed the release for God knows how long, but then again we started thinking that we have nothing to lose. We have a great product in our hands and there are quite a few people who might need a bit of an uplifting feel to their lives in these days. One of the main points of what Brother Firetribe has always been is that we have this uplifting quality to the music. For some reasons, our music makes the people feel good, which is really cool. That doesn't take anything away of other bands who thankfully release really aggressive and angry music as this is important, too. But people have a need for both. One of the reasons why we continued, as we've been in the middle of the whole process when the covid pandemic started, was that it was mentally and spiritually important for us as a band to have something to focus on. We are obviously unemployed at the moment and everybody is struggling, but at least we had something to focus on and that was very helpful. Once we finished the whole album, we realized that the making of the album helped us tremendously. So, we decided to publish it as planned and hoped that other people would get a kick out of it, too.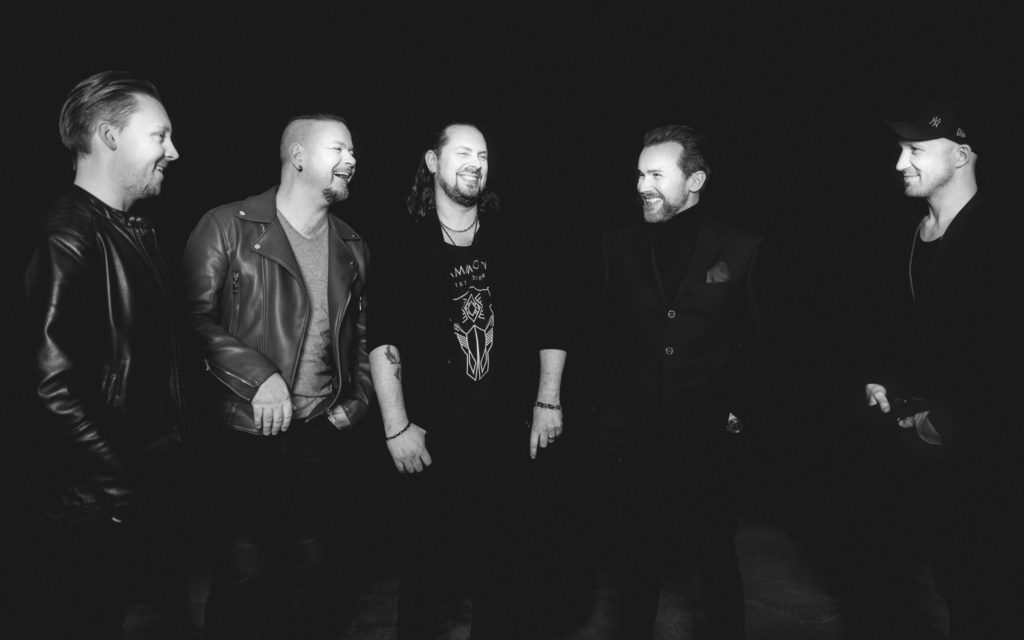 Jasmin: Did you still have the possibility to rehearse and record together, or did you have to respect safety measures?
Pekka: I'm not sure how familiar you are with the situation of the virus in Finland and how it's been. It's been relatively good, but the studio situation were always two to four people at once. That wasn't that bad. It's been a close call, it's a virus after all. We were supposed to go on tour in March with our friends from One Desire and the Swedish band The Nightflight Orchestra of which we had to bail out right in the last second, also for financial reasons, we couldn't afford the risk. Those guys carried on with their tour, but they had to cut the whole thing. On their way back from Madrid, I think, most of them caught the virus as did our producer who plays also guitar on One Desire. He got really sick for months, that really delayed everything further. Thank God he is okay now. It's been a close call, a blessing in the skies that we didn't had to go.
Jasmin: You were lucky! Coming back to what you said about bringing out the album no matter if there's a tour or not. Isn't it also your status quo as a band and in a couple of months, you might have changed and the album wouldn't fit to you anymore?
Pekka: Yes! It's still very Brother Firetribe. And we had the idea and the attitude of doing as much as we can in these strange times. We made two videos, two or three live streams, which meant having to arrange and rehearse two sets of acoustic songs, something we've never done before. We actually did a lot in a relatively short time spa which is really cool. At least now we know, that we can do it. That we can do it properly and it sounded pretty nice actually. There was talk about a bigger unplugged gig at some point but everything is so unclear, that it is useless to plan anything.
Jasmin: So you don't have any concerts planned at all?
Pekka: How could you plan?!
Jasmin: Do you have plans for next year?
Pekka: We are ready to go, we just wait for the green light. Then we will take off like never before.
Jasmin: Like most bands are!
Pekka: It will be an invasion of bands!
Jasmin: I wouldn't complain! Will you come to France or Germany?
Pekka: You know, when you're planning a tour, everything will have to start from Germany. Or close in a way, so you can keep a home base and keep a fast track to reach other countries. It's also a big market.
Jasmin: For the album Feel The Burn, you picked the road trip, freedom on the road theme which is pretty pleasant, the feeling of just hopping into the car, put on some nice music … especially in times when travels are restricted.Pekka: Yeah, also for the photos and artworks of the singles match the theme. It's just very appealing, the whole Americana thing, the old cars, the old movies. There is a reason why it is a cliché, it's very appealing. The whole visual representation is just cool. It's just a classic theme and it matches our music. And to use clichés doesn't mean it's cheap music, on the contrary, it's an art to play with the clichés and still write quality music. That's what's Brother Firetribe is all about. Actually, we already shot a short film based on the music video to our single "Night Drive". As the song is so cinematic, we wanted a cinematic music video. Also, we were looking for a certain mood and it worked out so nicely that it sparked the idea to shoot a short film about the guy in the "Night Drive". Let's tell his story, why he is driving around every night, not able to sleep. That's what we thought about and suddenly we had a production company backing us and we got some frontline Finnish actors for it!
Jasmin: You're not only busy for the band, I see! There's something to look forward to then! And of course for concerts …
Pekka: Yes, but we can't plan anything right now.
Jasmin: Until then, we wish you a great success with Feel The Burn! And hopefully, we can see Brother Firetribe live soon.
Pekka: Thank you, yes we hope so, too.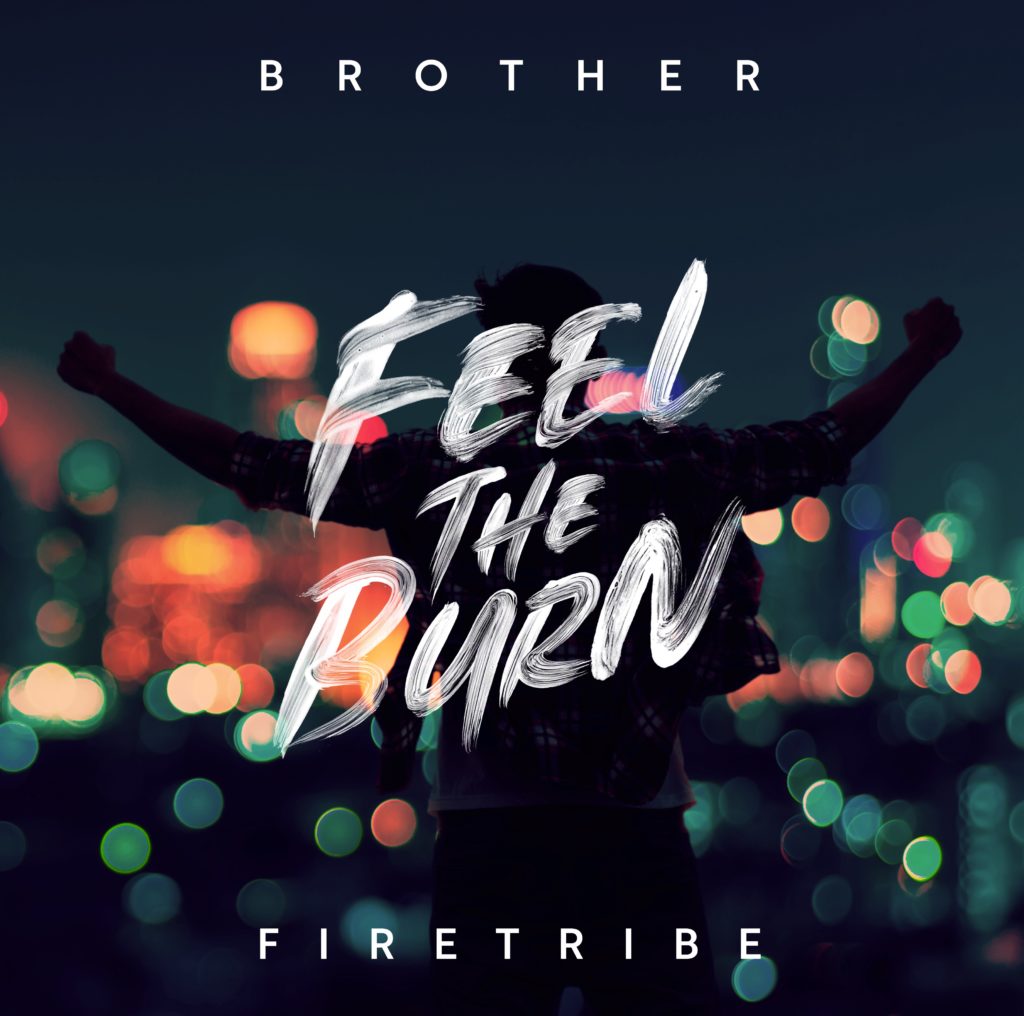 Tracklist: Brother Firetribe Feel The Burn (September 18th, 2020)
01 – I Salute You
02 – Arianne
03 – Night Drive
04 – Chariot Of Fire
05 – Bring On The Rain
06 – Love Is A Beautiful Lie
07 – Ticking Away
08 – Battle Ground
09 – Candle In The Window
10 – Rock In The City