Album review and interview: The Secret Saints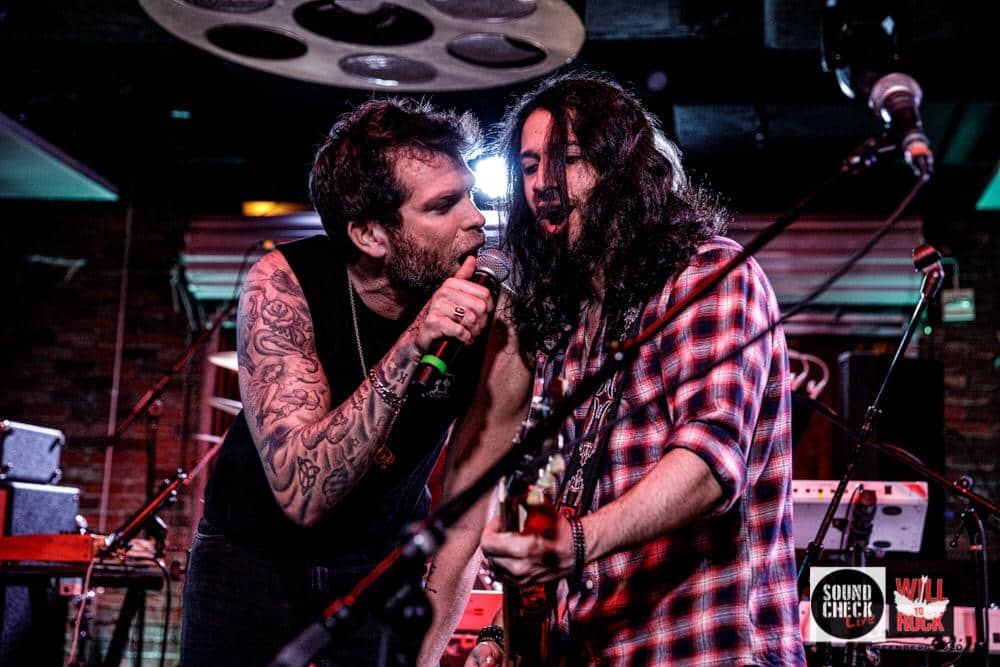 Still an insider tip, it won't stay a secret though that The Secret Saints are making great music! Modern rock 'n' roll from Israel/ the US. SKULL NEWS has checked their new album Can You Keep A Secret? for you, including an exclusive interview with their singer Tal Shachar.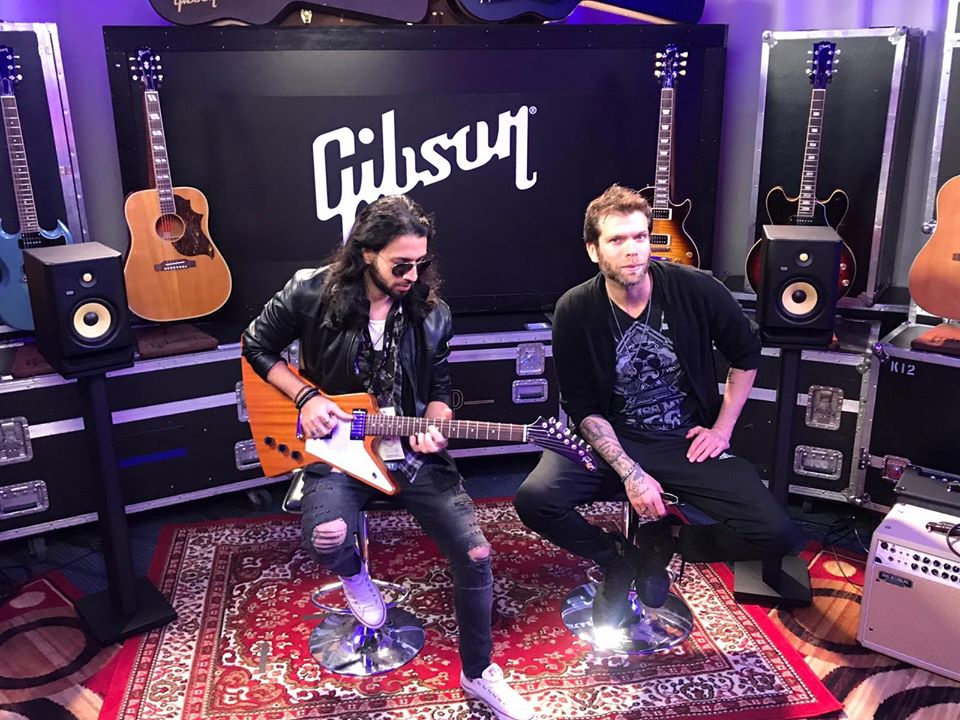 Tal Shachar originally is from Tel Aviv, Israel, and makes music with his friend Chen Balbus, also from Israel, for years. They want to create the best possible combination of old and new rock 'n' roll. So far, the biggest success with their project The Secret Saints was their performance as support act in Tel Aviv for their idols Guns N' Roses in 2017. From then on, they are determined to write new music and to develop their own Secret Saints sound. Tal Shachar usually writes the lyrics for the band and Chen Balbus is responsible for the musical framework. A bell should ring for attentive SKULL NEWS readers now, because Chen Balbus also is the lead guitar player of the most successful metal band from Israel, Orphaned Land. SKULL NEWS recently did an interview with Kobi Farhi! But Chen didn't use his fame from Orphaned Land for his new project, because with The Secret Saints, he's doing everything from scratch. Except for our favorite song, "Say Goodbye", Kobi Farhi is supporting them, more about that cooperation below. Aside from this featuring, Tal and Chen did everything on their own, recording the guitars and keyboard for their debut album Can You Keep A Secret? themselves. The band is at their very beginning and their greatest motivation now is to have people listen to their music. Chen Balbus and Tal Shachar reveal in a new interview with Heavy New York, that for becoming a successful band from Israel, you need to leave Israel. It's a small country and with only a few concerts, you already reach most of the population, they say. Recently, The Secret Saints played a pre-release gig at the Gibson party at NAMM 2020 in Anaheim, California, where they presented their songs to an exclusive audience.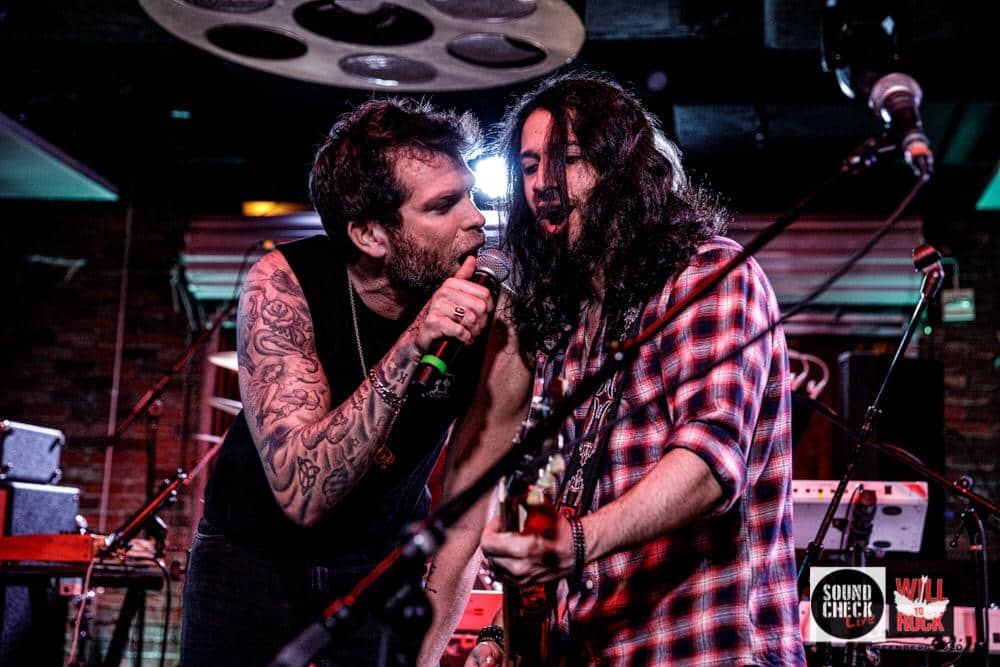 That Tal lives in Los Angeles since a while and that Chen is constantly touring with Orphaned Land didn't make the process of creating the album easier. All the more we are happy, that, after a long time of teasing secretiveness (Excuse the puns!), The Secret Saints just released their new album Can You Keep A Secret? on bandcamp.com! It will soon be available on the usual streaming platforms, too. The Secret Saints hope now that they will get a lot of attention for their new album and that they can play concerts soon. Chances are good that the nice guys will come to Europe soon! We listened to their debut album Can You Keep A Secret? with ears wide open and present you our little review below.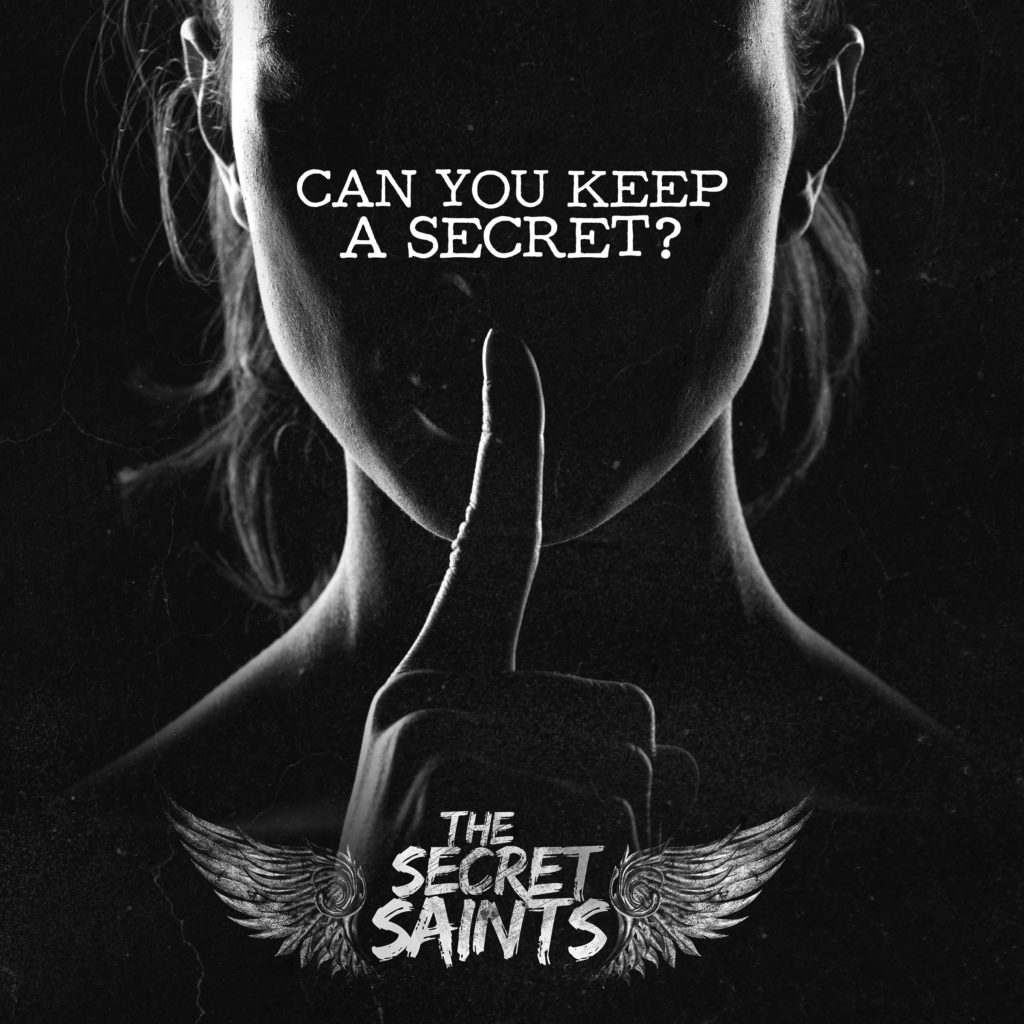 The Secret Saints Album Can You Keep A Secret? (2020) track list
01 – Blame Me
02 – Love For A Night
03 – Secret Memory
04 – Say Goodbye feat. Kobi Farhi (Orphaned Land)
05 – Bring It On (Tell Me A Lie) [The Demo Sessions]
06 – Only One [The Demo Sessions]
07 – Love is Over [The Demo Sessions]
08 – Home
First of all, Can You Keep A Secret? doesn't sound like anything Orphaned Land fans would expect. It is indeed a completely independent project and Chen Balbus says that their main preoccupation is not to make big money with it. Although they would be happy to earn enough money to buy themselves pizza. So, please, support The Secret Saints with legal paid downloads so they don't starve! This fun little statement shows how humble the guys are, who, however, enjoy playing with clichés of rock 'n' roll: Tal Shachar has a powerful rough, yet charismatic, voice and he tells us stories about passion, secret love, but also about hard break ups and homesickness. Chen Balbus shows off his virtuosity on the guitars, doing skillful finger pickings on the acoustic guitar and rocking the riffs and melodic solos on the e-guitar. The Secret Saints sound like party with friends, like summer and road trips and have an overall good vibe! SKULL NEWS will review the album Can You Keep A Secret? song per song for you now: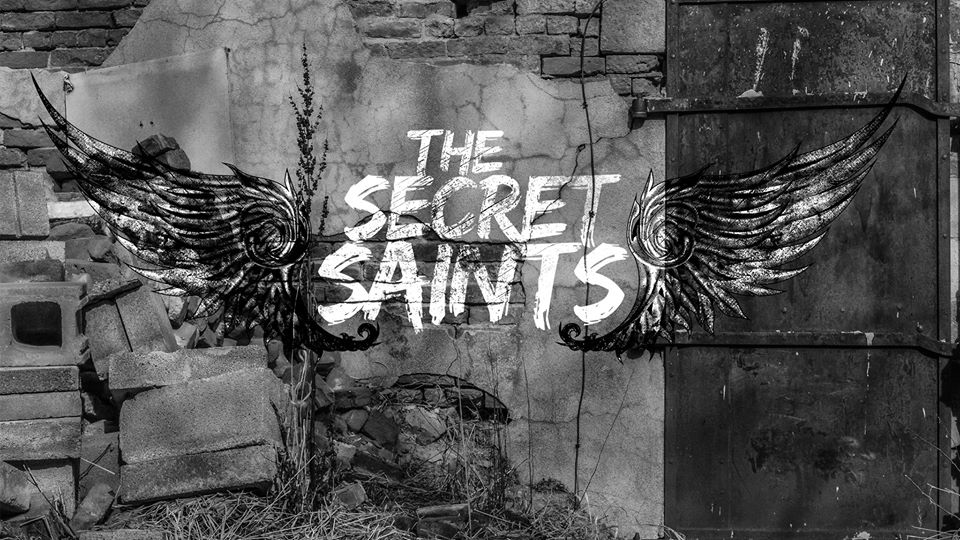 The album starts with the two first singles, "Blame Me" and "Love For A Night", for which The Secret Saints have released music and lyric videos beforehand. The first song is "Blame Me" and it uses typical elements of rock 'n' roll, like bold lyrics, a rough voice and scrumming guitars. The Secret Saints update this sound though, punctually using electronic beats and effects, bringing rock 'n' roll to the 21st century. "Love For A Night" quickly follows with an upbeat intro and accentuated guitar riffs – although it's been published as a single, it is not our favorite track as we find it a little bit cheesy. For single releases, we would have had other favorite songs on this album! However, The Secret Saints produced a professional music video for this song for which they even convinced the famous Israeli actress Nesti Cherevko for the female role. The video creates a college feeling like atmosphere that you know from American coming of age movies, as they were shooting in a gym and the guys are fooling around a lot. Rock 'n' roll is about having fun, after all! Tal revealed in an interview with Metal Shock Finland that the lyrics of "Love For A Night" are about the secret love for a stunning woman. By the way, Chen's older brother Oren Balbus, also a musician and the one to be blamed that Chen discovered his love for rock and guitars, had also been involved in the production of the video. This song also has one of the heaviest guitar solos of the album.
In our opinion, the tracks 3 to 5 would have been much better singles, because they're are the strongest songs. After the two faster ones follows the slower song "Secret Memory", a beautiful rock ballad. It starts with a flowing acoustic picking intro that quickly sticks in your mind and that we recognized quickly. Chen Balbus has played it in his social media stories not long ago, without telling what kind of mysterious song it is. We are more than happy that they put it in full length on the album! We particularly like the change to drums and e-guitar in the background after the first chorus of "Secret Memory". Like this, although it is a ballad, the song stays thrilling until the very end. In the middle, there's a short and sweet guitar solo, followed up by accentuated rhythms – it is not without a reason that The Secret Saints call themselves a rock 'n' roll band! "Secret Memory" definitely is a radio friendly song in the best sense! We hope it will be played on air soon!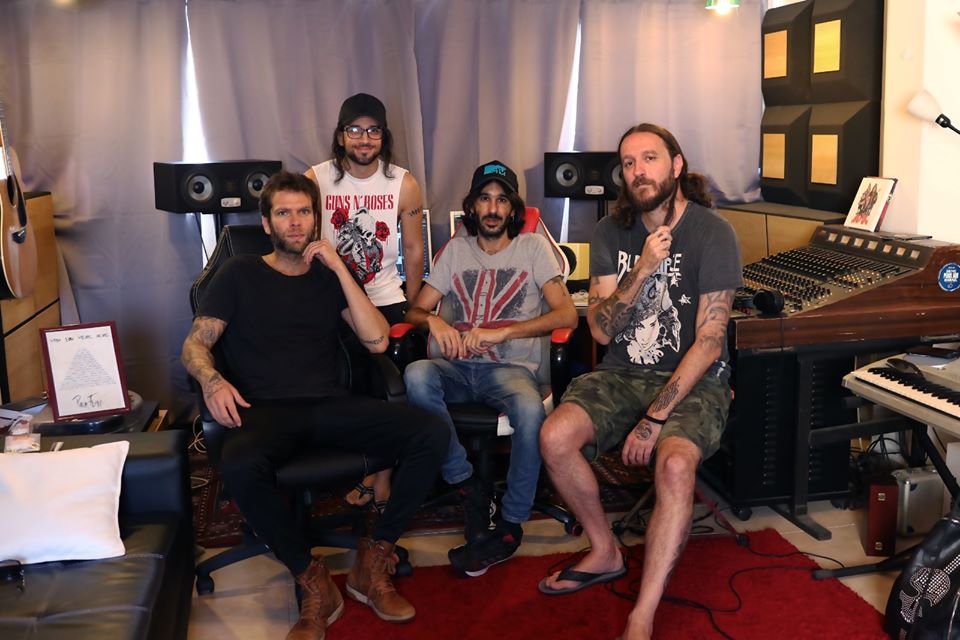 For the fourth song, "Say Goodbye", The Secret Saints got support from Kobi Farhi, singer and mastermind of Orphaned Land. His vocals stay mostly in the background in this song, completing the harmonies. In the middle, though, his particular voice comes to shine in a smooth rhythmic talking part, also because the music is reduced in volume and intensity. Such a nice calm moment on the album! SKULL NEWS asked them how the cooperation went with the more experienced colleague and Chen Balbus answered: "Actually very well, Kobi was fully into it and he liked the song. He just came to the studio with me and asked me what I want him to do and we tried out some things. It was really fun, I always like to be with Kobi.". Not only Kobi Farhi's beautiful guest vocals make this song our favorite, but also Chen Balbus' feeling for catchy melodies and harmonic compositions; in "Say Goodbye", for example, the chorus invites you to sing along and the guitar is used like a second voice. In addition to that, there is Tal Shachar's talent for expressive lyrics that help memorize the songs quickly. Musically interesting in this particular one is also that the two verses are completely different which creates a lot of suspense. In other words, "Say Goodbye" has huge hit potential! It's the song that you will continue to sing after listening to the album. The next track is "Bring It On (Tell Me A Lie) [The Demo Sessions]" and the title tells us that it's been completely rerecorded for the album release. Compared to the earlier version from 2018 for which The Secret Saints published a lyrics video, the 2020 version sounds much cleaner and more powerful. It's one of the most rock 'n' roll sounding songs on Can You Keep A Secret? and we're glad they remade it! It has a nice heavy e-guitar intro and Tal's voice is more convincing on the 2020 version.
We like that "Only One" is one of the few songs where The Secret Saints don't use too much effect on the voice. "Only One" is a romantic rock ballad that evokes a certain 90s flair and it brings the pulse down after the faster previous track. It's indeed something we enjoy when listening to the album Can You Keep A Secret? that The Secret Saints have a good instinct for when to bring the pace up or down. The following "Love Is Over", for example, is an uptempo song again, bringing in some nice old school rock. With "Home", the albums ends, it is a melancholic ballad about what you leave behind. For this third single, The Secret Saints just published a music video, watch it here:
Tal Shachar took his time to answer our questions in a short interview SKULL NEWS did via messenger.
SKULL NEWS: Who is your musical idol, inspiration?
Tal Shachar: Guns N' Roses of course, but the first band I was really into, was Pearl Jam, and then Guns N' Roses.
SKULL NEWS: You said in an earlier interview that you wanted to create a particular sound for The Secret Saints, something like 90s rock 'n' roll but more modern. Now, looking on the finished album, how would you describe it?
Tal Shachar: Yes, we were looking for this sound and I think we got it. You know, we grew up with the 90s music, so that's what I liked and what I'm used to. But you can hear the new music, too, and you can hear that it's more modern. Which I find good. So we needed to do some adjustments and I think we achieved that in the newer songs. Like in "Blame Me" and in "Say Goodbye", we tried to not overuse the 90s sound, but they still are kind of 90s songs. I like them.
SKULL NEWS: You definitely do sound like that. On the album, some songs are about break ups, secret loves, desires… where do you get the ideas for the lyrics?
Tal Shachar: Well, actually, everything of that happened to me! Haha, I am talking to you about my life! It's that simple. It's my feelings in the songs, that's what you hear. And there is a lot coming up, I've been through stuff. I've got many stories still and every time there is a story, it kind of chooses me. I write about what I felt in that moment.
SKULL NEWS: It's a very personal album then! Talking about the song "Home", are there things, people, places, that you miss when you leave Los Angeles?
Tal Shachar: You know, I love Tel Aviv and I love LA, so actually one main reason why I miss LA is the culture. That there is a real rock 'n' roll scene here, lots of shows to see. Israel is a small country and when there is a good band playing, you have to wait another six months for the bext concert. In LA, there are many good shows all the time, as there is a lot of rock 'n' roll. Here you can go and catch like five shows a week if you want! Of course, the food in Israel is the best in the world. Still, LA is great because it is endless summer.
SKULL NEWS: Yeah, the rock 'n' roll is in your music … Talking about the album. How do you work on your music, given the distance (USA and Israel) and the time difference?
Tal Shachar: Actually, we started working on the music in Israel. With Chen it's easy to write songs, because he makes it easy for me. Usually, I like to have the music first. Some people like to write lyrics first, but I prefer to have the music first. To get the vibe of the song before I start writing the lyrics. And with Chen it's easy. I get an email with music and he tells me, that's a new song, listen to it. Then I write him my lyrics back and it goes like this, back and forth and then we have a song. It really is easy. I've been in the music business since a long time and we are like a perfect match. Everything goes smoothly!
SKULL NEWS: Great! Last but not least: If you want to, would you tell us a fun little secret about yourself?!
Tal Shachar: Well, I keep a couple of secrets to myself! [laughs] I don't know if it's interesting, but people who know me, know that I'm a personal trainer. I had a gym. Well, it's not very interesting, but it's a secret. I had I gym in Tel Aviv and I love fitness and it saved my life. I love music and I love fitness, not as much as music, but I like fitness.
SKULL NEWS: Haha, fun! Thank you for your time and your help and good luck with the album!
After having listened to the debut album Can You Keep A Secret?, we consider The Secret Saints a newcomer band with a lot of potential! They really have a huge talent for catchy melodies and a modernized sounding rock 'n' roll that has nostalgic sparkles of 80s and 90s rock. Tal Shachar convinces with his charismatic and versatile voice (that would not need any effect, in our opinion), that his colleague Chen Balbus supports amazingly with rhythmic riffs, strong lead melodies and virtuous finger pickings. Therefore we can expect more great music coming from Israel/ the US! There is only one little negative thing about Can You Keep A Secret?: It is way too short with only about 30 minutes of running time! Although, if enough people support this emerging band, then we might get more of them soon. You can legally listen to the whole album on bandcamp.com and download it for a few bucks. The Secret Saints should also be present with Can You Keep A Secret? on the other streaming portals soon. Enjoy their music and rock on!
The Secret Saints are now on Spotify (update 30.01.2020).