A few weeks ago, SKULL NEWS already presented you the outstanding heavy metal album Cacophony Of Souls by REECE (El Puerto Records) on which David Reece (Accept, Sainted Sinners, Bonfire and many other) not only shows a whole new level of vocal versatility. But also shows new, more emotional sides of himself, and of course kicks asses as ever. David Reece is currently under quarantine in Italy and cannot tour with the new album. But he uses his involuntary time off to write new songs for his band as well as for a secret new project. Discover what David Reece has up his sleeve in our interview!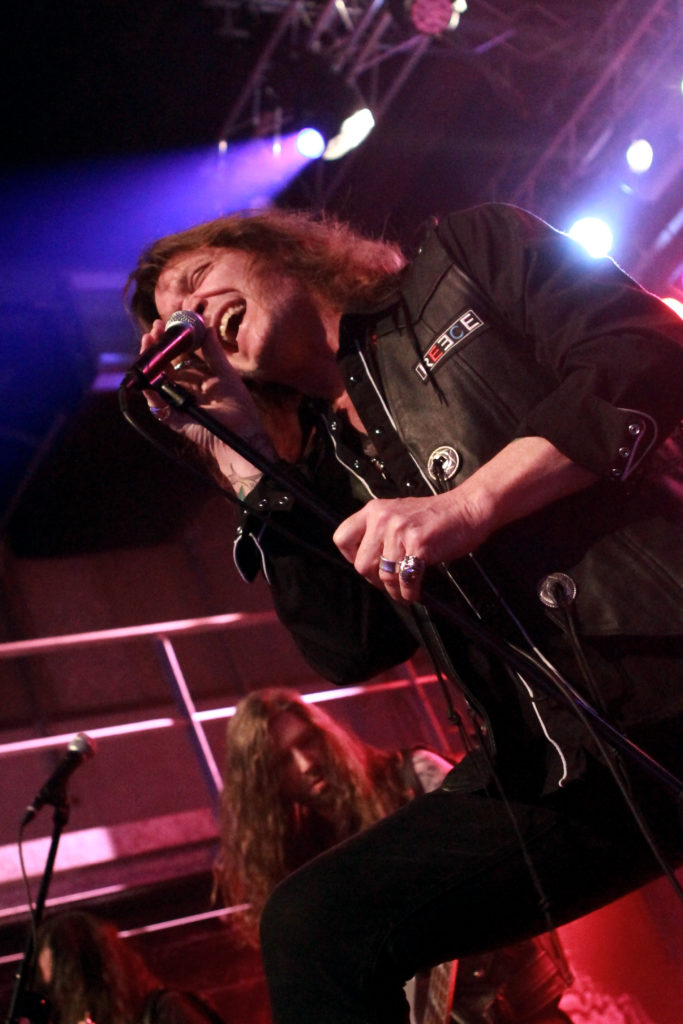 Jasmin: Hello David, thank you for giving us the opportunity to chat! How are you?
David Reece: Honestly, I had a breakdown these last days, when we got the death toll of our village here in Italy. The number of deaths is so much higher than we feared … Plus, we are stuck here.
Jasmin: I am sorry to hear that.
David Reece: It's better now. We finally got to send out some of the CD's and merchandise people ordered ages ago and began to ask when it will arrive. So that's what I do, sending out stuff.
Jasmin: Some people use the time at home during the lockdown to discover their "new self" or to learn new hobbies. Did you start learning something new you never did before? A new hobby?
David Reece: I try to occupy myself, I actually am forced to restart my studies of Italian. Because I'm being married and I've got a visa, but for my driver's license, I have to improve my Italian, because America and Italy have a strange law. I can't drive with an American license in Italy and the other way round. That's a strange law! So I need to understand enough to pass the written test and then the driving test. Whereas in Germany, I can drive with my American license! So I am really forcing myself to study better as I'm a little lazy. You know, I found that this time I have to make more of an effort, because it's ridiculous that I don't speak better but understand more. But, what I do as a songwriter, when I have an idea, when I wake up in the middle of the night, I really focus on that and record it on my phone. And I listen to that in the morning and I spend my time with writing the songs. If I don't use that energy and inspiration, it doesn't seem like I can go back there. So, I take some of my time, but I try to balance it, the music time with the other realities of my life. I mean, my whole world is not just music. And I realized that of course everybody is disappointed that we lost this tour and everything, and it is a very sad time, seeing all the dead, but I understood, what are my priorities. First of all survival, trying to keep my family from going insane. Having my son study online, my wife is working from home online, my eldest son is now a police officer, he is still able to go to work, but I try to focus on not letting bad thoughts get into my mind and to stay positive. It's an ongoing work and progress of "What's gonna happen? What's gonna happen next year?". So optimism is one of my practices.
Jasmin: As you already mentioned the next year, hoping that this crisis will be over, what are the three things you want to do first?
David Reece: Well, I'm in the middle of planning the postponed concerts, which is not easy. I hope to resume touring this album, because I think it's the best album I've done in my life. I know that a lot of musicians say that, but I really feel good about this record and I would love to give it the opportunity to play it live. I mean, we played two songs of it live during our last nine shows last year as this unit. Just to try them out, but it's a shame that I didn't have the opportunity to perform the album, but I absolutely want to do it. I am actually writing a new album right now. On the album Resiliant Heart right before this, I was kind of finding my way, of who I am as a singer. You know, I've done a lot of projects in my life. And the problem with projects is, that you have to be the kind of singer for that project, you're not really 100% yourself – I mean, you are, but it's their songs and their bandname. So being solo, I've rediscovered myself and found out what works for me and I am more in control. The album Resiliant Heart did really well, and then, bringing back Andy Susemihl back in my life, I think we took a step up on Cacophony Of Souls! There, I realized, that this is a template for where I have to be and what people expect. In the reviews, I read, that I had found my shoes, so when you hear that and get these responses, I really feel that. The new album is kind of a step up, it's melodic, it's a lot heavier, Malte is more involved in the songwriting. He wrote "A Perfect World" on this album, he called me several times in the last weeks for new songs and I have another ballad as I saw that "Another Life Another Time" worked well, I've got a very nice ballad, it's a special one. Andy is starting to write too, but he is affected by this crisis as well, so I'm not trying to get him to pick up his guitar and start recording and working. He just released a solo album, so he's wrapped up with that, but he's slowly getting out of it, getting inspired. So that's my next step, making a new album. I would really like to go touring Cacophony Of Souls and the new album together, with some of my back catalogue, some Accept, it would be a good 90 minutes of a great show about what we are all about, what I am all about. That's two. Number three is, that I hope that my voice stays healthy and strong. I try to take care fo myself, eat well, sleep well, exercice. Those are the three things I hope for and I hope for, that's number four, I want this to end. I don't want another phase of the virus that shuts the world down. Because so many people, roadies, sound people, business people, clubs – who know what's gonna happen next year, which clubs will still be open. It's frightening.
Jasmin: Yeah true, many people begin to realize how important music and arts are in our personal lives and that musicians and artists need more support. Like you said, there are so many people involved in a tour and the recording, and the venues.
David Reece: In the sixties, in the US, we had the Vietnam war and if you remember how in the years of 67, 68, 69, a whole wave of positive new music came out. Those were really bad times in my country, we had racial riots, we had Bobby Kennedy was killed, there was so much craziness, Marthin Luther King was assassinated! And during that time, nobody really know who they were, I was a young boy of 8 or 9 years old, and I remember these songs, this flood of music that made me not watch the news and the death tolls of the war. There was this flower power movement and the bands had strong statements about the time. It kind of seemed like this music was healing people and then the eighties came around with the British Invasion that inspired me. It hit me like wow! This was heavy metal that was spawned from the sixties! That was an exciting time and maybe, I am optimistic here, this time will create the same energy with people.
Jasmin: You already did the cooperation with Wicked Sensation, the quarantine song. Many bands are currently releasing lockdown songs, and I am wondering if we are going to have some kind of genre of lockdown music. A whole trend of new, innovative music? Now that you mentioned that you are already writing new songs for REECE, I am very curious to know where you are heading!
David Reece: I don't know yet! The thing with Wicked Sensation was kind of a fluke. I hadn't spoken to Martin Klein, their guitar player, over the last years, and it's funny that their album is a really great album, it's one of those project things. And he asked me if I would do something acoustic with them and I said yes because I was so bored! And it's great, it's fantastic! Then again, I thought, I shouldn't do quarantine songs as everyone is doing it. But this one worked very well and people enjoyed it. Then I asked my bandmates if they would do something and they were all in a very black mood and they were not into it. One thing I don't want to see, it's people sending their music into the internet, doing their little private shows that they're streaming and you have to pay for. I want to go back to the stage, the real stage. I mean, I love the media outlet, it's a great way to talk to your friends and fans, to express yourself. It's all we have right now. But it can become boring after a while unless you manage to get a bunch of people to do something creative. Like getting multiple singers and players of different bands, I've seen some projects like this a few times. Wicked Sensation asked me to do an electric song the other day, actually. We were talking about this and I asked my bandmates. But we have to respect that some people are more affected by the crisis than others. I really want to see the lights, the faces in the audience, the smells of the stage, I wanna drive to the venue, do the soundcheck, get into the dressing room. I want that back.
Jasmin: Also the direct response of the audience, I guess! Because when you do live streams, you don't get the tears, and the applause, the emotions, also the sweaty feeling.
David Reece: Exactly. We are like prisoners, but still, we get a little piece of what we love which I'm grateful for. But it's not the same! Like you said, the sounds of the audience, looking out of the door and then the promoter's saying, "It's full", and then there are nights when the venue isn't full. It's not disappointing, if there are only 40 people, we say to ourselves, let's give them all we have! Sometimes, those are my best gigs! Those 40 people are there for a reason and it's my duty, maybe duty is the wrong word, because they expect a show! It's not always easy, but when you get out on the stage and go through the first song and you start to relax. It is always the same feeling, if it's thousand, or ten thousand or only 40 people in the audience.
Jasmin: Also for us, we miss seeing bands live and having the interaction, hearing the songs live. I mean, as much as we all enjoy well produced records, it's nothing like the live experience. Most bands sound even better live! There are the emotions and spontaneous situations that are making the sound.
David Reece: Yeah, true. When you mentioned the social media, there is actually one good thing about them. If a song is good, you can play it on acoustic. If it is as great as with the electricity and the equipment. For me it's a sign that it's a good song if you can sit on the couch and sing into a camera and when people like it.
Jasmin: It's true that with the crisis, many bands have developed new ways to interact with their fans which also influences their music. I think it is a twoway situation, as these new interactions influence the music, how the people react to the music online. Maybe this will spark some innovation?
David Reece: Yes, maybe this will lead to the development of new platforms. I mean, if we don't learn from this, we're stupid. I mean, we are all equalized by the crisis. We are like Steven Taylor – of course he's got a lot of money on the bank – but he is not allowed to go on tour either and has to stay at home! In that sense, the pandemic brought us back to reality! We are all in the same ship. Of course, come bands might take advantage of that, but most of us understand that we are in the same game. What you see coming out of this, are the real, true artists! Like you said, even the painters, the designers, the writers, the singers, the player, we are expecting a whole new respect and openmindedness to new talent. You know how competitive it is? If you are a big band with huge selling out, they get the priority in the venues. That is a concern for next year! Just imagine. You are the manager of a venue and at the verge of bankruptcy and the government imposes you to only have 200 people instead of 500. So you will raise the ticket prices and you will definitely pick the bands that will fill the 200 places. It's gonna change the situation in a bad way for the upcoming bands. I know it's kind of contradictory what I am saying, but we will see how it evolves.
Jasmin: Maybe it will also change how people consume music and arts. It's clear how this crisis shows how much free streaming services or leaked material on platforms like YouTube are for the bands that don't earn anything from that. Maybe this crisis will make them realize how important it is to actually pay for music.
David Reece: I feel that the corporate world is opening at the moment. They don't pay us anyway for streaming. It's ridiculous. I am very happy with my label El Puerto Records and they are very happy with the sales of my album. But we are very concerned, as people go into the shops during the pandemic, buying batteries or cables for their phones or ink for their printers, then they run out of the shops, because they're frightened. They don't risk the extra 15 minutes to go over and check the new music, the new releases. So this is my little hope that as soon as it is safe to go into the shops again, people will buy. I am trapped here in my house so long, and I use streaming, otherwise I couldn't listen to new music, but I want to hold a physical CD or vinyl in my hands and put it on the record player. That is what I hope will happen.
Jasmin: This is very possible. Many people are feeling very disconnected with the world and having something physical can be comforting.
David Reece: It is for me.
Jasmin: And to admire all the work that has been put in there, the artwork, the photos, you don't have this when you are streaming the songs.
David Reece: Or downloading. To be honest, I had no idea what Napster was all about when Metallica was fighting the US congress. They claimed that this will destroy rock 'n' roll and the congresses response was, what do you care, you are a millionaire already. And the guys of Metallica said that they don't care about themselves but about the four five guys in the garage starving to death. Like I was, twenty years ago. Downloading etc. is taking the dream away, as it makes music disposable. Many people I respect see it the same way, that it is like going to the Drive Through, you get your order, you finish your food before you even reach the main road. When you hit the route, you already forget what you had for dinner! This is how music is consumed. Maybe the pandemic will change that.
Jasmin: Talking about the past. In your new music video to "Another Life Another Time", you used old photos and videos of your childhood and early career. For this highlight of a song on the album Cacophony of Souls, who had the idea for this video?
David Reece: Actually, it's been my brother Bob who has a company called Redwoods in which he takes old photographs and digitally cleans them. He's a retired marine and computers have always been fascinating him and he took a photo of us from 1964 and fixed it. I was four years old and he was two and we bonded during the last years as before, we haven't really seen each other. I never knew that he looked up to me as the big brother. I am the rock singer and he is the famous marine, I always looked up to him and his achievements! And then my wife actually came up with the title. We were flying back from a gig in Bulgaria and a guy was sitting between us. We always fly together, but this time this guy was sitting between us. I couldn't hear what she was saying as I am already part deaf due to the loud music. My wife just said, "another life, another time", and it clicked. I took that for the song and Andy came up with the beautiful melody. Then, the song seemed to hit people in a weak spot during this covid 19 breakout. And then my brother asked if he could make a video out of his 8mm films of us fishing together, with our grandfather. When he sent me the video, I broke out in tears, because I remembered those moments. He made this life story and it is his first video! I mean, it is simple, but effective. People wrote me that they were crying watching it, men, women. I broke into tears when I saw that. The video is a reflection of his life with me and my life with him, and we came from the country of a family of poor farmers. We kind got to our grandparents and parents, all the time. There had been special times and bad times. This video really goes back there and then there are old band photos and videos, from my first band when I was 18, it's been my breakout. We became the biggest band in the states in the South, constantly touring, doing cover songs, opening for other bands. In that video, you see me in these silly leopard leotard when we headlined in front of 18.000 people in Minneapolis. My brother touched this video up as it was on VHS, so you see some of my guys of that time. The drummer has passed away a long time ago, he was one of my best friends, so that's special to me. You see the beginning and how I am now. It is about life! For this song, initially, I wanted to go to a lake somewhere in Germany, sit around a campfire with Andy, and have Matt Bischof film it. What we can't do now. But my brother Bobby came up with that idea and I love it and at the end, there's the link to his company as he really tries to get his name out there. If you like it, write him an email, he is a really creative guy.
Jasmin: Like you say, it is simple but a very beautiful video with beautiful memories, touching the heart and also showing who you are. You've come such a long way and you had such a long and diverse career! To see the early beginnings, that's nice!
David Reece: A guy just wrote me that his brother has died two years ago and that the video for "Another Life Another Time" made him cry his eyes out. This is so beautiful! And to see my old bands, the faces of my friends!
Jasmin: Talking about your career, you have this very unique voice that we can recognize even in other bands' projects. You can always tell that it's David Reece singing and still you manage to adapt to the sound of the bands you work with. How do you approach songs that are not your own? How do you get into the feeling?
David Reece: I don't really know. For a long time, I had an identity crisis as a singer and I will tell you where it came from. When we made the album Eat The Heat (Accept), Dieter Dierks had a very serious German work ethics. And coming from America, we do five shows a week, doing five hours a night. I thought, I knew everything. And when we were recording the album, Dieter Dierks said to me, "You really sing well, but you don't know who you are as a singer.". Of course, first, I took offense of it. But the older I got, the better understood what he was trying to tell me, that it is my job to find out who I am. Now, with projects, a lot of it is survival and keeping your name in the forefront and to not be forgotten. In this business, you try to stay focussed, but if you are in too many things, it can ruin your career. What I used to do, I always looked up David Coverdale. I tended to apply his style to everything I did, but I started to realize that it was becoming boring. I was getting bored singing that way. I knew that there was more deep down in me and I just had to find it. I started realizing this in 2017, if you believe it or not, because I've been singing for forty years already, and with writing the album Resiliant Heart, I stopped and thought. I like bands like Shinedown, or Nickelback or Sabaton, Judas Priest, Bad Company, Paul Rogers – I wanted to put all of that in there. But I want me in there. And those songs just kind of made me and I found my identity. Songs like "Live Before You Die" had my Judas Priest influence, but as I got out of that and went touring, I understood. With projects, you never tour, unfortunately, it never happens. With Resilient Heart, I was really lucky to do the tour and I was playing the Eat The Heat stuff and the songs from Resilient Heart which got a great exposure. There, I understood, what resonates best with the fans. When you talked earlier, about that crowd energy, that's what I took when I began writing for Cacophony Of Souls. On this tour then, I understood that I don't need to do vocal gymnastics with the first song, you don't have to prove that you are the best singer in the world, how much of a range you have. Because some singers who are not the best, technique wise, especially in metal, don't have to go high like aaaaaaaaaaaaaaaa just to show how wonderful they are. Listen to guys like Paul Rodgers or Freddie Mercury, listen to the inflections in their voices, a guy like Tom Petty can say more in three words than I can say in ten words. And in these three words, he is not a great singer, but he uses what he has. And, I'm getting older, I find my limits, I know my limits, and I think it is a sign of maturation to admit that you change. You don't need to convince people that you can do this and that from your early career. But I can sing these new songs comfortably and first, it felt like an alien inside of me, to discover my deep voice. But it sounds kind of cool too! Then I can go up in the chorus and the people enjoy it! I didn't intentionally do it, it's just that I cannot do forty shows in a row and screaming my head off every time anymore. So I asked myself, why don't I sing like David Bowie would, you know, sing it like a man. It worked!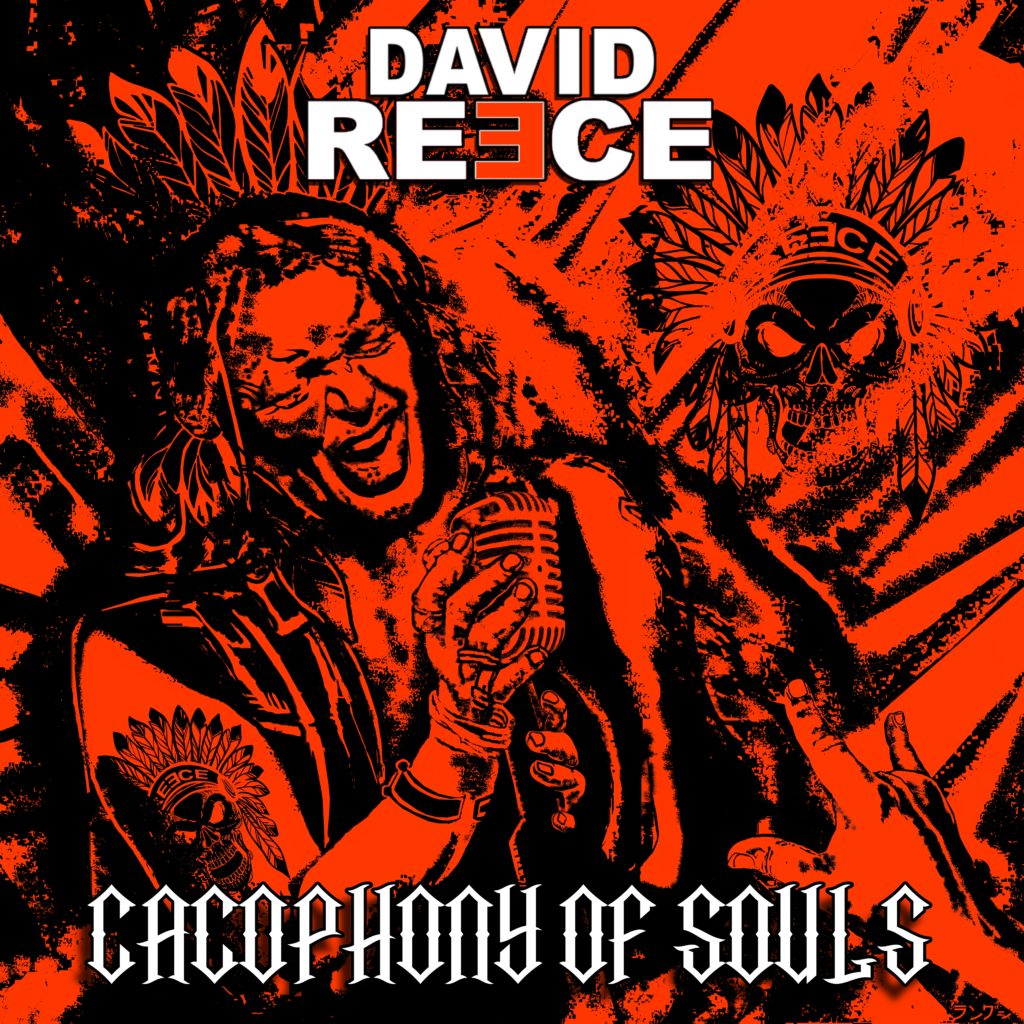 Jasmin: Indeed. The title track "Cacophony Of Souls" is one of the best of the album! It is very much showcasing your voice but not in an over the top way. It's still matching the lyrics and not for showing off alone. And we enjoy your versatility, when you start in those deep notes and rise up, it really matches.
David Reece: I've been asked several times if the lower range was sung by another singer. But that's me!
Jasmin: Yes, I had to check that too for the review!
David Reece: Hahaha! That really makes my day, thank you! Matt Bischof told me that people asked that and I am very proud about that.
Jasmin: All in all it's a great record where all the songs fit perfectly. We hope to see you perform it soon!
David Reece: Don't worry, it will happen. We are working on the dates. We are just waiting to get started. Our bookers and promoters can't tell us now when we can tour, as nothing is certain right now. Festivals basically got moved to the same date one year later. That's all we know. This uncertain situation was part of my flipping out these days …
Jasmin: Calm down, everything is going to be fine! Don't go crazy hahaha! Or write a song about flipping out.
David Reece: I have! Trust me! But I am sure many others have so too. So I am trying to write my lockdown song in a clever way, so they won't say, yeahhhhh… he's been under lockdown and he was losing his mind. It's not going to be called "Quarantine Rock" or something corny as that. And I have to be careful with the stuff I wrote, maybe they think I have gone crazy and lock me up …
Jasmin: Or you take another strategy, you could use this and write completely crazy music, because afterwards, you can always justify it with the lockdown! "Hey, it's been crazy times!"
David Reece: And take a photo of me in the corner with a straightjacket on! My hair sticking up, not taking a bath for a month and making "Gaaaa" and going nuts!
Jasmin: Everyone will like it and say, hey he's a daredevil!
David Reece: [laughing]
Jasmin: Or you do something completely conservative and boring to shock people.
David Reece: I am actually writing something else that might shock you. I am writing a country album. Cowboy songs! Stories about gunslingers, and wild horses and bold riders. This is how I grew up and let's see how people will react! I am writing this with another you in Minnesota, he's so out of his mind, he wrote with Aerosmith, and other bands. What comes out will shock you, because I am stepping away from the metal guy I normally am. Actually, on the first Sainted Sinners album was a song called "Blue Lightning Man", and that's about a gun fighter. That was the whole concept and this guy told me to write songs like that, to listen to records from the 50s and 60s to which I grew up. To start writing stories! I grew up with traditional country music at home, every day at home. I remember people from my region telling me stories of the young Elvis Presley camping in their barn and playing on their farm for food, those are the real stories I grew up to.
Jasmin: I can't even imagine! Coming back to the present, do you have a message for your fans?
David Reece: It's always difficult to answer this question without sounding corny. But I am so grateful. The fans who have stayed with me all these years, and when you tell me what my singing means to you, that Cacophony Of Souls sounds like me, when I hear those words, this all makes the whole thing worthwhile. I mean, I don't forget that. There was a situation when someone came to the merch stand with the album Eat The Heat and telling me, that he hated me guts for what I've done to the band. That I destroyed his life. And then holding this album, Cacophony Of Souls, saying that he loved it and that it's the favorite album, that it brought him through some hard times, if I can sign it. It's those people I want to thank, who stayed with me for forty years. You almost start crying and then there is someone standing in front of you, wanting to choke you for what I've done to Accept and then we have to remember that they hired me, not the other way round. And then we talk and discuss and they say they love the new songs and want me to sign it. That is what I want to thank everybody for.
Jasmin: It is very much your endurance, staying in the music business no matter what! To continue your path!
David Reece: Don't quit. If you love something, even if people don't love it, it doesn't matter. If you love it, fight!
Jasmin: And you will find the people who will love it just as much.
David Reece: I admire so many people, teachers, nurses, my daughter is a nurse! My oldest daughter is a midwife. They deliver babies! I look at them and remember them screaming in the yard as little kids, now they're nurses! I admire their passion, I admire everyone who does something with their life. Life is precious. I don't care what people say. I abused drugs for years, I drank, I tried to kill myself in many ways, and you look at this from the outside in this lockdown and realize, I'm alive.
Jasmin: Congrats to such great kids! You must be so proud!
David Reece: We've got a very normal family. I'm grateful to my family, my fans, to you, to my label, my brother, that I can still sing! I hope I can sing for more years, I am not out there trying to and as soon as I feel it's not working anymore, I will quit. People will respect you more when you step away instead of trying to be like you were 25 years ago.
Jasmin: Staying true to yourself! Thank you so much David for this wonderful talk! Thank you for being so honest and giving us so much. We from SKULL NEWS are such a small magazine and so grateful for this interview. Also we want to thank you for always sharing and tagging and liking us. We really appreciate this. SKULL NEWS is a hobby for us, we are doing this out of passion for music!
David Reece: You are just as important to me as the Rolling Stones magazine. Anybody who takes his time to ask me about my life and is supporting and loving music. There is two kinds of musicians, the player and the listener. Thank you! I love it! Without media, there's no me.
Jasmin: That being said, thank you again and stay safe. See you soon live!
David Reece: Thank you!
David Reece on Facebook
Get the album Cacophony Of Souls here
Photo credits: Matt Bischof